Demba Departs, Filipe Joins, Schurrle Shines [by Gary Watton]
Demba Departs, Filipe Joins, Schurrle Shines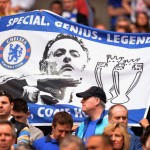 I guess that I should spew out some reaction to Chelsea's involvement, so to speak, in the recent World Cup shindig, and also comment on recent comings and goings at Stamford Bridge.
First of all, the World Cup, thinks me, has brutally and cruelly and finally exposed the tiresome myth about Brazilian invincibility. It's like every time that the soccer circus comes around, it's a case of 'Brazil's gonna do this' and 'Brazil's gonna do that'. Well, although nobody can fail to disrespect them for accumulating no fewer than five World Cups, but at least henceforward the globe will be dwelling on their semi final humiliation and not simply incorrectly assuming that the nation are shoe-ins for future glory because they have been successful in the past.
The past is not after all a reliable indicator for the future. Just because Liverpool, respect to them, won loads of Division One titles between 1973 and 1990 doesn't necessarily mean that they are going to win lots of Premierships any time soon. Basically, Brazil are now relegated to the status of mere mortals, and I for one cannot help but laugh out loud at their humbling, even if our very own Oscar was reduced to tears at the end of their debacle against Germany. Oscar may still prove to be the future for Brazil and for Chelsea [though I fear neither] while Ramires and Willian are not at all blameworthy for Brazil's demise.
The same cannot probably be said of the recently departed David Luiz, but hey he's somebody else's problem now. DL was much loved at the Bridge, but the world can only look on in envy at how Chelsea managed to persuade PSG to foolishly cough up about fifty million pounds for a central defender who intermittently operates as a defender, and not always in the centre, thereby belying his job title. Mind you, perhaps DL will be awarded an extended run as a midfield dynamo where he may well excel, or perhaps he and Thiago Silva can thrive together.
That's enough of Brazil. However, what their downfall does suggest is that Chelsea's recent pursuit of Brazilian 'stars' is arguably flawed, given the blindingly obvious fact that Brazil can no longer cut it on the world's stage. Instead of pursuing Brazilians, Chelsea might be better advised seeking out Germans or Dutch or Argentinian players. Still, we could not resist signing another Brazilian, Filipe Luis. He at least is not tainted by the World Cup horror show, so there will be no post traumatic stress disorder from him. I like the fact that he has been genuinely keen to move to Chelsea, in contrast to Fabregas [and various others] who signed more for money motives. That's not to say that Cesc and other mercenaries at the club are not welcome. Of course they are. Money talks, and our owner can be quite loud with the cash he can splash. I just hope that he resists his burning desire to acquire the hyped Cavani or Falcao, neither of whom were much cop in Brazil 2014.
So who were the standout Chelsea players in South America? Well, this is not a difficult question, in so far as few Chelsea players really stood out. Hazard did not live up to the hype. If he plays better for Chelsea than he does for Belgium, so be it. Let's just hope that his average showing in Brazil is not an extension of his end of season dip, which itself was probably a result of too many matches and the inevitable injury, after being kicked once too often by PSG who have since fallen head over heels in love with him. Elsewhere, Lukaku played quite well in that epic extra time encounter against the US of A [a special highlight of mine]. Incidentally De Bruyne also played quite well, but clearly Jose Mourinho has mixed feelings about various Belgians!
However, right up until the last four, Thibaut Courtois would have won my vote as the best Chelsea player in the tournament. The young maestro barely put a foot wrong, and like Cech in his prime, one gets the impression that it will take a very accurate effort on target to get the better of the unflappable Belgian giant. Although the goalkeeper cum central defender cum penalty taker that is Manuel Neuer ended up taking the plaudits as the best stopper on the planet, we at Chelsea would not swap Courtois [or Cech] for anyone, not even the all-singing, all-dancing, compulsive viewing Neuer!
However, just as Courtois was in line to be awarded best Chelsea player in Brazil by yours truly, along comes Andre Schurrle with a right good burst of form in the latter stages as he scored a beauty of a flick shot to break the deadlock against a plucky Algeria that had actually run Germany ragged. Not content with this cameo performance, Andre then hammered two lovely nails into the Brazilian coffin. As if this wasn't enough, he got his big chance to impress on the biggest occasion of all, and he did not disappoint.
Although his scoring touch deserted him, Andre did set up that majestic winner with a good run and cross. I cannot make my mind up if he is a good winger or not, but Schurrle is a brilliant impact substitute, who has much energy and a nose for goal. He always works the keeper, either by inducing a save or else by requiring the goalie to pick the ball out of the back of the net. Schurrle deserves an extended run in the Chelsea team this autumn, instead of being constantly rotated, a strategy which might keep him fresh, but one which robs him of any consistency or momentum.
There may not have been an award for the best substitute in the World Cup, but I think that we can safely award any such imaginary accolade to Andre. Wunderbar.
Meanwhile, young Mario Pasalic has signed for Chelsea. I wish him well. He wants to emulate his great hero Frank Lampard. I fear that he will follow various other prodigies out the exit door and into loan territory, which is a bit tiresome. Also, Demba Ba has now exited permanently as he seeks a slice of Turkish delight in Besiktas. The big guy gave a good account of himself. I thought that he was a wholehearted performer and a scorer of important goals in the FA Cup in 2013 and against PSG and Liverpool in 2014. I wish him well.
Finally, various so-called experts, such as Rio rent-a-tweet Ferdinand are suggesting that Germany will dominate world soccer for years to come. Well, it wasn't so long ago that the pundits predicted an extended period of glory for Spain! People can easily lose sight of the fact that no country has won consecutive World Cups since way back in 1962. Germany may well emulate Spain by following up their world glory with European success two years later, but back-to-back World Cup triumphs are almost as rare as Arsenal appearances in a Champions League final.
The author can be stalked at http://chelsea.thefootballnetwork.net
DISCLAIMER: All articles written for the Chelsea Supporters Group 2005 (CSG)  are those of the author and do not represent the views of the CSG. The views and opinions expressed are solely that of the author credited in the article. The CSG do not take any responsibility for the content of its contributors.