Sunderland v Chelsea – Match Summary
Saturday 7 May 2016 – Sunderland 3 Chelsea 2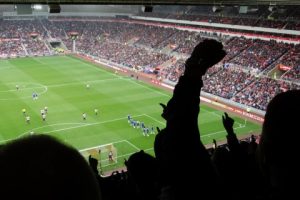 Following our momentous win against Spurs earlier in the week, this time we travelled 288 miles to Sunderland's Stadium of Light, on a freezing cold day when London was basking in sub tropical temperatures. We must be mad! But after such a game last Monday, which team would turn up today? Which of our players would turn up? What we did know was that the Sunderland players had to turn up, they had a relegation battle on their hands.
In goal, the return of Courtois, with Ivanovic, Cahill, JT and Azpilicueta across the back. In front of them Matic and Mikel, with Willian, Fabregas and Hazard supporting Costa up front. On the bench, Begovic, Rahman, Loftus-Cheek, Kenedy, Oscar, Traore and Pato.
As we took our places in the rarefied atmosphere of the top of the stadium and to the rousing sounds of Prokofiev and Elvis, the home team were fastest out of the blocks when Jermaine Defoe nearly gave Gary Cahill the slip just outside the box before even a minute was up. Cahill was given a yellow card for his trouble and the resulting free kick went straight into the wall.
Thankfully the match soon settled down, we were starting to pass the ball around well, and good to see Eden Hazard looking lively again, always a threat when he's on the ball. And with just 10 minutes gone it was us making headway, some neat interplay in and around the box, which eventually led to our first goal. Hazard to Cahill in the box, who found Costa via a deflection, and whose shot past the keeper was from a narrow angle. Great take, and one goal up.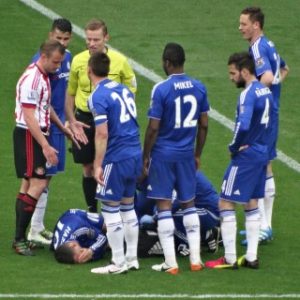 It was a nice open game, we were putting some good moves together and Matic was having a pretty solid game breaking up opposition play. But while Sunderland were still fighting there was danger, and we needed to be wary at the back.
I thought we were good value for our lead, and we could have easily doubled it when Ivanovic was given space to pass the ball across the face of the goal, but Costa just wasn't able to get a boot on the end of it. There was no space for complacency, as the home fans were urging on their team to save their season. But we did look comfortable.
But slightly against the run of play with 5 minutes of the half remaining, Sunderland had found their equaliser, the ball bouncing off the heads of the Chelsea defenders trying to clear the area, only for Cahill's last ball to find Khazri's boot, who took the ball on the volley and fired it into the far corner of the goal. A great strike in fairness, and we were punished for not clearing our lines.
That goal certainly got the home side fired up, and as we went into stoppage time at the end of the half they were looking like they might pull out a quick second goal. But similarly against the run of play Nemanja Matic had picked up the ball in midfield and as he charged forward and a few passes later he received a nodded ball from Azpilicueta just inside the box and as cool as you like he slipped the ball through the legs of Manone and into the back of the net to retake the lead. What a great time to score, although Matic himself didn't look overly delighted himself. But to the away fans' cries of 'Matic, in the middle of our pitch' (not heard that sung in a long while) the half time whistle blew, 1-2.
During half time I thought that stoppage time goal would give us the lift we needed to go on and win the game, Sunderland needed the points, and we were playing well enough to exploit their need to go forward. Just shows how much I know….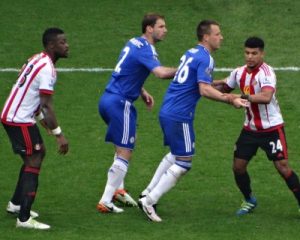 As the Wear side mist swirled into the stadium, we kicked off for the second half, no changes to report. And just a few minutes in we could and should have extended our lead with a beautiful ball passed through from Hazard to the lurking Costa, but his dinked shot was easily stopped by the approaching Sunderland keeper.
The game continued to be pretty open, both teams threatening to score but without putting in many decent shots on target, and it was frustratingly evident that Hazard was being hacked down whenever he was on the ball, clearly our biggest threat, with the spiteful Cattermole acting in his usual role as pantomime villain.
Half hour to go, and another chance for us, the Sunderland defence stretched, Hazard, Fabregas and finally Costa with a tepid shot straight at Manone just outside the 6 yard box. This game should have been dead and buried by now!
But, inevitably given our missed chances, the equaliser came from Chelsea reject Borini, receiving an unchallenged ball outside of the box, and drilled straight into the back of the net, perhaps Courtois could have done better, he was certainly within reach. But this all went on while Ivanovic was down injured further up the pitch, and the home team exploited the gap while our man's plight was being ignored by referee Mike Jones.
Ivanovic was eventually replaced by Baba Rahman who joined the reshuffled back line, just in time to contribute to Sunderland taking the lead through Jermaine Defoe. We got what we deserved in all honesty, we were all over the place! But fair play to the home fans, who finally woke up and made some noise!
Into the last 20 minutes, now trying to retrieve a game we were once controlling nicely. With Costa contriving to be fouled just outside the box, Willian came oh so close to scoring, only for Manone to tip the ball over the crossbar. Still plenty of time to spoil their 'a bit less shit than Villa' party.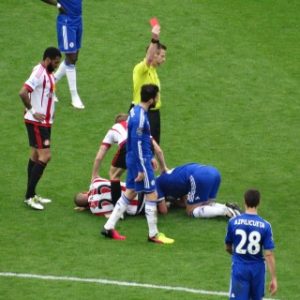 Ten minutes left on the clock and Willian was replaced by Oscar, shortly followed by Traore for Mikel.
As the clock wound down very little was happening on the pitch, Sunderland were happy to waste time to preserve their lead and we seemed pretty content to let that happen. All except JT who was booked while trying to prevent Defoe advancing goalwards as we approached full time.
Their free kick came to nothing, and meanwhile at the other end a free kick for us on the edge of their box similarly was similarly left wanting.
But with 5 minutes of time added on there was a final flurry of action as we attempted to rescue a meaningless point. But it all went pear shaped in the last minute of stoppage time when JT was involved in a challenge with Khazri that saw our captain receive his second yellow card and his marching orders. It seemed harsh, as both players appeared to be going for the ball without regard for each other. Or am I just seeing it while wearing my blue tinted glasses?
But what a season and career defining moment! I confess to having tears in my eyes as we considered the dawning probability of not seeing JT play for us again. With nothing heard from our beloved club on the future of our greatest captain, leader and legend, we can only assume that was it. Stunned.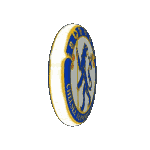 Posted by Chelsea Debs
Debs can be found on Twitter as @cfcunofficial and at cfcunofficial.com
You can read all Chelsea Debs 'Match Reports' here
DISCLAIMER: All articles written for the Chelsea Supporters Group 2005 (CSG) are those of the author and do not represent the views of the CSG. The views and opinions expressed are solely that of the author credited in the article. The CSG do not take any responsibility for the content of its contributors.