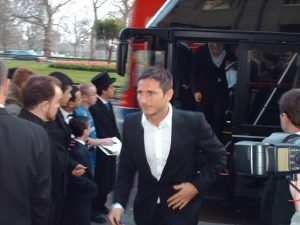 I've been sat here a while contemplating the direction in which this piece should go. Do I list Frank Lampard's many accomplishments, the records he has broken, the trophies he has won, the goals he has scored? Or do I write a eulogy to the man – the ultimate professional, ambassador for the sport, an intelligent athlete – a legend.
The thing is Chelsea fans are more than aware of all of the above. Frank Lampard was extraordinary in so many ways but none more so than the fact that he achieved all his phenomenal success without being a "natural" talent as such (his own admission).
Everything that Frank Lampard has achieved, he has done so through hard work & a will to succeed; of course he has had help – namely from his family and a genius maverick of a manager but its the strength of character that made him reach the very pinnacle of his profession. He has always maintained that although he was more than a competent player, he wasn't as naturally gifted as some of his counterparts so to succeed he worked harder, trained longer but still suffered jibes from West Ham fans who claimed that he was only in the first team because of nepotism – despite the fact that with him in the team they achieved their highest ever Premiership finish of 5th.
Following his £11 million pound move to the Bridge, Lampard was competent, but perhaps didn't really show many signs of becoming arguably the greatest player in the history of the club.
Then Jose Mourinho arrived.
The effect that he had on the club and on Lampard in particular was meteoric. Lampard often recalls how Mourinho not only changed his way of playing – but his way of thinking. He made Lampard and the rest of the team believe that they could be champions – believe that they were the very best in the league – and that to become winners, they had to think like winners – believe that they were winners.
Under Mourinho Lampard became more attacking, more tactically aware, more consistent – it would be easy to credit just the manager with this metamorphosis but Lampard had to show his adaptability, his level of commitment, his total trust and once again his dedication to training. In that first Jose season and then the 4 subsequent seasons, Frank Lampard scored 20 or more goals.
In this time he had forged an unbreakable bond with the fans and with the club – at one point the number of Lampard shirts outsold all the rest put together. He was voted Player of the Year three times.
Given his 13 years and enormous contribution to the club, it's difficult to single out specific moments in his career, but here are the ones that I feel best portray him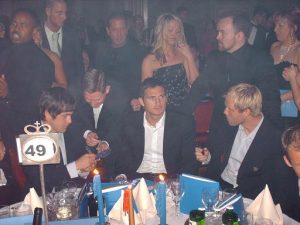 Bolton – obvious I know, but I had to put it in. If there was one player that embodied everything we had become under Jose it was Frank, so to watch him galloping up that pitch to score the goals that finally brought home the holy grail was not only fitting but it swelled the heart and bought a tear to the eye of many of us who were fortunate enough to be at the Reebok that day. He could have passed – it probably would have been easier, but the confidence was so palpable you could almost taste it – he was not going to miss –he was unbeatable – unplayable – he was a champion.
From such a high, we go to one of the darkest periods of his life – the week following the death of his mother. Many questioned whether a clearly grieving Lampard should be playing in a game of such significance – the semi-final of the Champions League. The award of what would be a decisive extra time penalty had all eyes turn to Lampard who was evidently in a heightened emotional state. The ground seemed to hold its breath as he walked toward the penalty spot – he scored and as he sunk to his knees, he held his arms aloft and his eyes looked skywards as the tears flowed. The raw emotion of his inconsolable grief was laid bare for all to see as he was engulfed by his team-mates
The stunning half volley against Bayern Munich
Barcelona – impossible angle but Super Frank scored
Captaining Chelsea to Champions League Glory in Germany
Villa away when he finally broke Chelsea's goal scoring record
The list really is endless.
It makes no odds that he started his career at West Ham or indeed where he finished it. Frank Lampard is Chelsea – will always be Chelsea – will always be remembered for what he achieved at Chelsea – set records at Chelsea – captured hearts and minds at Chelsea. One thing is very clear – with or without Mourinho, we would not have achieved all of the success we have enjoyed in recent years without Frank Lamaprd. Let me be very clear here – a player "like" him would not have been sufficient – it had to be him. He is most oft compared to Gerrard – Gerrard is a good player – a very good player in fact –but Lampard is a great player – if you need further convincing – go and look at the stats – there is no contest. Not that the media allowed something as insignificant as actual facts to get in their way when writing relentless eulogies about Stevie G and why he was better player than Lampard. But then the Chelsea legend has never needed any validation from a Chelsea hating press – he simply had to look at his trophy haul should he ever have any doubt.
So now he has finally hung up his boots, we can only hope that he finds his way back home to West London and starts thinking about coming back to Stamford Bridge and help the next generation realise their potential.
So good luck Frank and thank you – for everything – we had a blast…..don't be a stranger.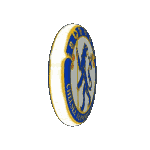 Posted by Trizia
(You can see all the Terrace Talk articles here)
DISCLAIMER: All articles written for the Chelsea Supporters Group 2005 (CSG) are those of the author and do not represent the views of the CSG. The views and opinions expressed are solely that of the author credited in the article. The CSG do not take any responsibility for the content of its contributors.
'Chelsea Supporters Group' can be found on Twitter and Facebook