The Italian Job (by Mark Worrall)
A Chelsea thriller starring Antonio Conte: part one: Volume 1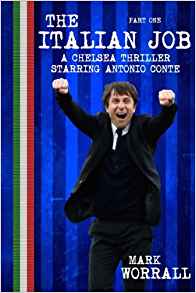 The Italian Job (a Chelsea thriller starring Antonio Conte: Part One) chronicles Conte's dramatic first campaign as Blues manager. Forging a remarkable emotional bond with players and supporters alike via a unique blend of charisma, passion, philosophy and humility, Antonio Conte transformed the London club into silverware contenders once more… but football's roller coaster ride had some terrifying surprises in store.
Glorious unpredictability is an expression that Chelsea author and season ticket holder Mark Worrall coined some time ago to describe the nerve-shredding drama that regularly envelops Stamford Bridge… be that snatching defeat from the jaws of victory, or turning adversity into triumph.
Italian Job recounts exactly how Conte took glorious unpredictability to another level. With more outrageous plot twists than a Hitchcock thriller, week-by-week, game-by-game the tension mounts as the 2016/17 season heads towards a suspenseful conclusion.
"Every game, every goal and everything in-between. The Italian Job is the definitive account of Antonio Conte's first season as Chelsea manager."
Total Football
Available now in paperback: £7.95 here
For those who like eBooks, the Kindle version is £1.95
Mark Worrall can be found on twitter @gate17marco
DISCLAIMER: All articles written for the Chelsea Supporters Group 2005 (CSG) are those of the author and do not represent the views of the CSG. The views and opinions expressed are solely that of the author credited in the article. The CSG do not take any responsibility for the content of its contributors.
'Chelsea Supporters Group' can be found on Twitter and Facebook
Related Images: