I was invited as a guest of the Chelsea Supporters Group to go to Stamford Bridge to review the new rail seating that has been installed in the Shed Upper & Lower and Matthew Harding Lower stands.
On arrival we were greeted by Graham Smith (CFC Supporters Liason Officer and Box Office Manager) who then lead us to the lower tier of the Shed. When we entered the stand I was very pleased with what I saw. The whole of the seating area of the lower tier had been replaced with new sparkling blue seating and the rails had been fully installed. We were invited to take a seat and when we did so I was happy to see that the rails were low enough so that they did not block the pitch and when standing they were high enough not to topple over. We move around the stand and took up different positions and in all seats this was the case. If the government do approve safe standing I can see that the areas with this seating installed will be extremely safe. What the rails will also do immediately is stop anyone falling down a row or two as has happened in the past.
We were also taken to the Shed Upper area and again all the seats have been replaced and it looked great. As a Shed Upper season ticket holder I can't wait to get back in there make use of this new seating arrangement.
It was interesting to note that the seating in the West stand both lower and upper had been replaced too but these are normal seats and not rail seating. The club has also created a disabled section in the upper tier of the West stand towards the Shed end of the stand. One other thing to mention is that the pitch has been re-laid for the first time in many years and looks immaculate.
We also took in the Memorial Wall which is in the concourse of the Shed End lower stand and it was very moving to see the number of plaques up there in memory of fans we have lost over time and also across such a wide age range. They are gone but definitely not forgotten.
Whilst we were at the ground we came across two ex-players in the form of Petr Cech and Wee Pat Nevin. It was a little embarrassing when they both came up to me and Peter Trenter, Charman of the CSG and asked to have pictures with them. We duly obliged, I mean how could we refuse such greats? (Yea like! …… Ed!)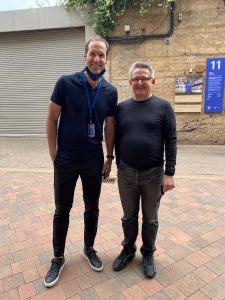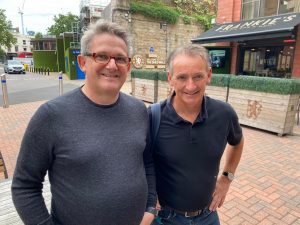 I would like to thank the CSG for the invitation and I hope that other members get the opportunity I did. I'm sure you will all appreciate the hard work that has gone on over the past 18 months and it will be great to see you all again on the 14th August against Crystal Palace.
Paul Oppenheimer
Pictures from the evening can be found here (scroll to bottom)
---
'Chelsea Supporters Group' can be found on Twitter and Facebook