Match Report: Chelsea 1 – Barcelona 0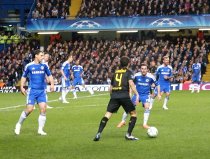 A goal from Didier Drogba combined with a committed defensive performance ensured that we take a lead to the Camp Nou for the second leg of the Champions League Semi-final.
Roberto Di Matteo opted for Drogba up front, Torres remaining on the bench with Gary Cahill replacing the injured David Luiz. Raul Meireles and Branislav Ivanovic were also both recalled.
Pep Guardiola opted for Javier Mascherano ahead of Gerard Pique at centre-back, with Fabregas starting against a Blues side he knows well and Lionel Messi seeking to end a record of six games without scoring against Chelsea.
Barca immediately began dominating possession but Drogba posed some early problems with a flick to break free of Mascherano let down when the remaining defender, Carles Puyol  intercepted his second touch, however Drogba was unable to finish.
There were other positive moments for us when a long throw almost broke for John Terry, but Dani Alves just scraped it away in time.
Barca didn't seem to be at their best but might have been in front after 16 minutes when Messi dragged two defenders out of the way before cutting back to Iniesta, whose shot was parried by Cech. The rebound came to Fabregas but he scuffed wide.
Midway through the half with Barca again turning up the pressure Fabregas forced a near-post save from Cech before Messi leapt on the edge of the box to head an Alexis cross into Cech's arms.
A patchy period followed with a few niggling fouls and no great creation and with Drogba falling to ground at frequent times.
We were working hard quashing much of the Catalonians' attacking prospects but on 42 minutes Barca broke again with Messi. He slid in Fabregas to his left, but his attempt to lift it gently over Cech was too underpowered and luckily Ashley Cole arrived to clear off the line.
Just before half time, in added minutes we suddenly broke. Ramires controlled the ball really well on the left and then slipped a perfectly-weighted pass across the box where Drogba was waiting to finish just past the grasping Victor Valdes.
Stamford Bridge went into raptures of celebration
After the break Barcelona began to probe again. Adriano cutting in on his right foot to send Cech flying to his left to save.
Alexis came close again when Fabregas played him in at point-blank range, but he poked the ball wide.
Messi attempted more than one run forward from deep into the box but was thwarted first by Cahill and then Terry.
Pedro was brought on in place of Alexis in the hopes of testing our resilience but it had little effect with more clear-cut chances going begging.
As Barcelona pushed up Drogba was able to battle past on the break but his through-ball into the path of substitute Salomon Kalou was a touch too strong and the opportunity was gone.
Barca's closest moment in the second half came when Messi's 87th-minute free kick was flicked on by Puyol. Substitute Thiago Alcantara lashed at it but couldn't make enough contact and Cech was able to dive and parry the ball away.
Barcelona should really have equalised at the very last when despite John Terry's initial excellent tackle to snuff out one chance, Pedro sliced a shot against the post before  Busquets, with the goal at his mercy lofted the ball over.
As extra time petered out Chelsea supporters were raising the roof at the first leg victory.
After the game Roberto Di Matteo paid tribute to the collective desire of his players as he reaffirmed his belief that a side who has been written off by sections of the media deserve a great deal of credit for recent results.
'Public opinion has been that these boys are over the hill and too old to play two games in succession,' said Di Matteo.
'But they gave their answer on the pitch tonight.
We go out as a team and we have a good team spirit, young and old play together and fight for the same target'.
 Gill Reeves – CSG disabled rep
Chelsea
• 01 Cech
• 02 Ivanovic
• 03 Cole
• 24 Cahill
• 26 Terry
• 07 Ramires – Booked (Bosingwa – 88′ )
• 08 Lampard
• 12 Mikel
• 16 Meireles
• 10 Mata (Kalou – 74′ )
• 11 Drogba – Booked
Substitutes
• 22 Turnbull
• 17 Bosingwa
• 05 Essien
• 15 Malouda
• 09 Torres
• 21 Kalou
• 23 Sturridge
Barcelona
• 01 Valdes
• 02 Alves
• 05 Puyol
• 21 Adriano Correia
• 04 Fabregas (Thiago – 78′ )
• 06 Xavi (Cuenca – 86′ )
• 08 Iniesta
• 10 Messi
• 14 Mascherano
• 16 Busquets – Booked
• 09 Sanchez (Pedrito – 66′ – Booked )
Substitutes
• 13 Pinto
• 03 Pique
• 32 Bartra
• 11 Thiago
• 15 Keita
• 23 Cuenca
• 17 Pedrito
Ref: Brych
Att: 38,039