It's A Whole New Ball Game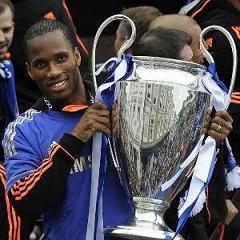 Drogba coolly walks up from the centre circle, collects the ball, places on the penalty spot, takes only two steps back waits for the officials okay and sends Manuel Neuer the wrong way….. Chelsea become European Champions, and time just stops as the brain can not process what the eyes are seeing.
I was rooted to the spot as if frozen by the coldest of icy blasts, my eyes just watching Drogba spin away to celebrate, then to see our players spin of in several directions some lay prostrate on the floor another running around in circles, Drogba by now has hold of Cech (the real hero)……. I'm still motionless, in my life did I ever think this could happen, all the encountered foul deeds, all the obstructions put in our way.
The tv cuts to the fans behind our goal who are going completely mental, bodies flying in every direction possible, it returns to a mass pile up of Chelsea players and staff now looking like a pile of elated bodies with arms and legs sticking out of this huge mound….. I'm still motionless, but now tears of joy are running down my cheeks…….. we've done it we've actually done it!….. we are European Champions!
I'm still dumb struck as  I appear to be released from my frozen spot, my mind is still a mixture of emotions, still really trying to grasp the reality of the situation I'm witnessing. The lounge door is opened to the front garden, the hot humid night air focuses my objective as I leave the air conditioning behind me, its after 4am in a very leafy and refined suburb of Bangkok, a distant relative of the King lives within a few minutes walk, this is no lively tourist district, there are properties on lakes with prices tags in the millions, every house has staff quarters, there are street security guards on ever intersection, this is a place where emotion is of peace and tranquility, even the birds sing quietly.
I reach the driveway gate (normally locked at night) but open, I push the button and it opens to leave the tree lined street in front of me….. one step, then a second and third finally a fourth I reach the middle of the road which has quite a dim lighting scheme to match the sedate environment….. I'm looking skyward for the moon as if to make ready to call out to the football gods, but it's not to be found, and take a deep deep breath …… Then the silence is broken with a bellowing "YEEEEESSSSS, Yes, yes, F*****G Yes!"  at noise level that a country town crier would have been proud off.
I could hear it echo down the road as lights came alive in a multitude of houses, faces began to appear at windows and silhouettes at doorways, seconds later at my side was one of the street security guards asking me in the most polite Thai way if I was okay? I'm shaking with excitement, wanting to jump and dance like a 4 year old child pumped up on sugared sweets, In my poor and broken Thai  I'm looking him deep in the eyes and all I can say is " Chelsea win Chelsea win Chelsea win the European Cup" I'm shaking him by his upper arms….. then reality hits.
Oh shit this is Thailand one just does not do personal contact with strangers in uniform, personal contact is for family members and friends and mostly in private, and for sure not with uniformed security guards in a better class of town in full public view on a Sunday morning……. Much to my relief he was laughing, " It's okay Khun Ian" in basic English, and followed up in a clear Thai that its better for me to go back inside my home and party even if its with myself, I'm walking back and wai apology to every face in a window as he expresses in stern military voice to all close by but not so good as to cover up his laughter that this disturbance was courtesy of a foreigner watching his team win at football.
What saved me from at least a visit to the local Police station or god forbid The Bangkok Hilton, was I know many of these street security guards, they are there in their little tin huts all day and night in all weathers, and Bangkok specialises in extreme weather, its not the hottest city in the world just because of its night life, of course that is a bonus, but with humidity and heat always at a cooking temperature with the benefit of rain of biblical portions, these street guards face some real unpleasant daily hardships, and their uniforms must be in top top shape all the time, they are public servants and paid a pittance. I've passed by many of these huts and given ice cold drinks or the odd bowl of rice or noodles, in fact quite a few of us foreigners do. If any one can remember the old blue police boxes in the UK and a local bobby walking the street, the principal is the same, they are there to make sure order is kept.
Much later on Sunday afternoon I made my apologies in person to the same guard at his little hut, some rice, a mango, ice cold water and a beer for later. It wasn't needed or expected but very well appreciated, I've given him a story to tell all his friends and I'm even more well know than I was before.
Well that's my little story of my experience of Chelsea winning the Champions League, not amazing or as dramatic as many or as exciting as being there in Munich or at Stamford Bridge or even in West London.
We will all have our stories, I'm delighted its still not sunk in, it pushes us up footballs global scale, and you would be surprised of the support we have overseas in Thailand, its just a little different to what one is used to at home, but don't knock them they have loyalty and passion for their Chelsea, for some it is all they do have in a very hard living environment. You'd be amazed to see the Chelsea banners around the city and advertising on the side of 50 floor skyscrapers, and the giant two lions one pride billboard next the ring road. Even the sky train monorail has a couple of Chelsea trains, I wait with eager anticipation the one with Champions of Europe, it will come and it won't be long.
Enjoy being London's first European Champions…… We are making history not living off it.
Munich is a wonderful city, and lucky to have been their many times, today it has even more a special place in my heart, just two exceptions.
The Bayern fans banner "Our City, Our Stadium, Our Cup" well two out of three is not bad as the old Meatloaf song goes, and I hope the banner goes down well with beer and Sausages, its going to take time to eat, and one of the biggest egg on face or as we say today "FAILS" in football history.
Platini's face giving us the trophy, I'm sure he was having colonic irrigation at the time, its clear he hates us, a real Agincourt moment, up yours your ignorant garlic munching puppet you failed to stop us this time.
Lastly… Mr David Dean (ex Arsenal Board Member) who tried to get us thrown out of Stamford Bridge in the 1980's, I hope you choke on Chelsea being London's first European Champions.
A polite message to Arsenal, nice to have pots of money for decades, and a manager of a tippy tappy team who has learnt nothing in 8 years, sometime grit, determination and the will not to lose is as good and better that being a fancy Dan.
History is a wonderful thing, we all have it, even managers who takes bungs, and Chairman who get banned for corruption its all history. Chelsea are London's number one team by miles.
Tottenham, well you had your chance and blew it, a season is 9 months not 6 months.
Posted by Voltaire