Farewell Didier Drogba – Chelsea Legend
Every defender in the English professional league will have breathed a huge sigh of relief when Didier Drogba finally confirmed yesterday that he was leaving Chelsea and all probability, the Premier league.
The Ivorian has been described as many things – a power-house, a born winner, a drama queen, a philanthropist, a legend, an icon….the list is endless.
The stats speak for themselves – he's been with us for eight years and in that time he has played 341 games, scored 157 goals, won 3 Premiership titles, four FA Cups, 2 Carling Cups and now the Champions League – and somewhere during that lot, he has managed to stop a civil war and build schools and clinics through the charitable foundation that he set up.
Didier Drogba is a complex individual who was always difficult to predict – he could be as petulant as a child or as gracious as an ambassador; his foibles were well documented but this is neither the time nor the place for those.
We have been fortunate as Chelsea supporters to have had a number of prolific strikers wear the royal blue over the years, but there are not many who could compare with his power, his technical ability, his presence, his influence in the dressing room and his emotion.
I don't think I loved him more than after THAT Barcelona game where furious by the unfairness of Ovrebo's refereeing, he became an uncontrollable force of nature – he wasn't going to graciously accept it – why should he? He was representing all of us supporters who were equally robbed that night. He demonstrated his passion, his will to win, his refusal to just allow this injustice to be accepted – that's how much it meant to him – this wasn't just a job – just as it's not just a game.
I don't need to tell any of you how many goals he scored in the big games – it was always a case of cometh the hour, cometh the Drogba – he was THE big-game player. No matter what the situation, as a Chelsea supporter you knew that if Didier Drogba was on the pitch then you still stood a chance.
When he was on song he was an absolute joy to watch – when he single handedly destroyed Liverpool, the countless times he destroyed Arsenal, the semi-final goal against Spurs at Wembley, an absolute stunner of a goal against Everton six years ago that still makes me tingle, the hatrick against Wigan on the final day of the season that won him the Golden Boot – we could go on and on and on, but of course what he will be remembered for is his final goal, his final match, his final gift.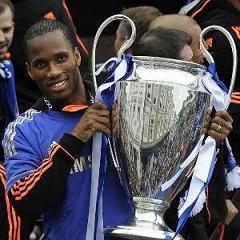 If it had been a work of fiction it would have been castigated for being too farfetched. The crushing of hope as that Bayern goal went in – you could see that they thought that had won it – only eight minutes on the clock. The agony in the blue section of the stadium – tinged with a gut-wrenching hope. When he rose to meet that header the goal seemed to be an impossibility – too many bodies in the way – but this was Didier Drogba and the ball sailed through that narrow gap to cause utter mayhem in our end.
Nothing sobered me up as quickly as that penalty award – hero to villain – but the football gods had had their fun at our expense – it was time to make amends. This was Drogba's time – penalties a suitably dramatic way for him to end his time.
If, like me, you have watched that penalty shoot out a few (hundred) times, you will see two things – Drogba looking nervous as he walks up – and Drogba is never nervous, and when it goes in, his demeanour cracks – just for a nano-second where he knows this is it – it's all over – the events have made the decision for him – he can leave on a high as painful as that would be too.
I cannot speak for other people but I believe that Chelsea would not have achieved half of what they have in recent years without this man. I think he is possibly one of the greatest players ever to have graced this Premier league and certainly one of the greatest to have worn our shirt. They say you don't really miss something until it's gone but I think its dawning on everyone now just how difficult it is going to be to even come close to replacing such an extraordinary talent.
So farewell Didier, we'll obviously miss your goals, but we'll miss your motivation, your personality, your passion and your character; it's been an absolute privilege to have had you with us – and we hope you will carry us in your hearts as we will you, wherever you go to next.
Didier Drogba – Chelsea Legend.
Posted by Trizia