Fernando Torres 'Signed Shirt' Auction
(Sent in by Nick Bacon)
Fernando Torres 'signed shirt'  for auction ……
…… This was donated to support our fund raising for a local lass, Maya who is four years old.
Maya has Spinal Muscular Atrophy, a condition which will mean she is confined to a wheelchair and will never play football, walk or run as all her friends do.
We are a small group who are raising funds to buy Maya essential medical equipment. For you and I a common cold is an annoyance or irritation, but for Maya it is a life threatening condition.
A special jacket that aids her breathing is needed, and this will cost £4000, her wheelchair cost £17000.
With fundraising activities, pledges and donations we are over half way to our target of £40000. At the end of June 24 amateur cyclists will attempt to ride from LeMans to Olney nr Milton Keynes –  'Ride for Maya'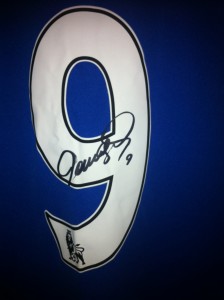 http://www.b2bcycle.co.uk/about-maya-and-sma-2/
The auction of items includes the Chelsea shirt signed by Fernando Torres, with an estimated value of  £200
If you do not want to bid you could consider a donation http://www.justgiving.com/Ride-for-Maya
I am directly involved in the planning for the auction and can place bids on behalf of interested parties. I was trying to think of the simplest way to manage this. An interested party would need to pay the maximum bid amount into my paypal account. Any unsuccessful bidders payment will be returned within 24 hours.
Alternatively, come to the auction on Saturday 9th June at the Carlton House Club, Olney MK46 4BB. Event starts at 7.30 pm and includes food and dance! Entry is £15.00
My contact mail address is nick.bacon@evresults.com
Thank you for your support
(This auction is not a CSG event and we hold no responsibilty for any of the conditions)