Running A Marathon For Trizia
"I signed up for New York marathon some time back now and until very recently was running it for "kicks & giggles" which is never wise. My "running mentor" always said you have to have a reason to run, and that reason is what will get you over the finish line.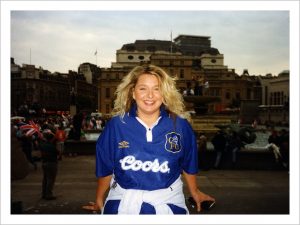 In late September I returned from a weeks leave, which typically I spent hiking over the Scottish highlands and about as far from resting as possible. I walked in expecting to get a ribbing from Trizia for hobbling around like an old man – laughing with/at me and my latest ill-advised adventure – as she always would. Immediately I was informed she had been admitted to hospital and was in ICU – the news stunned me. Trizia's absence was palpable, as it has been since and no doubt will be for a considerable time.
On 9th October I received the tragic news that Trizia had passed away. The news was brutal and stung, it still does, no matter how expected it had become by this point.
My overriding memory of Trizia is not Chelsea (although this is a very, very close #2), it is of her warm, people focused approach and always will be. She always put people before anything else, including herself, and her empathy and support were completely unique in an industry that is so often focused on the bottom-line. She will be so sorely missed.
I can't go on without talking Chelsea at least a little bit – the ribbing Trizia gave me (Arsenal fan) after the Europa League final last year (and most games to be honest) will always be a warm memory, there are very few people I would take such a ribbing from graciously – but as always Trizia did it with class and in an endearing way. To reciprocate this class and as a final tip of that hat to a "true Chels" – if I raise £2k I will run in a Chelsea shirt which I know she would have loved.
As I can't make the funeral on the 4th I decided to run and honour Trizia's – now I have my reason!
In a twist of fate – it was relayed to me that Trizia's partner would like me to raise money for Crisis (the national homeless charity) as it was a cause close to Trizia's heart. I actually worked a Crisis prior to joining Cushman & Wakefield so can vouch that the work they do is top notch having worked with them for several years, and as we're coming into the winter period, it's an even more important cause to support.
So please dig deep for Trizia and for Crisis – as I dig deep round 26.2 miles of pain!"
Running the New York marathon in memory of Trizia. Myles worked with Trizia and is raising money for 'Crisis' in her memory
https://www.justgiving.com/fundraising/big-apple-4-true-chels?fbclid=IwAR3iUwqIFVjHexhbKiRtBwtKucfbHxhL-27_iWzvLX24h8l9c75KwSxAW6Q
Related Images: