Heaven Knows We're Miserable Now (1978/79)
"With the closed season now upon us, the CSG has decided to re-post some excellent articles (and pictures) that our friend 'Corby' put together many seasons back. We hope you enjoy them once again"
Here is 'Part Four'
Season 1978/79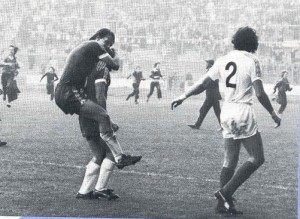 After our first season back in the top flight had saw us finish 16th, I had high hopes that in 78-79 we'd maybe improve a bit get a European place. We hadn't done too bad in 77-78, just about held our own, things could only get better. A 1-0 home defeat by Everton quickly bought me down to earth. The following Saturday was Spurs away, I was now 17, and Mum could no longer 'ban' me from going games…
Spurs was to be my 42nd game, of which only 10 were aways – 3 of them being at Leicester! The others were 'local-ish' to Corby… Forest, WBA, Coventry, Wolves, whilst my visits to Arsenal, QPR and Orient had seemed like home games as there were so many Chelsea in the ground!!
We went down to White Hart Lane with a lad from school, who had started going to Spurs roughly when I'd started going Chelsea, 1975.  He 'knew' the ropes, where to go, where to avoid, well he said he did… We were up by White Hart Lane by about 12.00. There was hundreds of Chelsea about, with a seemingly equal amount of Plod, trying to keep the peace with the pockets of Tottenham fans that would appear from nowhere.
At one point in the chaos I got split up from the main Chelsea mob and found myself and my Spurs mate being chased by an 8,000 strong (well at least 20!) mob of Spurs. Legging it round a corner we were confronted by a 6ft wall. With the prowness of Bonetti we as good as hurdled it, only to find ourselves in some sort of allotment! Heart beating furiously, we hid amongst the tomato plants or whatever was growing! I can remember lying on my back thinking "what the f*ck am I doing?" After 10 mins or so we knew were safe and asked some old guy in a hut how to get back on to the main road. He pointed the way and muttered something about calling the Police. I wish he had!!!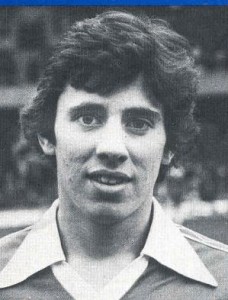 By that time the ground was open so I worked my way through the running battles and went in. The Tottenham side included Ardiles & Villa, 2 Argentines who had won the World Cup that summer and a 20 year old Glenda Hoddle. A 2-2 draw, with the 'quiet man' Kenny Swain getting both of ours. After the game I cant recall seeing many Spurs about, maybe they got the bus down to Seven Sisters tube instead of the seemingly 15 miles walk. Smart kaarnts.
A week later and after a Kings Head pint or two, I found myself persuaded to go into the North Stand for the Leeds game. This was my first visit to that part of SW6, and from there the Shed looked so small, whilst the pitch somehow seemed nearer. 10 minutes before the game started it kicked off right in front of me. Fists and feet flew in all directions. Plod just waded in with their truncheons –mainly into the Chelsea- while I made a retreat. Somehow I found myself in with the Leeds fans who were being pushed along the terracing towards the centre of the North Stand. Plod then made a 'no mans' land between the two sets of fans.
How the hell could I get back to the Chelsea side of the North Stand? There was no way I could just say "excuse me Officer, I seem to be in the wrong end. Could you be such a good chap and escort me back over there?"
I stood there worrying, would Leeds suss me out? Would the Chelsea pile in and give one of there own a hiding? The game started and Leeds scored as good as straight from kick off. This bought hundreds of Chelsea legging it across 'no mans land' straight into the celebrating Leeds. Luckily I was on the back step of the terracing, and while all the attention was focused on the fighting, I casually stuck my nose in a programme, walked along the footpath that ran along the back of the North Stand, and mingled back with the Chelsea. I've never had a bigger sigh of relief as what I did that afternoon. At half time I climbed into the benches, walked through and stood in the Shed. A 3-0 defeat, things were starting to go very wrong in my quest for a European place.
So things were pretty depressing football wise. Work wise I was still working in  the office of a Plant hire company, but I was no longer tea boy, I was now… Coffee boy. The 'ample' views in the typing pool were a welcome distraction after yet another miserable weekend defeat. What was her name…
In November I witnessed us get beat at home on successive Saturdays by Spurs (3-1) and Man Utd (1-0) What could be worse than getting beat by them two in such a short space of time? Depressingly long journeys home!  I'd sometimes sit on the train home hoping it would be delayed by a couple of hours – that would mean less time to have the piss taken out of me back home in the Pub! By Christmas I'd become a joke up the Pub, we'd only won 2 games so far that season, –Wolves away 1-0, and the famous 0-3, 4-3 Bolton home game- and we were rock bottom of Div 1.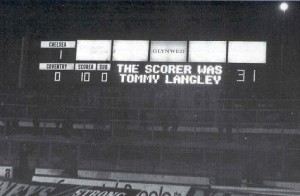 New Years Eve 1978 saw me stay in at home. Various friends called round and tried to persuade me up the Pub, but we had Arsenal at home on Jan 1st, I didn't want to go out, end up getting minced, wake up somewhere strange the next afternoon and miss the game.  I was in bed by 10, and listened to Luxembourg 208 until midnight. The next morning I jumped out of bed and laughed at the thought of what state my mates would be in! On opening the curtains I was horrified to find a fair few inches of snow had fallen overnight. What was it like in London? A quick phone call to my Granddad in Camberwell revealed that London was also white. Radio 2 announced the list of games postponed, and sure enough ours was one of them. Happy f*cking New Year!! As a kid I loved snow, but from that day on, I've hated it!
The snow reared its ugly head again in mid March, on my 18th birthday. I hoped it would all be gone by the Saturday, for I'd planned a trip for the QPR home game. Needless to say the snow kept falling, and so a phone call to Camberwell was made. Granddad laughed, and said 'what snow?' London was cold but not white. We worryingly got on the train in a blizzard, but as we headed south there was less and less snow and by the time we got to St Albans, none at all. A couple of hours later I wished that there was snow in London, for QPR won 3-1.
**non footy, but worth a mention** …On my 18th,  a few of us had gone up to a local Rugby Club to see some ' female artists'.  After their first act, the Comedian came round with a pint glass and said that if we filled it up with coins/notes, the girls would do a double act with some' toys'. I threw in 20p or so. (Well, I needed to save it for Chelsea/QPR!!) The Comedian then walked under the balcony which was the place on where the local clowns always gathered. Someone up there threw a full pint over him, and the Bouncers stormed up the steps to deal with it. Before we knew it, the place had turned into a Western style bar brawl as chairs and tables filled the air!. In the chaos, me and a mate decided to nick the raffle prize, which was a massive bottle of Smirnoff Vodka, that was on a table next to a fire exit. Just as I  leant  over to pick it up, some lad grabbed it and smashed it over someone's head! "Fark this!" We kicked the exit open and legged it across the snow covered field as a column of blue lights came up the road!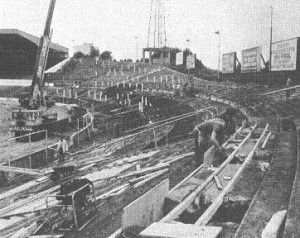 The season just got worse. It seemed like every home game I went to we got beat. I saw plenty of defeats that season; it was horrible walking into the Pub when I got back from a game. Truly awful.
We only won 5 games that season, and I didn't see any of them. The highlight of our worst ever season in the top flight was the 4-3 Bolton home game, which I'd missed due to being very 'hung over' from the Friday night before. Something I was going to learn in the future was that alcohol and Bolton do not mix…
So relegation – again. The second one in 4 years. We'd bounce back again, no problem….. In the April of 79, Eddie McCreadie played for Memphis in a 6-0 defeat by Detroit. How I wished he'd come back. I'd give him a car.
From the 25p programme…
A home friendly v New York Cosmos pulled in an amazing 39,659, Chelsea had expected "less than 20,000"…
Peter Rhodes Brown was described as a 'striker' in the list of up and coming apprentices…
The 'Official' Supporters Club were very active, arranging 4 open days (free),  5 Disco's (£1.50) and a Café Royal 'dinner dance' for £8.50…
Club Shop….
Official team shirt..38"- 40"… £6.25
Bill Garner pendant…£1.25
Chelsea Identity Bracelet…70p
Ron Harris made his 600th Lge appearance v Birmingham at home…
RIP
Jimmy Argue, 125 apps, 1933-47
Billy Mitchell, 117 apps, 1933-45
Vic Woodley, 272 apps, 1931-45
Bill Tidy (22 years landlord of the Ifield Tavern)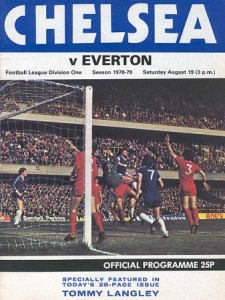 Club Membership £3.00 (renewals £2.00) OAP & Kids £1.00
EAST STAND
Upper front centre £4.00
Upper front wings £3.25
Upper rear centre £2.75
Upper rear wings £2.25
Middle centre £5.00
Middle inner wings £4.00
Middle outer wings £3.25
Lower centre £2.75
Lower wings £2.25
WEST STAND
Centre £3.25
Wings £2.25
SHED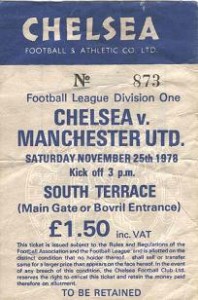 £1.50, Kids £1.00, OAPS 75p
Transfer to benches 50p
*** Terrace season tickets were available for the first time, at £25. It included 21 league games, 1 Lge Cup game and 1 FA Cup game. Not that we got them extra home games, we'd bit the dust at the first hurdle in both Cups, Bolton away in the Lge Cup and had a 3-0 defeat at Old Trafford in the FA Cup.
Contact me –
sweden1983@hotmail.com
Posted by Corby
(Part Five to follow)