Walker Back To Happiness (Season 1982/83)
"With the closed season now upon us, the CSG has decided to re-post some excellent articles (and pictures) that our friend 'Corby' put together many seasons back. We hope you enjoy them once again"
Here is 'Part Eight'
82-83 season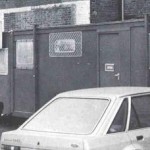 Our 4th consecutive season in the 2nd division started with a visit to Cambridge, where they'd totally underestimated the amount of Chelsea that would turn up. Maybe they thought that after 3 seasons in the 2nd Division our tremendous away following would tail off a bit. Wrong. Very wrong. Chaos ensued at the turnstiles and on the terracing as 1,000's tried to gain entrance. We managed to squeeze our way to the back of the small terrace that was behind the away goal. The covered terrace to our left that ran along the side of the pitch soon became an overspill for Chelsea fans, many had simply climbed over the fences before Plod started letting more in through a gate to relieve the pressure a bit. Other fans had climbed on to the roof of that stand and sat down to get a perfect view of Pop Robsons very late winner. Cambridge later apologised for "trying to squeeze too many into a corner" Maybe Chelsea should've apologised for the various vegetables that were yet again lobbed over the wall from the allotments behind the away end…
The distant echo of faraway voices boarding faraway trains were me and a few my other Chelsea mates. Fed up of listening to our Spurs/Man U/Liverpool mates planning European trips, we boarded the train to Copenhagen to see Denmark v England in a Euro Championship Qualifier. It took us 1 ½ days to get there, after stopping over in Hamburg en route.  Easyjet etc didn't exist, so the cheapest way was with a Transalpino train ticket.
The game was a 2-2 draw, whilst on the terracing the Danes and English fought running battles. We (removed for legal reasons) The fighting went on as we made our way back into the city centre, though by the time we got there, most Danes had disappeared. Later that night we sat in the Spunk Bar and watched a well known Chelsea face and his crew count a pile of money that was the result of raiding a Bar at the ground during half time…Whilst drinking in there well into the early hours, a few of the locals turned up and were very friendly. Some of them got quite drunk, and 2 of them announced to everyone that they were undercover Police who had been at the game, but were now off duty. When they left, there were followed by a large group of English. I sat inside and realised Hans and his mate should've kept quiet…
After the 'success' of the front cover of the Spurs FAC programme the previous season, Chelsea printed at similar warning for the one covering the visit of Leeds in early October…. "Dont be mug, don't be a thug"…. zzzzzzzz . Maybe they should've printed that warning on Tube tickets, as over 100 were arrested in fighting at Piccadily Circus before the game.  I was on the tube that day, and when it pulled into Picc Circus it seemed half of the Met Plod were on the platform. I just thought there was some sort of left wing 'save the whale' demo going on, until some woman got on and I heard her say something about Chelsea fans. Fark me, have we started taking harpoons to games? The game finished 0-0, and saw most trouble in Gate 13 of the East Stand.
With 10 games gone we were mid table, things were as they'd been for the last few seasons. The football wasn't great, and when you got back to the Pub that night you'd find yourself being asked about any trouble that had occurred, instead of the actual game itself. Home games had became a routine, a bit boring to be honest. Away games though, now that was different. It had the excitement of being amongst 1,000's who would turn up at some Northern town, like Barnsley, Rotherham or Carlisle. It was great walking through these places, CHELSEA CHELSEA CHELSEA CHELSEA being sung over and over again as the locals were stare on at what seemed like an invading army. We'd take over their Pubs, as good as drink them dry, then leave some them in a 'different' condition to when we arrived… "Chelsea boys we are here, shag your women and drink your beer.."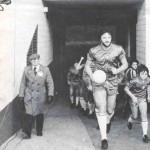 Though it was great at away games, actually getting to or from one could be a bit dodgy if you didn't travel in numbers up from London. On the way back from Huddersfield for the  FAC 3 game in January, I had to change trains at Leeds for one to Sheffield. The vast majority of Chelsea stayed on the  Kings Cross bound train and I made my way over to the other platform. Standing on the platform I heard someone shout "OI! YOU! You northern farking w*nker" I turned round and some Chelsea lads on the train I'd just got off, thought I was a "northerner" and started giving me quite a bit of verbal. "You 4 eyed karnt"
I moved towards the edge of the platform and was about to show them my little round Chelsea badge that I'd put on the inside of my jacket when about 20/30 Leeds fans came along and started giving verbal back and throwing things at the windows. By then it seemed the whole train was hanging out the windows, I stood there hoping no one would recognise me as Chelsea! Plod eventually came along and I found myself pushed out of the station and told 'not to return'. Sod that, I watched the Leeds fans disappear back into town and then scaled a fence and just caught the Sheffield train as it started to pull out.
At Sheffield I bought the evening sports newspaper (the Green 'un?) and laughed as it told how Chelsea's hooligans had ran the home end at Huddersfield and then, much to the dismay of the reporter, had "jumped back into the terracing and sadly chased the home supporters for a second time" It was funny to watch, the Police had taken the Chelsea out of the home end and while escorting them along the side of the pitch to the away end, loads of Huddersfield had gone to the front of the massive terrace that ran along the side of Leeds Rd to shout abuse. They soon retreated when Chelsea jumped back into the terracing! I've seen many incidents of 'trouble' at Chelsea games over the years, and maybe 'funny' isnt the right word. But it was!!!!!!!
'Trouble' also occurred when we went up to Derby for the 4th round. The previous week Leeds fans had ripped "1 or 2" seats out at the Baseball Ground. When the train pulled into Derby station we realised by the amount of Plod around that they were intent on herding us all up straight into the ground. We got off and quickly dived into the Buffet on the platform, sat down and watched as all the other Chelsea were rounded up and 'snaked' up to the ground. When the platform was clear, we casually walked out of the station and found a Pub.
A couple of pints was followed by a couple of scuffles as we made our way up to the ground. The Baseball ground was probably one of the most depressing grounds around. Outside it all seemed to be clad in rusty corrugated steel sheets, painted blue for some reason. Inside the Stands sat at an odd angle to the pitch. We stood along the side, and were happily looking forward to a replay, the score being 1-1 as we moved well into injury time. Seconds later, future Chelsea player Kevin Wilson scored to make it 2-1. As the ball hit the net, the sky filled with seats that were being ripped out from the stand behind the goal. Players and Police ran for cover as the seats flew towards the pitch. Some seats fell onto the Chelsea standing behind the goal, they were simply lobbed onto the pitch! As we were escorted back to he station, some Plod kept saying over and over "you're not Hooligans, just bad losers"…. Knob.
By coincidence the following week we were at home to Derby in the League, a pathetic 8,661 of us watched a 3-1 defeat.  As we were falling towards the relegation zone our home crowds were also falling. Early season we were getting around 14,000. By February we were scraping 8,500, and for my birthday game in March v Carlisle I sat in a very empty Stamford Bridge. 6,677 sad but loyal souls saw a 4-2 win. That win v Carlisle was our last for 2 months. Home defeats by Barnsley (3-0) QPR (2-0) and Newcastle (2-0) saw us plummet from 13th to 17th. When Burnley beat us 3-0 at Turf Moor we fell into the relegation zone for the first time. I've often wondered why people live in Burnley, its such a hole. Still better than Middlesboro…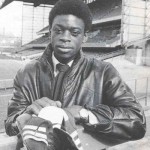 Times were bad, there didn't seem to be any effort being put into the games by the players, and I found it very hard to motivate myself to get up and go to the games. It wasn't much fun standing in a crowd of 8/9000 in a damp Stamford Bridge watching bottom of Division 2 football. Resigned to relegation, I'd start looking at the teams in Division 3, counting how many 'new' grounds I'd get in"!
We were now at the lowest point in our history, but we still turned up in the hope of avoiding relegation. Less than 9,000 saw Rotherham come and take a point, then just over 10,000 saw Sheff Wed do the same. With 2 games left –away at Bolton and home to Middsboro- we were staring Division 3 in the face. Also in my face were my mates up the Pub, they were happy as fark, floating around at the top of Division 1 and having jollies off in Europe. Horrible times, having the pee taken out of me week in, week out with nothing to throw back at them.
The night before Bolton away I went out up the Pub, as I'd done every Friday all season. A few pints..a few pints…a few pints…and I woke up Saturday morning. Late Saturday morning. Very late Saturday morning. To my horror it had gone 11am. A quick wash and I got a cab to Kettering station, 8 miles away. Things got worse as we got stuck behind a tractor or something on the road.
Arriving at Kettering at around 11.45 I enquired if I could still get to Bolton for 3pm. The following words have haunted me since.."the earliest you'll get to Bolton is 16.10, and that's if all the connections run good" Fark!!! I then remembered Leicester were at Oldham, so I rang my mate up to see if I could scrounge a lift with them in the car. Oldham wasn't too far from Bolton. His Mum said they left an hour ago. At the time I was of course peeved off, but sadly smiled at the knowledge that I'd been to Bolton a few times before, I wasn't missing a new ground, and anyway, they'd be plenty of them next season in Divison 3 after we'd been relegated.
On the bus home I was sick, luckily I had the top deck to myself so no one saw Fridays drink make a violent reappearance. The curse of Bolton and alcohol had struck yet again, I'd missed the 1978 "3-0 down 4-3 up"game due to being hung over, and now nearly 5 years later I still hadnt learned the lesson. Home and into the shower, Mum gave me the "serves you right" sermon. I retired to my bed and lay there dying as the news filtered through that Clive Walker had scored the only goal and Chelsea had won 1-0 up at a rain sodden Burnden Park. I quickly worked out if we were safe from relegation, and to my horror we could still go down.
The following week was  worry week. One of the Nationals done a 'fall from grace' article about us, how we'd gone from 70's cup kings to staring at life in Division 3. It was really starting to sink in now, trips beckoned to Newport, Exeter and Lincoln, whilst my mates all had European football to look forward to…again.
I still went out on the Friday before the last game of the season, but made sure I didn't get in another drunken state! On the train down for the Middlesboro game the following morning I studied the league table, the bottom 10 were seperated by a sad 4 points. We were 15th  with 46, 3 points above bottom placed Burnley. I sat there, predicting the scores….they'll get beat by them….. they'll get a draw at there…. they'll win that…..I worked out that even if Middlesboro beat us we could still stay up!!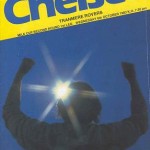 As I took my normal place in the Shed up by the West, I tried to picture a Chelsea v Exeter Division 3 game being played in front of a crowd of 3,001. The '1' would be me, I was still going to go Chelsea even if we ended up relegated that day. I would've avoided the Pub though…
The support was great, very vocal from start to finish. Those there that day knew what was at stake, though the Bolton game had took a lot of pressure off us and gave us some badly needed hope. Deep down I knew we could get relegated, but surely it couldn't happen to us, cos we are the Chelsea and we are best, we are the Chelsea so fark all the rest… A 0-0 draw saw both teams 'saved' from Divison 3.
On May 14th 1977 we'd invaded the pitch to celebrate winning  promotion to Division 1. On May 14th 1983 we invaded it to celebrate not getting relegated to Division 3. In those 6 years of  following Chelsea there had been a few ups, but far too many downs, what would 83-84 bring? Master Ken Bates said in his programme notes that day that some of the current squad were "simply not good enough". In John Neal notes, he said he "hopes to strengthen our squad"…………Along the M4 at Reading, Kerry Dixon had just been relegated to Division 4….
From the 50p programme-
The Marketing Dept ran a trip to Blackburn, for just(!) £35 you got 1st class return rail travel, Saturday night accommodation at the Bolton Crest Hotel, transfer to Ewood Park, and an  evening excursion to see Blackpools illuminations. For the rest of us the Special cost £8.50, the coach cost £6.50…
Chelsea apologised to spectators for problems due to lack of turnstilemen, who had gone to work at Craven Cottage instead…
Entry to the Chelsea Forum was £3, an opportunity to 'air your views and discuss Chelsea' with Ken Bates, John Neal, Shelia Marson (Club Secretary) Gordon Dimbleby (PA to Bates) and Chris Belt (Ticket Office Manager)…
Tony McAndrew said "I think we've got a great chance of going up this year"….(yeah, OK Tony)….
Oxford and District Supporters club sponsored Dale Jaspers socks…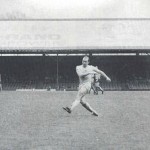 Admission
West Stand Wings £4.00 Centre £5.00
East Stand Upper Front wings…£4.75 Front centre…£5.75 Rear wings…£3.50 Rear centre…£4.00
East Stand Middle Centre…£4.00 Inner wings…£%.75 Outer wings…£4.75
East Stand Lower Centre…£4.00 Wings…£3.50
Shed £2.50
From the Club Shop
Playing cards £1.50 Mens hankies £1.99 Xmas football lights £6.50
RIP
Dick Spence, 1934-1950
Born during 82-83
Leon Knight Michael Essien Joe Keenan Alexis Nicolas
Posted by Corby
(Part Nine to follow)
Related Images: