When The Silly Season Is No Silly Season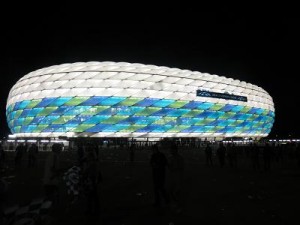 Being European Champions has settled in quite nicely, but its not just the title which fits us all like a tailor made suit or a designer dress, it's the realisation of dreams come true. Enough for some, or a stepping stone to greater achievement? I gather our generous benefactor has stated what he expects, other rival fans hoped and even some stated that if we won the top prize in club football then he would be offski… well think again, Mr Abramovich has taken a personal approach to land arguably the best up and coming prospect in Europe, this was after signing another talented young German who has something to prove and all without a manager.
So for all the other supporters harping on about this and that plus all that is wrong with Chelsea, one just sits back smiles a polite smile, opens another bottle of champaign, one settles into the outside reclining chair, pulls over the sun shade, slowly pours the double whipped cream on some ice cold strawberry's, looks up at the bright sunny morning South East Asian sky, and thinks we've been here before back in 2003 when Mr Abramovich first took charge, but this time there is no doubt we are a big fish in the global pond.
It takes just a brief look at you tube to see Chelsea's support is not anymore just from West London, or even the home counties, or Wales, Scotland and Ireland, its way beyond the shores of our septic isle, its in and around Europe, way past the old Eastern Berlin wall divide, we not just encroached into Arabia, its spread down through Africa then worked our way through India and throughout all of Asia, Australasia. Already established in North America, and now spreading though the hot bed of Latin South America….. "For Alexander wept as he saw no more world's to conquer!"
Seriously I'm sure we felt like we had won the Lotto back in 2003, a free spending Russian Oligarch who was viewed by many outsiders as a risk to English football, and so right they were … He was a risk he upset the apple cart of the old establishment of money clubs, never again will English football be the same.  He's silent and a very private man and let's his actions speak, no fancy words in public, no show boating press conferences, just like the hero in Sergio Leonie's Spaghetti Westerns who has a itchy trigger finger, he lets his actions speak for themselves, this is the real world, no loafing about with excuses, the pay is high the rewards are great, but fail and there is only one winner in Russian roulette. This is the Chelsea way, whilst others cry for stability, only one club has achieved that, we have been trying to play catch up for many years, since 2003 we not only caught up, but over took the vast majority.
We are slated and ridiculed by others, which from jealousy in 2003 and the brickbat of he won't stay, but he has and we have accumulated plenty of silverware along the way, the jibes of no history, really meaning we won nothing before money, well we did and have, and battled survival several times, gone through the NF years, and previous owners who almost sold us down the river, really you would never connect the word stability and Chelsea in the same sentence. We never had money (Liverpool's Moore's pools money, Man Utd's share issues, Arsenals thrift and 80 years of paying then top dollar) but we had style of our own a swagger of the Kings road, and a dogged old streak of when the time came we could battle it out. Even when on our uppers we could still pull in a crowd.
Today we get even more slants and snipes, but now its more of fear than jealousy, fear of what we have become and our growth as a global club, something we have to learn and understand ourselves. We not only invested in great players, but great investment partners and sponsors, summers overseas tours are now the norm, the USA and Asia frequently, next is South America and Africa, long gone are those pre-season days of the Anglo-Scottish Cup. Our Super Cup in Monaco is another challenge, and our excursion to Japan for the World Club Cup is more than just a publicity jolly, its big business, we need mega store outlets in major international cities where our support is expanding, our work with Samsung is showing great rewards for club and sponsor.
For all the attacks on us, look at it this way: Old money never liked new money its a threat, let them be stuck in their ways, let them become deluded that the past gives them rights to the future, both on the pitch and off it football evolves, if you don't adapt you die, change will always happen, accept it adapt to it and put yourself in a position to benefit from it…..
Next we need a bigger iconic ground, no shame in leaving the Bridge, if the opportunity arises we need to grasp it, whilst it might not be Battersea, maybe Earls Court or OOC are not yet out of the question, maybe there might other opportunities not yet announced. Even in these troubled times, a marked increase in capacity is essential, for those troubled times won't last for ever, and fans will come flooding back to see the right package.
We are not the richest club, there will always be others, but we are in a position of great opportunity, and Mr Abramovich has seen that again, TV money pays big, so we need to be on TV in front of potential customers and supporters, we all know you only have one ever football team.
There was a TV ad back in the 1980's promoting Milk…. A scouse kid goes to the fridge to drink milk, (wearing his Liverpool shirt at the height of their fame) claiming that Ian Rush drinks milk and if this kid does he could be good enough to play for Accrington Stanley. In fact Accrington were quite a good football team a long time ago……. now at the current rate in a few years time the ad could very much be changed to a kid in an Accrington shirt drinking milk, claiming that his local hero says if he drinks his milk he could be good enough to play for Liverpool….. well I guess you know the new slogan "Liverpool, who are they?"
We are without doubt London's Number 1 club…. In my city we have Chelsea " Spirit of Champions" on the side of Skyscrapers, now one on the elevated section of the M4 coming in from Heathrow would be just great to welcome all Olympic visitors.
"Welcome to London the home of Chelsea the Champions of Europe"
Posted by Voltaire