Chelsea Football Club – Champions Of Europe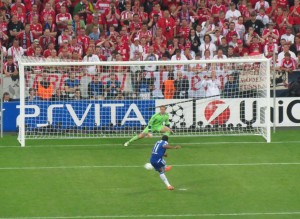 …… how great does that sound!
Having just returned this afternoon from Munich, I can only say what an emotional, strength sapping trip this has been, and I wouldn't have missed it for the world.
Of course the fact that we are now CHAMPIONS OF EUROPE obviously added to the enjoyment but I have to say, Munich is a great city and I look forward to returning sometime  in the future.
The Allianz Arena is just fantastic and if we end up with something like that at Battersea I won't be too disappointed!
Many thanks to all the Chelsea supporters and friends that we met out there and also to the Bayern supporters for accepting us into their city and stadium and making us feel so welcome.
I'm sure there are lots of pictures around the various sites but you can find the ones we took on my facebook site here
Other sites that we have seen: