CSG And FSF Meeting With Metropolitan Police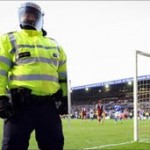 Following an inaugural meeting with the Metropolitan Police prior to last seasons FA Cup semi finals the CSG have been invited by the Football Supporters Federation  to attend another such meeting at New Scotland Yard this Friday, July 6th.
The meeting will be attended by representatives from several London clubs as well as a couple from outside London.
No agenda has been given for the meeting, therefore questions about all aspects of football policing and stewarding within the London area will be entertained.
Several police officers who deal specifically with the policing of football matches will be in attendance.
Any questions or suggestions you may have can be sent to our email address info@chelseasupportersgroup.net
The FSF have a survey regarding the policing and stewarding of football matches, so please find a few minutes to answer their questions at:
http://www.surveymonkey.com/s/PremiershipFans
Posted by Cliff Auger