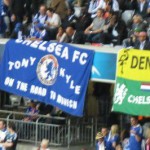 Some of you may have heard of the untimely death of one of our own, Kyle Broadbent who was killed in a tragic accident last Saturday. Kyle's friends are organising a walk before the Newcastle home game this Saturday (25/08) to remember him by.
If you are interested in joining them please find the details below as written by his good friend Ed Sokolowski
"Over the last couple of years, Kyle and a few others would walk from Euston to Stamford Bridge for the first home game of the season. There was never any real purpose behind the walk, but Kyle was always seemed to be a fan of long unnecessary walks at football (Marseille, Betis, Valencia etc) especially if it meant avoiding queuing)
We'd already planned to walk from Euston to West Brompton for the Newcastle match, so it seems appropriate to get as many of us together at Euston in the morning to make the walk. The pre-season walks would always be a great chance to mull over the season ahead, so in this case it would be great for everyone to get together and spend the time of the walk exchanging our stories and memories of what great times we all had with Kyle.
We're planning on meeting at around 8:30 at the benches outside Euston (next to Nando's etc) and set off at 9am. The walk usually takes 2-3 hours, which will depend on how fast we walk and which way we go. The Prince of Wales in west Brompton is where we're planning on ending up, so for those who can't make the walk, please join us in the pub.
Tony is making the effort to come along and is looking forward to seeing everyone. It's a massive lift for him to hear how much everyone loved Kyle and to reminisce about all the great times everyone shared with him. Tony's requested that Saturday is seen as a celebration of Kyle's life and that everyone uses the opportunity to remember how much happier he made all our lives.
We'll arrange some kind of collection in the pub to help out everything in the coming weeks.
Sorry if this isn't very clear on here, I'm not used to organising such events. In short, if you want to come along, show up at Euston between 8:30 and 9am, and bring yourself a few beers for the journey.
Please try and spread this out to as many people as possible, all welcome – whether you knew Kyle or not"
Kyle Broadbent – Chelsea fan – home and away
He was much loved and will be terribly missed
Our thoughts are with his friends & family
Kyle Broadbent – 20/11/86 – 18/08/12 RIP