Match Report: Chelsea 6 – Nordsjaelland 1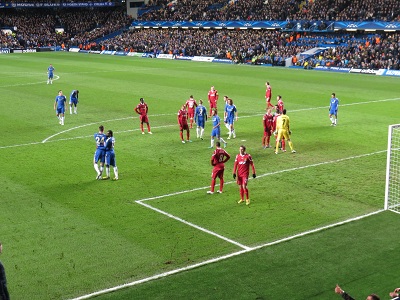 An impressive 6-1 victory over Nordsjaelland was not enough to prevent us becoming the first European champion holders to fail to qualify for the last 16.
With Juventus defeating Shakhtar Donetsk 1-0 to join the Ukrainian champions in the knockout stages we now go forward into the far less glamorous Europa League.
What began as a quiet game became an eventful one around the half-hour mark with three penalties awarded in six minutes each for handballs of varying degrees of culpability.
Petr Cech dived low to his right to save Stokholm's spot-kick after 32 minutes but Jesper Hansen then matched the Chelsea No1 by flinging himself to his left to keep out Hazard's penalty.
The third spot-kick was awarded when a close-range shot hit defender Patrick Mtiliga's arm that was resting by his side. Luiz paced out a fast bowler's run-up and rammed the ball home.
Torres doubled our advantage on the brink of half-time in a manner that will provide encouragement to Rafa Benitez and Chelsea supporters.
After out-pacing defender Michael Parkhurst to latch on to Victor Moses' smart through-ball his first attempt was beaten away by Hansen but he was able to keep his composure to steer the rebound over the goalkeeper and inside the far post.
That was his eighth Chelsea goal of the season.
19 seconds after the break, Nordsjaelland got a foothold in the match when Joshua John steered the ball goal wards in from a tight angle.
Cahill got on the score sheet after 51 minutes with his sixth goal of the season and from then on it was about how many Chelsea would win by as their part-time opposition tired.
Torres got his ninth of the campaign soon afterwards, while Mata and Oscar also scored late on as the final group game developed into more of a training match.
Ultimately though it was of little consequence as news began to filter through of Juventus having taken the lead and Chelsea supporters beginning to drift away.
Rafa Benitez described the mood in the home dressing room following the game…
'If we had won just 1-0 or 2-1 then maybe the players will only think it is a pity, but at the moment we can see they are not happy but there is also the feeling they did well today, suggesting the future can be good,' he said.
'The game between Shakhtar and Juventus was out of our hands so we had to do our job and as a manager I have to be really pleased with the performance of the team – 32 attempts, 18 on-target, six goals and a lot of clear chances. You have to think about the positives but you have to be really disappointed because you cannot progress in the Champions League.
We now return to premier league action with an away fixture against Sunderland this coming Saturday.
Gill Reeves – CSG disabled rep
Chelsea
01 Cech
02 Ivanovic
03 Cole (Bertrand – 60′ )
04 David Luiz – Booked
24 Cahill
06 Romeu
07 Ramires (Oscar – 65′ )
10 Mata (Ferreira – 74′ )
13 Moses
17 Hazard
09 Torres
Substitutes
22 Turnbull
19 Ferreira
28 Azpilicueta
34 Bertrand
11 Oscar
12 Mikel
21 Marin
Nordsjaelland
01 Hansen
08 Mtiliga – Booked
18 Parkhurst – Booked
21 Runje (Beckmann – 10′ )
05 Christiansen – Booked (Kildentoft – 61′ )
06 Adu
07 Stokholm
19 Gundelach
20 Lorentzen
15 John
23 Ticinovic (Issah – 64′ )
Substitutes
25 Jensen
04 Kildentoft
43 Maxso
10 Beckmann
22 Laudrup
24 Issah
31 Lindberg