Speaking With The Enemy – Sunderland
Speaking With The Enemy – Sunderland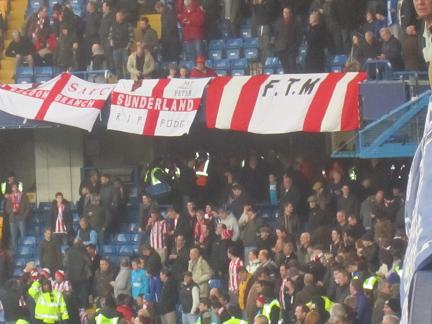 This weekend we face Sunderland in what has become a must-win game. Speaking with the Enemy has caught up with a couple of Sunderland fans to see their take on things……
"I'm Simon Walsh, Sunderland fan since birth and founded and created Roker Report a couple of years ago out of sheer boredom one night. Luckily some people seem to have liked it and a monster was born with daily articles, news opinion, interviews and an iTunes Top Ten podcast."
"Basically my names Adam Bennett, I'm 26 and come from a small town about 45 mins south of Birmingham called Evesham."
1.                  So why Sunderland?
RR – There was never really any choice in supporting Sunderland. Place of birth and you don't really get given any options. I think I'd have been homeless before I was even a teenager had I not followed my Dad into the eternal darkness that is supporting Sunderland. It's a curse I hope to pass to my kids one day.
AB – my grandad is from Gateshead and supports Sunderland, so does my mum and other family members, so I sort of followed suit.  iv now been supporting Sunderland since I was 11 as my dad is a villa fan and I was a villa fan for the first few years of my footballing life.
2.                  I think it's fair to say that Sunderland are not doing particularly well at the moment, flirting just above the relegation zone – all be it with alot of football still to play – what do you think have been the main problems?
RR – There's quite a few problems but the main ones seem to be that we just can't score. Defensively we've been sound, I've got no qualms there. Attacking wide though, at the start of the season we couldn't create anything and as a result hardly scored. Now we're creating buckets of chances and still not putting them away.
The other more worrying fact is that we don't seem to bother getting our backsides into gear until the damage is done – Norwich last weekend was a perfect example of that. Rarely have we played well for a full 90 minutes this season so far.
AB – not being clinical enough in front of goal and strong enough in defence.
3.        What would be a good season for Sunderland?
RR – A good season would be a top ten finish and a bit of a cup run. At the moment tough I'd settle for more mid-table mediocrity though and not being dragged into the ensuing relegation battle. It's not impossible that we can still achieve our preseason goal, but things would need to change sooner rather than later on that front.
AB – before the start of the season I would've said Europe now its PL survival!!
4.        If you could choose any Chelsea player to join Sunderland, who would it be and why?
RR – An interesting one. Well we need someone who can score, so that rules out Fernando Torres immediately (there's the kiss of death for Saturday). One player who's always stood out to me though is Ramires. We could do with his sort of energy in the middle of midfield. Or since Roman Abramovich is both rich and mental, he could have a time machine around somewhere. In which case can we have Frank Lampard of 3-4 years ago?
AB – difficult one – hazard and Mata, awesome players but think a strong defender would be wise; Ashley Cole, best full back in the league, need I say more?
5.        Which Sunderland player should Chelsea be worried about?
RR – There's not especially any one player Chelsea should be worried about, let's face it, we're not particularly great at the minute. If I had to pick out a couple though I'd say Danny Rose has been the outstanding player for us this season. Play's left back like a left winger getting forward lots and could overload your right hand side.
Away from that there might be problems for you if Sessegnon decides he's in the mood to play this week, also Connor Wickham is likely to start meaning we'll have two big bodies in him and Fletcher up front.
AB – on his day; sessengnon
6.        What has been your biggest high as a Sunderland fan?
RR – There's not been too many in my lifetime. Probably the 1992 FA Cup run to the final was the kind of thing we'll never forget as a lower league side getting there. There's only really away from that the record-breaking points season which saw us promoted after the 1998 play-off final defeat. Sunderland don't really do 'highs' they just let you think a high is coming before crushing your soul!
AB – winning the championship, establishing ourselves as a premier league team, beating Newcastle, difficult one but I'm going to go with beating Chelsea 3 – 0 😉
7.        Who has been your favourite ever Sunderland player and why?
RR – I'm sure if anyone from my site or anyone who listens to our podcast will know this is a very easy answer – Julio Arca. A diminutive Argentinean with a wizard of a left foot. A box of tricks who could run the game from left wing, left back or central midfield. He provided us some magic moments, scored some great goals and was generally just brilliant. He seems to have fallen in love with the club too, and we all appreciate that. Great hair too back in the day.
AB – Kevin Phillips – banged goals in for fun
8.        Do you think John Terry has deserved the national vilification he has been subject to?
RR – I'm sure this won't be popular on your site, but yet I think he does. I'm sure there's two sides to every story but he really does seem like a massive tosser. It seems as though everything he does, it's never his fault. All he'd have to do from time to time is just say "sorry, I've been a bit of a tit on this occasion" but he never ever seems to do so. I think Chelsea will only begin to grow once he hangs his boots up, but because he's Mr Bloody Chelsea, England's Brave John Terry, that's never going to happen any time soon.
AB – .  If he said what was alleged then yes
9.        When Didier Drogba stepped up to take that penalty in Munich in May – did you want him to score or miss and why?
RR – Yes, I did want him to score. There's a few reasons too. Mainly because I like to see any English team barring Newcastle (obvious hatred) and Liverpool (irrational hatred) do well in Europe, so watching that game I was firmly on Chelsea's side. Plus of course there was the underdog element to it, and of course they did have a bit of a slamming in the press for so-called "anti-football" which I prefer to think of as just effective. There's no right and wrong way to do things when you're trying to win. I was happy for you.
AB – score – English team so would back them all the way, and any English team for that matter (bar Newcastle)!
10.    Ellis Short seems to be the rarest of things – an owner with his head screwed on – what do Sunderland fans think of him
RR – love Ellis Short. He's been excellent since he came in and it's not that he's really doing anything different to anyone else, he's just as you point out – sensible. He knows he's not some footballing genius, and doesn't pretend to be. He lets the football people take care of that while he works hard on the off the field activities such as bringing money into the club. We couldn't ask for a better man at the moment.
AB – quite happy with the fact he's got money and is happy to spend it
11.    To the neutral Sunderland seemed to buy well in the summer – what do you think?
RR – I was delighted with the summer signings, and still am. It would be nice however if they started to show as good as we all wanted them to be. Fletcher went on a magnificent scoring run early on, but has since suffered a miniature crisis of confidence. Adam Johnson has been patchy to say the least but on the plus side Danny Rose has been superb and Carlos Cuellar reliable.
AB – .  I think we did buy well it's just taking a little longer to gel then expected
12.    Finally, what do you think the score will be?
RR – Rafa Benitez doesn't seem to be able to get things going for you, but at the same time our role in life is to give struggling sides a leg up, it seems. The likely outcome here is 3-0 to you lot and a Torres hattrick due to our good nature. However, because I'm stupid and I can't bring myself to bet against us I'll go for a startlingly dull 0-0.
AB – ones a hard one, were due some luck and a win so 2 – 1 Sunderland!
Posted by Trizia
(You can see all the 'Speaking with the Enemy' and 'Pressing Matters' articles here)