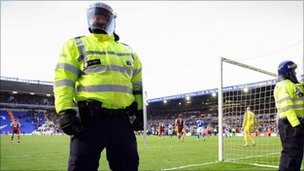 For further information regarding The FA Cup Semi-Final matches on Saturday 13 and Sunday 14 April 2013, please refer to the following links.To see your seat-to-sofa route go to:
http://www.wembleystadium.com/TheStadium/WS-Sofa-To-Seat.aspx
COACH:
If you are thinking of travelling by road, why not make it easier by coming with National Express and keeping it simple:
http://www.nationalexpress.com/wherewego/events/wembley-stadium/fa-cup-semi-finals.aspx
LONDON TRAVEL:
Wembley Stadium is serviced by two tube lines, the Jubilee Line and the Metropolitan line. Both lines stop at Wembley Park which is the stop to alight at for the Stadium. For real time information for London Underground, Road, Bus and other services, please visit:
PARKING:
For those making their way to the stadium for either of the Semi-Finals, car parking is available in the official car parks adjacent to Wembley Stadium and can be pre-booked via The Combined Services Provider Ltd. For pricing or to book a space, please visit:
STADIUM:
We hope that you have an amazing experience when visiting Wembley Stadium, to make the most of your time here we encourage you to read the rules and regulations for the stadium, things include, prohibited items and behaviour within the stadium:
www.wembleystadium.com/TheStadium/StadiumGuide/RulesnRegulations
BEHAVIOUR:
The FA will investigate all allegations of abuse. If you experience a Racist, anti-Semitic, Islamaphobic, homophobic or transphobic incident at the match please report it to the Police or a Steward. Wembley Stadium treats anti-social behaviour seriously and expects all visitors to treat staff and fellow visitors with Respect. However, if you experience anti-social behaviour close to you, please send a text to 87474 with the relevant keyword: Foul (Language and behaviour); Racism (Racist chanting and shouting); HPH (Homophobic chanting); Drink (Drinking alcohol in view of the pitch); Smoke (Smoking in the Stadium); Stand (Standing up), along with your location and the location of the offence – Block, Row, Seat. Each message costs one standard message at your local rate.
For any enquiries call the Club Wembley team on 0844 980 0038 or email sales@wembleystadium.com.
Information for above can be found
here