Chelsea v Man City – Match Summary
Chelsea 2 Man City 1 – Wednesday 5 April 2017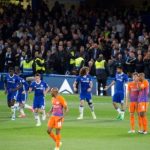 Another big match at the bridge, it doesn't take too much to get motivated on nights like this, another one of those 'season defining' games in store.
In team news, big Kurt Zouma was brought into the back three allowing Azpilicueta to take up the right wing back position in place of the injured Moses. Otherwise it was a familiar lineup with Courtois in goal and Luiz and captain Cahill at the back, with Alonso out on the left as usual. Kante and Fabregas made up the midfield partnership with Pedro and Hazard providing the silky skills and the pace to run around and support Costa up front. On bench warming duties were Begovic, JT, Ake, Matic, Loftus-Cheek, Willian and Batshuayi.
A frenetic pace to the start of the game as the ball popped around the midfield with the occasional half chance on goal. But something needs to be said about that outrageous tangerine and purple kit that City were wearing. It was an affront to football as well as to my eyes!
But just 10 minutes in, the breakthrough came. The ball well worked down the right with Azpilicueta and Pedro setting up Hazard, just inside the box, to fire a shot on goal that glanced off the big head of Kompany, so wrong footing Caballero in goal. A brilliant start to hopefully calm any nerves.
No let up with the pace, fast and furious at times, we knew we were in a battle and City were pressing us high up the pitch to put pressure on our goal. It was keep-ball from the Tangoed team, short passing around the outside of our box looking for an opening. But we kept them at bay as our back five kept the back door firmly shut. Their high pressing played into our hands, one false move from them and the counter attack was on, Hazard streaked down the left as Fabregas's shot on goal looped off Clichy and just skimmed over the top of the crossbar.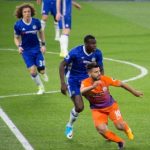 It was a war of attrition in the middle of the park, the speed of passing saw the ball given away or intercepted on both sides. It was so crowded I wondered if there were twice as many players on the pitch. There was little space to operate and following a passage of forced passing back and forth between Azpilicueta and Zouma, the ball eventually found its way back to Courtois who managed to misplace his kick out, perhaps feeling rushed under pressure from Aguero. But the ball landed straight into the lap of Silva whose eventual shot on goal was blocked by our unfortunate keeper, only for Aguero take advantage of the rebound. Dammit.
Like many I'm sure, I was getting flashbacks of the Palace game and I think City were thinking along the same lines when Sane sprinted toward our goal past Zouma, but thankfully Courtois was there to block any idea of a shot. We needed to be on high alert because the game was being played at such a high tempo.
But perhaps somewhat against the run of play, Fabregas played the ball to Pedro who was just inside the box when he was unceremoniously tripped by Fernandinho. Penalty! And it couldn't have come at a better time as City probably felt they were on top of things. Up stepped Hazard but if at first you don't succeed, blast the ball into the back of the net like he should have done first time! Got out of jail there, Eden, thank goodness!
Fair play to City though, they kept at it and were testing out our defence, half hearted clearances allowing shots on goal that Courtois was forced to make. And make them he did but it was a nerve wracking period of the game as we safely navigated our way towards half time with the score remaining at 2-1.
Second half and unusual to have a change at this point but Zouma was taken off and replaced my Matic. Was Conte concerned that our young defender was being outpaced? City wasted no time in getting to work, as we had to deal with an early free kick on our goal.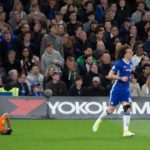 We were riding our luck at times and if City had connected to their shots they could have equalised. But we actually cancelled each other out for much of the time, both sides capable, or dare I say guilty, of a wayward pass, but mainly forcing errors under hurried closing down from the opposition. It was really hard to know where the next goal was coming from, and it would be a crucial one wherever it was.
And how many corners did they have? I've not seen the stats but it seemed like a lot, so many chances for City to score from there but we were wise to it, always ready to block and find a counter attacking opportunity when the attack broke down. It was nail biting stuff and the orange ones certainly appeared have the upper hand at this stage. Our boys never looked phased though, Luiz 'took care' of Aguero on more than one occasion limiting his threat to very few opportunities, apart from that one lucky goal.
The home fans were in good voice, certainly where I was in the West Lower, but unless they were being drowned out, there was very little noise coming from the away section. Perhaps they only sing when they're winning.
Into the last 20 minutes and City were still knocking on the door. But we had our moments too, the best of which 5 minutes later when passes across the box eventually found Hazard, looking for his hat trick of course, but his shot was fired over the bar. Head in hands, he really should have done better!
Our second change saw Willian come on for Fabregas, some fresh legs welcome with 10 minutes to go. We were getting more of the ball now, threatening to score, but our boys seemed intent on working intricate passes on our way to the goal, when the home fans just wanted them to shooooooot.
The clock was ticking by slowly, but as we approached full time Conte calmed the nerves a bit by making a late change, goal man Hazard replaced by Loftus-Cheek, to a standing ovation from the home crowd.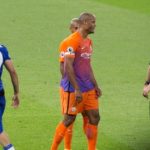 Thankfully we survived a stoppage time scare when Aguero and then Stones each conspired to miss their target, as our main man Conte was fired up in a final gesture of crowd rousing excitement.
At last, the final whistle, thousands of drained Chelsea supporters sighed a deep sigh of relief while celebrating with a rendition of One Step Beyond. What a game, what a night, our boys did a great job limiting a team who clearly set out to score goals. Pedro worked his little socks off, Hazard was Hazard, Kante was Kante, and our defence soaked it all up.
If that doesn't deserve a nerve calming drink, especially with the District Line up the creek, I don't know what does. Antonio…..Antonio!
Posted by Chelsea Debs
Debs can be found on Twitter as @cfcunofficial and at cfcunofficial.com
You can read all Chelsea Debs 'Match Reports' here
DISCLAIMER: All articles written for the Chelsea Supporters Group 2005 (CSG) are those of the author and do not represent the views of the CSG. The views and opinions expressed are solely that of the author credited in the article. The CSG do not take any responsibility for the content of its contributors.
'Chelsea Supporters Group' can be found on Twitter and Facebook