A View From The East Upper
A View from East Upper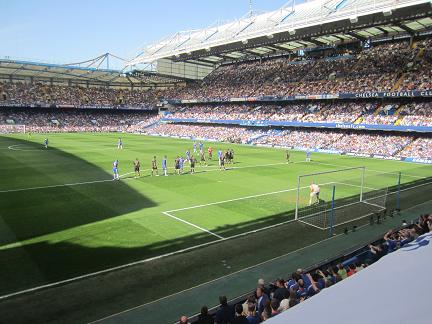 Strange old season, really.  At about twenty to two on 19 August I thought we'd hammer Wigan out of sight, with Hazard and Mata making Latics' defence look like juggernauts with no turning circle: by the 85th minute boredom had set in and a few of us wondered if the M6 queues may be more interesting.
A few games later the team seemed to have lost its  sense of direction as Athletico stripped out our midfield (especially Ramires), bewildered Cahill and Luiz and left enough of us at one end of the ground wondering if Roman would shift some million roubles to lift Falcao. Mike, a mate of mine, prophetically, said something like "Robbie'll be in trouble if we have too many more of these".
The farce against Salford Reds seemed to highlight the growing fragility in the team, even though a fight back from 2 down, as well as some inexplicable refereeing from Clattenburg, gave a gloss to an unfair result. I still believe if we'd won that then Robbie may have survived longer. A Turin shroud fell as we lost badly to Juve.  A rudderless team bereft of on-field leadership just couldn't raise a fight, something we'd known at the heart of recent seasons. No Torres in that game, Eden H up top in a shapeless, sad show.  Oh, how we wished for a Terry or Drogba. Two wins in eight games finished RDM.
But, hallo, the club finds a Spanish saviour. FFS said so many of us, what is this? In a more rational moment I guessed no one else was available, but Benitez? Couldn't recall such hostility in away games that came his way. The vitriol at Spammers, coming after another weak response, seemed justified. The uplift at Xmas, eight against one of the worst Villa teams I've seen, appeared to help only for 'Arry's boys to make us look dumb.
Ebb and flow, some call it: hmm! League Cup nonsense against Swansea compounded by giving points away to Reading and Southampton, the obligatory league loss at the pale blue mancs strangely presaged an improvement in form – after all that was the last league defeat.  Frank's return to the team, better organisation and the axis power of OscarHazardMata all lifted the expectations. Mike grins "We may win something yet!"
April and May saw some good stuff on field and the fight was back; winning at Old Trafford felt like the year's best result. On the way out the noise was what I'd come to enjoy at away games; their support melted away in the dusk. We had a few celebratory beers and the M6 was an open road home.  But typically we give Spurtz a glimmer of a chance to finish top 4 with some dopey defending.
An Amsterdam day out, good crack with the locals and a few Benfica fans tried to disrupt us but they were lightweights really. Ninety plus minutes, and I say to Mike "We never score from corners" when Bran completely farks that! Everton don't really lie down and, bless him, Torres, who'd started to look like a £15m player (no chance of the full monty of £50m) scores two quality goals in successive games to give us a happy ending. On the stairs down from East Upper Mike says, "They never fail to mystify me".  Too right and about 40000 other would agree. But that's the beauty of the Blues. Onward to August and maybe the return of some bloke who seems to know how to make Chelsea win …
Blueintheface
Related Images: