Frank Lampard – Record Breaker – Legend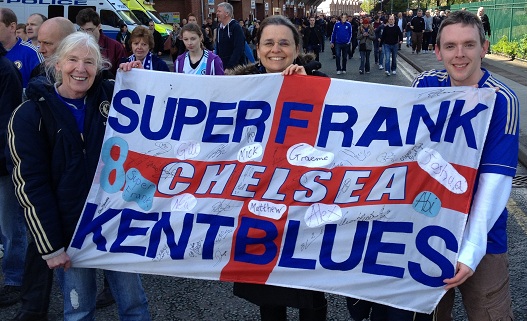 203 not out (yet!)
Frank Lampard scored twice yesterday (12/05) against Aston Villa to notch up goals 202 & 203 to overtake the goal scoring record on 202 set by the great Bobby Tambling and become the club's all time record goal scorer.
Fantastic achievement by a midfielder and a true Chelsea legend.
Many congratulations from all at the Chelsea Supporters Group and Chelsea supporters everywhere. Let's hope the club see sense and give Frank a well deserved contract extension so he can stay at The Bridge for many years to come.
FRANK LAMPARD 203 CHELSEA GOALS: from the official site:
2001/02 1 Sep 20 Levski Sofia (UEFA Cup home) W 3-0 2 Dec 23 Bolton Wanderers (home) W 5-1 3 Dec 26 Arsenal (away) L 1-2 4 Jan 16 Norwich City (FA Cup home) W 4-0 5 Feb 9 Aston Villa (away) D 1-1 6 Mar 2 Charlton Athletic (away) L 1-2 7 Mar 13 Tottenham Hotspur (home) W 4-0
2002/03 8 Aug 17 Charlton Athletic (away) W 3-2 9 Aug 28 Southampton (away) D 1-1 10 Oct 3 Viking Stavanger (UEFA Cup away) L 2-4 11 Dec 21 Aston Villa (home) W 2-0 12 Jan 28 Leeds United (home) W 3-2 13 Mar 1 Newcastle United (away) L 1-2 14 Mar 8 Arsenal (FA Cup away) D 2-2  15 Mar 22 Manchester City (home) W 5-0
2003/04 16 Sep 13 Tottenham Hotspur (home) W 4-2 17 Sep 20 Wolverhampton Wanderers (away) W 5-0 18 Oct 22 Lazio (Champions League home) W 2-1 19 Nov 4 Lazio (Champions League away) W 4-0 20 Nov 9 Newcastle United (home) W 5-0 (penalty) 21 Nov 30 Manchester United (home) W 1-0 (penalty) 22 Dec 28 Portsmouth (home) W 3-0 23 Jan 3 Watford (FA Cup away) D 2-2 24, 25 Feb 1 Blackburn Rovers (away) W 3-2 26 Mar 27 Wolverhampton Wanderers (home) W 5-2 27 Apr 6 Arsenal (Champions League away) W 2-1 28, 29 May 1 Southampton (home) W 4-0 30 May 5 Monaco (Champions League home) D 2-2
2004/05 31 Aug 28 Southampton (home) W 2-1 (penalty) 32 Oct 30 West Bromwich Albion (away) W 4-1 33 Nov 13 Fulham (away) W 4-1 34 Nov 30 Fulham (League Cup away) W 2-1 (substitute) 35 Dec 4 Newcastle United (home) W 4-0 36 Dec 18 Norwich City (home) W 4-0 37, 38 Jan 15 Tottenham Hotspur (away) W 2-0 (1 penalty) 39 Jan 26 Manchester United (League Cup away) W 2-1 40 Mar 8 Barcelona (Champions League home) W 4-2 41 Mar 19 Crystal Palace (home) W 4-1 42 Apr 2 Southampton (away) W 3-1 43, 44 Apr 6 Bayern Munich (Champions League home) W 4-2 45 Apr 12 Bayern Munich (Champions League away) L 2-3 46 Apr 23 Fulham (home) W 3-1 47, 48 Apr 30 Bolton Wanderers (away) W 2-0 49 May 15 Newcastle United (away) D 1-1 (penalty)
2005/06 50, 51 Aug 24 West Bromwich Albion (home) W 4-0 52 Sep 13 Anderlecht (Champions League home) W 1-0 53, 54 Sep 24 Aston Villa (home) W 2-1 (1 penalty) 55 Oct 2 Liverpool (away) W 4-1 (penalty) 56, 57 Oct 15 Bolton Wanderers (home) W 5-1 58 Oct 23 Everton (away) D 1-1 59, 60 Oct 29 Blackburn Rovers (home) W 4-2 (1 penalty) 61 Nov 26 Portsmouth (away) W 2-0 (penalty) 62 Dec 26 Fulham (home) W 3-2 63 Jan 2 West Ham United (away) W 3-1 64 Jan 28 Everton (FA Cup away) D 1-1 65 Feb 8 Everton (FA Cup home) W 4-1 (penalty) 66 Feb 25 Portsmouth (home) W 2-0 67 Mar 7 Barcelona (Champions League away) D 1-1 (penalty) 68 Apr 15 Bolton Wanderers (away) W 2-0 69 Apr 17 Everton (home) W 3-0
2006/07 70 Aug 20 Manchester City (home) W 3-0 71 Aug 27 Blackburn Rovers (away) W 2-0 (penalty) 72, 73 Sep 23 Fulham (away) W 2-0 (1 penalty) 74 Oct 28 Sheffield United (away) W 2-0 75 Oct 31 Barcelona (Champions League away) D 2-2 76 Nov 8 Aston Villa (League Cup home) W 4-0 77 Dec 17 Everton (away) W 3-2 78 Dec 23 Wigan Athletic (away) W 3-2 79, 80, 81 Jan 6 Macclesfield Town (FA Cup home) W 6-1 (1 penalty) 82 Jan 13 Wigan Athletic (home) W 4-0 83, 84 Jan 23 Wycombe Wanderers (League Cup home) W 4-0 85 Jan 31 Blackburn Rovers (home) W 3-0 86 Feb 3 Charlton Athletic (away) W 1-0 87, 88 Mar 11 Tottenham Hotspur (FA Cup home) D 3-3 89 Mar 14 Manchester City (away) W 1-0 (penalty) 90 Apr 15 Blackburn Rovers (FA Cup Old Trafford) W 2-1 aet
2007/08 91 Aug 15 Reading (away) W 2-1 92 Aug 19 Liverpool (away) D 1-1 (penalty) 93 Aug 25 Portsmouth (home) W 1-0 94, 95, 96 Oct 31 Leicester City (League Cup home) W 4-3 97 Nov 3 Wigan Athletic (away) W 2-0 98 Dec 8 Sunderland (home) W 2-0 (penalty) 99 Dec 19 Liverpool (League Cup home) W 2-0 100, 101 Feb 16 Huddersfield Town (FA Cup home) W 3-1 102 Mar 1 West Ham (away) W 4-0 (penalty) 103 Mar 5 Olympiacos (Champions League home) W 3-0 104, 105, 106, 107 Mar 12 Derby (home) W 6-1 (1 penalty) 108 Apr 8 Fenerbahçe (Champions League home) W 2-0 (pictured below) 109 Apr 30 Liverpool (Champions League home) W 3-2 aet (penalty) 110 May 21 Man Utd (Champions League Moscow) D 1-1 aet (lost pens)
2008/09 111 Aug 17 Portsmouth (home) W 4-0 (penalty) 112 Sep 13 Man City (away) W 3-1 113 Sep 16 Bordeaux (Champions League home) W 4-0 114, 115 Sep 24 Portsmouth (League Cup away) W 4-0 (1 penalty) 116 Oct 18 Middlesbrough (away) W 5-0 117 Oct 29 Hull City (away) W 3-0 118 Nov 1 Sunderland (home) W 5-0 119 Dec 26 West Bromwich Albion (home) W 2-0 120, 121 Dec 28 Fulham (away) D 2-2 122 Jan 14 Southend United (FA Cup away) W 4-1 123 Jan 17 Stoke City (home) W 2-1 124 Jan 24 Ipswich Town (FA Cup home) W 3-1 125 Feb 28 Wigan Athletic (home) W 2-1 126 Apr 4 Newcastle United (away) W 2-0 127 Apr 11 Bolton Wanderers (home) W 4-3 (penalty) 128, 129 Apr 14 Liverpool (Champions League home) D 4-4 130 May 30 Everton (FA Cup Wembley) W 2-1
2009/10 131 Aug 9 Man Utd (Community Shield Wembley) D 2-2 (won pens) 132 Aug 18 Sunderland (away) W 3-1 (penalty) 133 Oct 21 Atlético Madrid (Champions League home) W 4-0 134, 135 Oct 24 Blackburn Rovers (home) W 5-0 (1 penalty) 136 Oct 31 Bolton Wanderers (away) W 4-0 (penalty) 137 Dec 16 Portsmouth (home) W 2-1 (penalty) 138 Dec 20 West Ham (away) D 1-1 (penalty) 139 Jan 3 Watford (FA Cup home) W 5-0 140, 141 Jan 16 Sunderland (home) W 7-2 142, 143 Jan 27 Birmingham City (home) W 3-0 144, 145 Feb 27 Manchester City (home) L 2-4 (1 penalty) 146 Mar 7 Stoke City (FA Cup home) W 2-0 147 Mar 24 Portsmouth (away) W 5-0 148, 149, 150, 151 Mar 27 Aston Villa (home) W 7-1 (2 penalties) 152 Apr 10 Aston Villa (FA Cup semi-final Wembley) W 3-0 153 Apr 17 Tottenham Hotspur (away) L 1-2 154, 155 Stoke City (home) W 7-0 (1 penalty) 156 May 2 Liverpool (away) W 2-0 157 May 9 Wigan Athletic (home) W 8-0 (penalty)
2010/11 158 Aug 14 West Bromwich Albion (home) W 6-0 159 Jan 2 Aston Villa (home) D 3-3 (penalty) 160, 161 Jan 3 Ipswich Town (FA Cup home) W 7-0 162 Feb 1 Sunderland (away) W 4-2 (penalty) 163 Feb 19 Everton (FA Cup home) D 1-1 lost on pens 164 Mar 1 Manchester United (home) W 2-1 (penalty) 165, 166 Mar 7 Blackpool (away) W 3-1 (1 penalty) 167 Apr 16 West Bromwich Albion (away) W 3-1 168 Apr 23 West Ham United (home) W 3-0 169 Apr 30 Tottenham Hotspur (home) W 2-1 170 May 8 Manchester United (away) L 1-2
2011/12 171 Aug 27 Norwich City (home) W 3-1 (penalty) 172 Sep 28 Valencia (Champions League away) D 1-1 173, 174, 175 Oct 2 Bolton Wanderers (away) W 5-1 176 Oct 29 Arsenal (home) L 3-5 177 Nov 5 Blackburn Rovers (away) W 1-0 178 Dec 12 Manchester City (home) W 2-1 (sub, penalty) 179 Jan 2 Wolverhampton Wanderers (away) W 2-1 180 Jan 8 Portsmouth (FA Cup home) W 4-0 181 Jan 14 Sunderland (home) W 1-0 182 Feb 25 Bolton Wanderers (home) W 3-0 183 Mar 14 Napoli (Champions League home) W 4-1 aet (penalty) 184 Apr 4 Benfica (Champions League home W 2-1 (penalty) 185 Apr 9 Fulham (away) D 1-1 (penalty) 186 Apr 15 Tottenham Hotspur (FA Cup Wembley) W 5-1
2012/13 187 Aug 19 Wigan Athletic (away) W 2-0 (penalty) 188 Aug 22 Reading (home) W 4-2 (penalty) 189 Oct 6 Norwich City (home) W 4-1 190 Dec 23 Aston Villa (home) W 8-0 191, 192 Dec 30 Everton (away) W 2-1 193 Jan 5 Southampton (FA Cup away) W 5-1 (sub, penalty) 194 Jan 12 Stoke City (away) W 4-0 (penalty) 195 Jan 20 Arsenal (home) W 2-1 (penalty) 196 Jan 30 Reading (away) D 2-2 197 Feb 2 Newcastle United (away) L 2-3 198 Feb 9 Wigan Athletic (home) W 4-1 199 Feb 17 Brentford (FA Cup home) W 4-0 200 Mar 17 West Ham United (home) W 2-0 201 Apr 28 Swansea City (home) W 2-0 (sub, penalty) 202 203 May 11 Aston Villa (away) W 2-1
Top all-time scorers Frank Lampard 203 Bobby Tambling 202 Kerry Dixon 193 Didier Drogba 157 Roy Bentley 150 Peter Osgood 150 Jimmy Greaves 132 George Mills 125 George Hilsdon 108
GOALS SCORED AGAINST INDIVIDUAL TEAMS
FOURTEEN GOALS Aston Villa
TWELVE GOALS Bolton Wanderers
TEN GOALS Blackburn Rovers Portsmouth
NINE GOALS Everton Fulham Tottenham Hotspur
SEVEN GOALS Liverpool Manchester City Sunderland Wigan Athletic
SIX GOALS Manchester United Newcastle United Southampton West Bromwich Albion
FIVE GOALS Arsenal Stoke City West Ham United
FOUR GOALS Derby County Norwich City
THREE GOALS Barcelona Bayern Munich Charlton Athletic Ipswich Town Leicester City Macclesfield Town Reading Wolverhampton Wanderers
TWO GOALS Birmingham City Blackpool Huddersfield Town Lazio Watford Wycombe Wanderers
ONE GOAL Anderlecht Atlético Madrid Benfica Bordeaux Brentford Crystal Palace Fenerbahçe Hull City Leeds United Levski Sofia Middlesbrough Monaco Napoli Olympiacos Sheffield United Southend United Swansea City Valencia Viking Stavanger
Home 116 Away 81 Neutral 6 —————— Total 203
Penalties 55 taken, 48 scored
Top league scorer in the top-flight Lampard 141, Tambling 129, Bentley 128
Top FA Cup scorer Lampard 26, Tambling 25, Bentley 21
Second highest scorer in Europe Drogba 34, Lampard 24, Osgood 16
Second highest scorer in the League Cup Dixon 25, Lampard 11, Osgood 10