Chelsea Supporters Tournament Update
Chelsea Supporters Tournament 2013
The 'Chelsea Supporters Tournament' being held once again this year, at Chelsea FC's excellent training ground at Cobham, on Sunday 14th July is nearly with us.
We have ten teams this year playing on two pitches for the two trophies up for grabs. The 'Plate Trophy' will go to this years runners up whilst the newly named 'Kyle Broadbent Memorial Trophy' will go to our overall winning team. Kyle was tragically killed this year in a roofing accident and the organising group wanted to dedicate this years tournament to Kyle, Chelsea FC  and Kyle's family agreed.
Kyle's father Tony together with family and friends, along with Dennis Wise (to be confirmed) will be there on the day to present the cup to the winners.
Other 'Old Boys' in attendance will be Clive Walker and David Lee and, I'm sure, others will arrive during the day. The Old Boys will be on hand for photo's, autographs and also will be helping with some refereeing!
Full showers, toilets and changing room facilities will be available on the day.
Although the day is for the supporters it is important to remember that we are doing this for charity, and as such, we will be holding a raffle on the day with some excellent prizes up for grabs, a full list of these will be available on the day.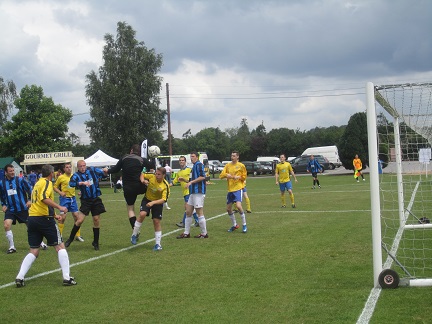 For all those attending please be on site by 9:30 latest, first two games kick off at 10am prompt with a 'team managers' meeting at 9:30 by the easy up.
We welcome anyone that wishes to come along and help us on the day, if you can make it please contact us here and if you can referee then again we can always use some extra assistance.
Any further details required on the event can be made by contacting the CSG here
(Please note: there IS NO general public access to this event, security around Cobham prevents this so please DO NOT just turn up as you WILL NOT get access past the security barrier.
The entire Cobham complex is a NO ALCOHOL and NO SMOKING area! Please do not abuse these rules, we want to keep this facility for many years to come)

We look forward to seeing all attendees on the day
Pictures from the previous event can be found on Facebook here
Organising committee