Disabled Chelsea Fan 'Climbs' Mount Snowdon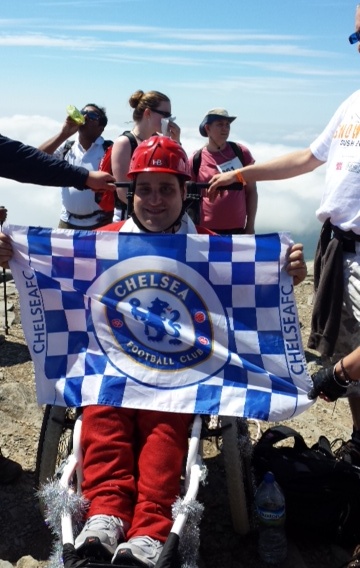 My name is Pep and I am a disabled chelsea member.  I have recently took part in a climb to the summit of Mount Snowdon but it was a climb with a difference!
The climb is called The Snowdon Push and it was arranged by a charity called 'The Back Up Trust' (http://www.backuptrust.org.uk/home) who provide wheelchair training for people that are spinally cord injured – they help people get back to as normal a life as possible – people just like me.
They arrange a push with as many teams as possible with up to 16 people per team pushing and pulling a wheelchair user up and then down the 3,500ft mountain.
I did this with 15 work colleagues. As soon as I reached the top there was only one picture I wanted to have taken – me with my Chelsea flag! I want to thank my work colleagues at Coloplast who helped me climb up and down the very demanding mountain and I want to thank the many CFC fans across the world who have contacted me on Twitter with messages of support and also with the many generous donations (to date we raised £5,600!) and support received from The Chelsea Supporters Group.
We really do have the best fans in the world!
Many Thanks
Pep Merola (twitter @chelseapep), Peterborough. 
CSG – We at the CSG would like to congratulate Pep and the team for such an amazing feat and for raising so much money for their charity.
Related Images: