Chelsea Football Fans Tournament 2013
Yesterday saw supporters descend on Chelsea's training ground at Cobham for the annual supporter's football tournament.  You have to admire their dedication as they had to play a number of games on what was possibly the hottest day of the year so far.
This did not deter the teams as all the games were fiercely contested – we saw goals, penalty shoot-outs and even a red card – a lot for the referees to handle! Those watching may have recognised two of the referees – Chelsea old boys David Lee and Clive Walker adjudicated brilliantly.
Speaking of Old Boys, former Chelsea captain Dennis Wise came along for a while to lend his support too.
T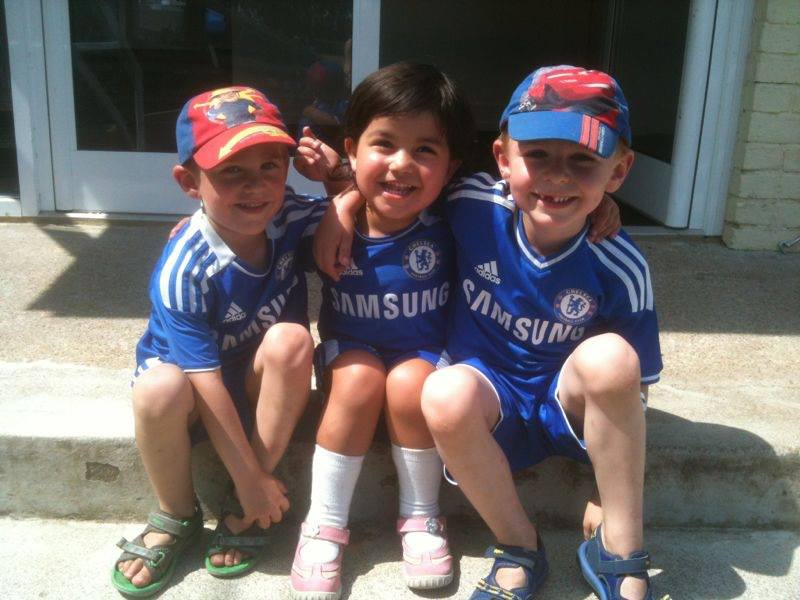 his year the teams were contesting the newly named "Kyle Broadbent Memorial trophy" – Kyle was a popular, loyal Chelsea fan who was tragically killed in an accident. Kyle's father, Tony was there to present the cup to the wining team.
The eventual winners – who successfully defended their crown, were Chelski Dynamo – well done to them – they were definitely the best team on the day. Runners up were West Middx Blues who also played very well.
A special mention to all the teams that took part making it a great day all round –
Epsom Blues
Blue & White Army
Jam Tree Blues
Chelski Dynamo
CFCNet
West Middx Blues
Czech & Slovak Chelsea
Denham Blues
Hastings Blues
Bristol & Bath Blues
The tournament was organised by our very own Peter Trenter and Cliff Auger and they were very busy on the day ensuring that everything ran smoothly – big thanks to them for all their hard work. Also thank you once again to Chelsea for allowing us to use Cobham for the event and for providing some of the raffle prizes along with Adiidas.
Lastly, a shout out to all the unsung heroes without whom we would find holding the tournament very difficult  – i.e. the band of volunteers, referees, runners, St. John's Ambulance, those that donated raffle prizes etc.
All in all a bit of fun, a good day out and some money to charity to boot – I bet there are some sore legs and sunburn today though!
Pictures from the day can be found on Facebook here, and on Dan Davies site here.
CSG Committee