Chelsea New Signing Mark Schwarzer [by Gary Watton]
MARK SCHWARZER [by Gary Watton]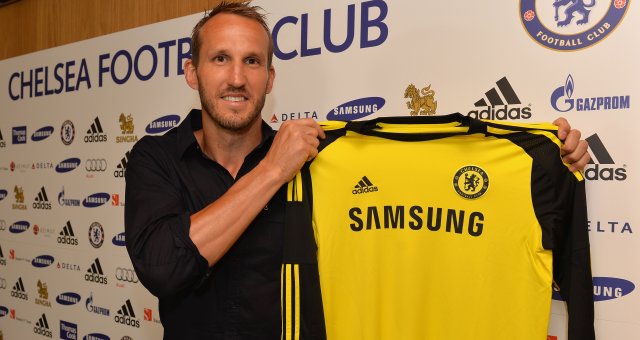 Although the shock signing of the experienced goalkeeper, Mark Schwarzer appears to go against the grain in terms of Chelsea's pursuit of young talent, I for one welcome Schwarzer's arrival at the Bridge.
First and foremost, big Mark will be a step up in class from Ross Turnbull or hilarious Hilario. Chelsea followers need no longer fret if our main man gets injured and is absent for any part of the season.
Now, Petr Cech has a quality understudy. I don't wish to be too harsh on Mr Turnbull, but he was partially responsible for us shooting ourselves in the foot at home to Swansea City in the Capital One Cup semi-final. A place in the final and almost certain silverware was ours for the taking if we had not endured goalkeeping mishaps on that awful night at home to Swansea which left us chasing shadows in the second leg.
Schwarzer who down through the years has had to pick the ball out of the net many times at the hands of Lampard and colleagues is obviously not too bitter about such a trauma as he spoke excitingly about joining Chelsea. Mind you, if at the age of forty we were being generously paid, then we could all pay a glowing tribute to our employers too!
I hope that Mourinho gives Schwarzer a few matches. I would suggest that Schwarzer plays in all Capital One Cup matches [including any potential final] and in all FA Cup matches [including any potential final]. I would also let him play in the European Super Cup Final.
What is there to be gained from playing big Petr in every single match when he has such an able understudy waiting in the wings? Let's ensure that our big new Australian maestro earns his wages once in a while! In all probability, Mr S is only a short-term stopgap of one, maybe two years, until Thibaut Courtois graces us with his presence. I have read nothing but the highest praise for Courtois who was nominated as the goalkeeper of the season in La Liga by a BBC football pundit.
Courtois also kept the most clean sheets or else earned some accolade for the fewest goals conceded per appearance ratio in La Liga. We have all been fortunate to be blessed with the goalkeeping excellence of Petr Cech. I cannot wait to see Courtois succeed Petr The Great in a couple of years time as Courtois has definitely the making of being the best goalkeeper in the world, without any question.
It's good to see that Chelsea now has an embarrassment of riches in the shot-stopping department. Such healthy competition will hopefully also galvanise big Petr to keep his goalkeeping at the highest level. I will certainly be following him closely this year, in view of the fact that there are one or two good alternatives for next season and beyond. Cech has been a legend and Courtois is sure to follow suit unless he loses patience with Chelsea. Mind you, he would probably fetch a pretty price in the transfer market if we were foolish enough to sell him.
Now that the gifted Van Ginkel and Schurrle are also safely within the Blues bosom, can we please concentrate on acquiring a defender or two and forget all these media-reported wild goose chases for over-priced strikers.
Gary Watton [Chelsea historian; see http://sporthistorian.blog.com/chelsea]