Arrogant, 'Classy' Liverpool
ARROGANT, 'CLASSY' LIVERPOOL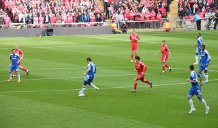 I have been bemused by the prolonged media-fuelled transfer sagas surrounding Gareth Bale, Luis Suarez, and our own pursuit of Wayne Rooney. The story that has caught my attention is Liverpool's refusal to offload their talented troublemaker, Luis Suarez.
Last week Michael Owen, fast becoming yet another ex-Liverpool player who is acting as a media mouthpiece for his former club suggested that Suarez would be almost insane to leave Liverpool for Arsenal, echoing the thoughts of Brendan Rodgers. Well, in defence of Arsenal and pure common sense and logic, Suarez would be leaving a club that has been absent from the Champions League for several years now and which is not even in this year's Europa League. He would be joining a club which [for all its faults] guarantees a player Champions League soccer up to their annual exit in March. Now, who wants to stay at Shamfield when there is eight or maybe ten Champions League matches on offer.
It's a no-brainer.
The fact that Rodgers and Owen seem to suggest that joining Arsenal is a backwards step speaks of complete arrogance. They have the ludicrous notion that because forty thousand scousers sing 'You'll Never Walk Alone' with their scarves held aloft that this renders their club and its supporters as special. Big deal. They should be singing 'You'll Never Win The Premiership' to their players.
The arrogance doesn't end there. Steven Gerrard has been stating that not only will Liverpool finish in this year's top four [which he foolishly says every season] but he has claimed that Suarez is the greatest player that he has ever played alongside. What is it about the Liverpool bunch that prompts such big-headedness? They probably genuinely feel that they do actually have the best goalposts in the world, the best corner flags in the globe, and the best turnstiles the world has ever seen. Seriously, Scousers, it's time for a bit of humility and a reality check.
Brendan Rodgers who has become infected with the Shamfield arrogance has also suggested that Arsenal have lacked class in their quest for Suarez. Do me a favour. Why do the Liverpool mob always ludicrously think that they have the monopoly on class? Does anyone remember Jamie Carargher's post-match interview in September or October 2005 about how Liverpool possessed "integrity", unlike their big bad opponents, Chelsea?! Who can forget the stupid taunts about how Chelsea had no history?
This is the same club whose player Dean Saunders ended the career of our very own, talented Paul Elliott in the autumn of 1992 with a sickening tackle that resulted justifiably in legal action. This is the same club that got English clubs banned from Europe for almost a decade. They denied their neighbours Everton from competing in the European Cup because of the hooligan trouble that they caused. Of course they retorted that it was not Liverpool supporters who rioted at Heysel Stadium in May 1985 but Chelsea elements who just happened to be there supporting Liverpool. Complete nonsense.
This is the same club that was slow to criticise Suarez's obvious racist spat against Patrice Evra. This is the same 'classy' club that was slow to respond when the world and his dog saw Suarez bite our very own Branislav Ivanovic. I thought that the reaction of Rodgers that Sunday evening was very revealing of the new Liverpool PLC. He stated that he needed to assess the video evidence before commenting.
In reality, Rodgers was buying time until he, the club's senior management, legal eagles, and owners had all conferred about the Suarez controversy. As a consequence, Liverpool responded with a choreographed, stage-managed piece of spin that completely lacked spontaneity. Can you imagine what Brian Clough would have said in a post-match interview if one of his players had bitten an opponent? Clough, without hesitation, would have replied that he had already kicked the player from one end of the dressing room to the other.
Rodgers had no such integrity or spontaneity. He had to keep counsel until others in the Liverpool hierarchy had been consulted. Where was the class or integrity in that?
Finally, let's return to this preposterous tosh about how Liverpool have class, unlike all of their adversaries in the Premiership and beyond. This is Liverpool folks: the land of those classy Brookside characters, classy Ken Dodd, classy Stan Boardman, classy Jimmy Tarbuck, the classy Harry Enfield scousers, classy Derek Hatton and the Militant Tendency- dominated loony left Labour councils, classy Yosser Hughes. Liverpool was such a gas of a city that when the Beatles made the big time, they couldn't flee classy Liverpool quick enough, never to re-settle there again. Classy? You're having a laugh!
Liverpool Football Club and its deluded supporters seriously needs to start getting off their high horse, have a look at the dictionary to see what 'class' and 'integrity' actually means. Otherwise, they sound like Hyacinth Bucket who thought that she was a 'classy' operator.
Their recent statements are almost making me sympathetic towards the slightly less arrogant Arsenal!
Gary Watton [author and football historian; see http://sporthistorian/blog.com]