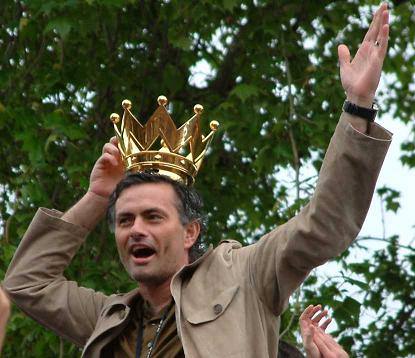 Here we are again and what a mouth-watering season it's stacking up to be. No Fergie, Wenger actually with money, City with the much fancied Pellegrini at the helm, and, of course, Jose Mourinho back in the bosom of his footballing family – it's all so exciting!
I'm not sure which of these managers is under the most pressure. It's easy to say that Moyes has the biggest boots to fill but I would imagine that given the gravitas of the club, their standing within the game and the ghost of the Laird of Goven still haunting the "Theatre of Dreams" (puke) I believe he will be given a fairly easy ride – initially at least.
Pellegrini too will be afforded the luxury of a learning curve within his first season although there will be targets he will be expected to hit – Champions League qualification as a minimum one would imagine with the added expectation of a cup perhaps, and most certainly a better showing in Europe this season than last.
The two the media will really have the knives ready for are Wenger and Jose and it will be interesting to see how the two will play this season out.
Wenger has never really demonstrated a strong mental attitude – and Jose being back in the Premier League could really be a bad thing as far as the Arsenal manager is concerned. Mourinho drove the Frenchman to the edge of madness during Jose's first tenure at Chelsea and if he hasn't toughened up, he will do it again. Jose exploits any type of weakness – be it mental or physical. The twice league winning side under him bullied their way to the title – through sheer physical force and strength of will – and crushed anything in their path on the pitch – while Jose crushed anything on their path off the pitch.
Arsenal's barren years have been explained away by Wenger apologists as a lack of resource to invest in the team – that is no longer the case – there is nothing left to hide behind. That said, should they eventually land Suarez, they could be a force to be reckoned with.
But let's get back to the star of the show – Jose Mourinho. Much will be expected of him – and he will be aware of that more than most I should think.
I have to admit, I have been a little disappointed by the lack of drama so far – I would of expected him to be in full effect by now, but if anything he has been conspicuous by his absence from the back page.
Some Chelsea fans will tell you that this is a good thing – that it was exactly this aspect of the Jose Mourinho show that they did not like – but I think it's part of what makes him what he is – part of his success even. I don't want the "Mellow One" or the "Happy One" – I demand the "Special One".
I have been pretty bullish up to now in my assertions that with Jose back, the league is all but won but there are many things to take into consideration before we can really try and establish how this season will go.
The first is the striker situation – this needs to be resolved – I believe that despite Moyes/United's declaration that Rooney is going nowhere – we will eventually sign him. This is in effect a willy waving competition – which will only have one outcome. Is Rooney the answer to our short-comings up front? I'm yet to be convinced but there are precious few alternatives so we can only hope.
Equally crucial as far as I am concerned is who is going to be our first choice centre back pairing. I can't even make my own mind up as to this one. Terry's bravery and organisation, Luiz's technical prowess and speed, Ivanovic's strength and heading ability and Cahill's athleticism and more than occasional goal scoring capacity all put them in with a shout of  being one of the first names on the team sheet.
Jose will have given this a lot of thought as his teams are all based on a solid defence so I will be interested to see how he lines up the back four as this could be the real key to the success of the season.
Equally difficult will be managing the midfield – we almost have an embarrassment of riches in this area – although many of them are of a similar type – highly technical, quick, not physically imposing and as previously mentioned, Mourinho likes a player that can mix it with the big boys – I wonder if that's why we have seen a lot of Michael Essien in the pre-season friendlies – although whether his knees would stand up to the rigours of a Premiership season I very much doubt. I think Hazard this season may be a very key player indeed – we saw flashes of his brilliance last season – but he's established now – I can only see him getting better – which should be terrifying for the opposition.
It's a big season for Lukaku – he does exactly fit the mould in terms of what Mourinho looks for. He is looking good in pre-season, but I have never really relied on that as a marker for anything much. I think the loan at West Brom stood him in good stead – the rest is up to him.
I think I am best described as confident but wary of expecting too much from TSO's first season back – but after the discord of last season, I am primarily looking for a season of a healing of rifts between the club & the supporters – a trophy or two wouldn't go amiss either; and if Jose manages to reduce Wenger to a dribbling mess with his underpants on his head and pencils up his nose – all the better.
Come on Chelsea!
Posted by Trizia