Burnley v Chelsea – Match Summary
Burnley 1 Chelsea 1 – Sunday 12 February 2017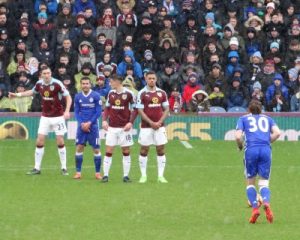 With a TV friendly early Sunday kick off, many travelling fans were 'forced' into making a weekend of it, enjoying the hospitality of a number of surrounding towns before making the much shorter hop in the morning. Thankfully, the awaydayers made it on time to Turf Moor, it was touch and go for many running the gauntlet of overrunning rail engineering works and club coaches setting off at silly o'clock. What we do to follow our football club!
The starting lineup was as expected; Courtois in goal with Azpilicueta, Luiz and captain Cahill in their familiar back three. Moses and Alonso were in their expected wing back positions, flanking Kante and Matic in their holding midfield roles. Up front were Pedro and Hazard working with Costa up top. On the bench were Begovic, Zouma, Ake, Fabregas, Chalobah, Willian and Batshuayi.
With the forecast blizzard-like conditions arriving on cue, the shivering away end were joined by JT in an area set aside for official personnel from both clubs. Needless to say, our captain, leader and legend was mobbed for selfies, and he graciously obliged as usual. Top man!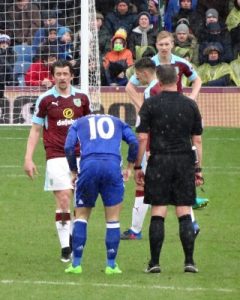 A really positive start from our boys, moving the ball around the pitch as expansively as you would expect, stretching the boys in claret and blue from the off. And if an early chance from Hazard didn't quite find its intended target, just a few moments later a second opportunity got through, Hazard collecting the ball and spotting Moses running unmarked towards the goal. He deftly skipped around the defender and by the time he reached the box Moses passed the ball to the fast approaching Pedro who simply took one touch before slotting it past the keeper. What a great start, our celebrations keeping us warmed up nicely as I wondered whether we could be in for a few more goals as we continued to push on.
We were controlling possession and the play, Hazard and Pedro looking particularly dangerous in those forward positions. But we didn't have it all our own way; as the half wore on we were getting as much as we gave and the ponytailed Luiz with his knee still heavily strapped was called upon to direct defensive operations from the centre of our back three.
It was turning into a right old tussle of a game and just after 20 minutes Matic found himself grappling with the ball tangled between his feet just outside our box and as he wrestled to control the ball he managed to back heel the misunderstood (and not just because of his Scouse accent!) Joey Barton in the leg. The resulting free kick from Brady was, it has to be said, a beautiful strike into the top corner of the goal in front of us, Courtois couldn't reach it and our wall seemed rooted to the ground as the ball floated over their heads.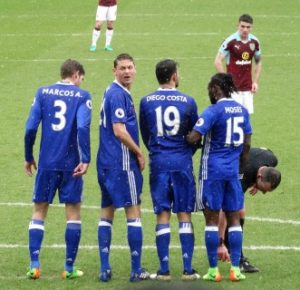 Game on, and the home team made the most of their renewed confidence as the game settled into the fast paced and bruising encounter we could have expected, especially given the cold and slippery conditions as the sleet and snow continued to swirl around the ground. It was end to end stuff, with last ditch stops and crunching tackles required at both ends to prevent further goals. The game could have turned either way but at half time the scores remained at 1-1.
Second half and it wasn't long before Burnley had a golden opportunity to take the lead, both Cahill and Luiz missing their chances to intercept a breakaway move that was finally ended when Courtois managed to stop Gray's shot on goal. We would clearly need to be on our guard against this team who have a decent home record for a good reason.
We were playing decent football, carving out some chances, but Burnley just seemed to have that ability to stick out a leg or get the numbers behind the ball to prevent us from getting a clean shot on goal.
With 25 minutes left to play we made our first change, Matic replaced by Fabregas, and 5 minutes later Moses was taken off in favour of Willian. With an injection of cultured ball passing and fresh legs I was feeling hopeful that we could pull out a winner, even if the early promise of a goal fest clearly didn't quite materialise. The changes certainly made a difference, as we worked to break their defence down, but Burnley were as resolute as ever.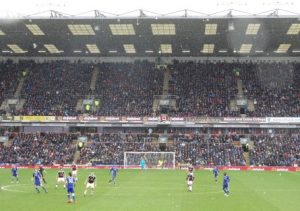 But I have to confess that the cold was getting to me, my toes were frozen, and I wanted the game to end so I could warm up, as much as I was enjoying the contest and our push to clinch a late winner. What a wimp!
We continued to fight for the ball and push for a winner, Pedro coming close just before he was replaced by Batshuayi. But with Burnley continuing to get chances of their own Conte looked as if he was reluctantly content to settle for the point and see the game out. And as the final whistle blew the home side celebrated like they had won the game, as well they might against the Mighty Blues!
A tough game, which really could have gone either way, but with this being one of our toughest away games, it was a point well earned as we continue to maintain a healthy lead at the top of the league.
Posted by Chelsea Debs
Debs can be found on Twitter as @cfcunofficial and at cfcunofficial.com
You can read all Chelsea Debs 'Match Reports' here
DISCLAIMER: All articles written for the Chelsea Supporters Group 2005 (CSG) are those of the author and do not represent the views of the CSG. The views and opinions expressed are solely that of the author credited in the article. The CSG do not take any responsibility for the content of its contributors.
'Chelsea Supporters Group' can be found on Twitter and Facebook