Ramires – Frustrating Or Brilliant (by Gary Watton)
Ramires – Frustrating or Brilliant?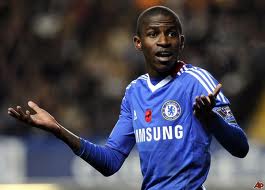 When Mr Ramires, our midfield maestro, got himself foolishly sent off last Friday against Bayern Munich, someone posted on the BBC website, that the 'Blue Kenyan' is a "liability" in big matches. I cannot help but agree to some extent with this.
When the Brazilian first played for us under Ancelotti [it seems like light years ago], the consensus of opinion was that he made a really slow and unimpressive start to his Chelsea career. It wasn't until after the new year of his first season that he started to find his feet.
Then he started to weigh in with quite a few goals and goal assists.
Certainly nobody can ever fault his phenomenal work rate. He remains to this day one of the most industrious box-to-box players. However, his tackling is erratic and his passing is generally poor. I lost count of the number of times he gave the ball away at home to ManUre in the FA Cup replay, to name but one example. He does get himself booked once too often as a result of mistimed tackles, and unlike the great Makalele, he isn't clever enough to foul and tackle and keep himself from being red-carded. Claude never allowed himself to be dismissed and he put himself about plenty.
It seems to me that Ramires needs to start using his brains more. He even  speaks out of turn with referees once too often as well. It will be a big challenge for the so-called Special One to ensure that Ramires becomes consistent at passing and tackling. If he can bring out the best in Ramires, it would be a huge plus for Chelsea. I certainly am grateful for Ramires' sublime goal in the Nou Camp that turned that night of high drama against Barcelona on its head.
However, Ramires, for me, is that unique kind of footballer who is liable to produce brilliance and stupidity on the football field within five minutes of each other. He remains a frustrating talent.
Gary Watton [http://sporthistorian.blog.com/chelsea]