Costa Four, Torres Zero (by Gary Watton)
COSTA FOUR, TORRES ZERO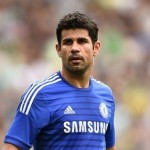 If pre-season friendly matches are an audition for roles in the team that you hope to play for, then the red-hot Diego Costa has emphatically landed the part of centre forward. I must admit to being sceptical of the purchase of the Spanish bandit but this moody-looking outlaw looks to be well en route to proving me wrong. Bravo amigo.
Of course, pre-season pillow fights with lesser teams are no substitute for the real thing, but there are encouraging signs that two of our Spanish acquisitions are on course to thrill the Chelsea faithful and torment the opposition. As I expected, Cesc Fabregas has hit the ground running in the warm-up matches. Not content at scoring a fine direct free kick in an earlier match, CF scored the other night with a delightful run into the penalty area. Hopefully this persuades Jose and others that Cesc needs to play in the imaginary 'hole' between midfield and the striker, as an attacking link man, not unlike our dearly departed Frank.
Incidentally, it's good to see Lamps posing and smiling in his Manchester Shitty shirt. He's perfectly entitled to do so. I reckon that our legend is merely a makeweight in the Manchester Mercenaries squad, someone who boosts the allocation of English players at the Etihad, to conform with FA and UEFA rules. I would be amazed if Frank starts more than a dozen matches in his brief sojourn in Manchester. If Manuel Penguin really wanted Lamps, then why would he be offloading him mid-season to Uncle Sam? I honestly think that FL's stay at Manchester will be akin to Henrik Larsson's flash in the pan career at Old Trafford – in other words, a few goals, a bit of predictable media hysteria, and then gone before you know it, and quickly forgotten too. Unless Lamps scores a hat trick against ManUre or a late winner in the Manchester derby, he is unlikely to become a Manchester Shitty legend.
Meanwhile back at the Bridge, I am coming round to the idea that costly Costa could prove to be a big hit for west London's finest. What really persuaded me was that sensational solo effort that he pulled off away to Fenerbahce last week. If you haven't already cast envious eyes upon it, then promptly take yourself off to an internet search engine and acquaint yourself with Costa's supreme skill, pace, and finishing. Then, our new warrior announced himself to his new supporters with two very quick goals on his home debut, against a Real Sociedad defence that DC is probably already familiar with. Admittedly the second goal was a mere tap-in, but the Blues need a striker who will be lurking in the middle of the penalty area, hoping to feast off such offerings, unlike a certain Senor Torres who is more likely to be on the edge of the penalty area, daydreaming about the perfect goal. Chelsea need a goal poacher (a younger version of the departed Eto'o), someone who is willing to score ugly goals, because ugly goals can produce beautiful results!
Speaking of Torres, poor Nando couldn't even register a solitary goal in pre-season, which does not bode well for the immediate future. Having been defeated four-nil in the pre-season goalscoring audition, Torres must brace himself for a prolonged period of starting matches on the bench. How long will it be before the Liverpoo 'legend' is sulking and complaining about a lack of opportunities at Chelsea. Well, when chances do come his way, he has not exactly been lethal at taking them, so Nando has nobody to blame but himself.
As for the tragically unavailable Drogba, I hope that JM resists the temptation to buy an overpriced stand-in. Until Drogs is back, charging across the hallowed fields of Blighty (and falling over!), surely the Special One can soldier on with Baker, Bamford, or Solanke as a third-choice striker. Come on Jose. Please demonstrate some faith in youth. Presumably Chalobah is going to be shipped off elsewhere, and possibly Ake and Zouma too. What a tragedy.
Finally, it's good to see our very own Christian Atsu playing in this season's Premiership, even if it is for Everton, horror of horrors!
Oh and I must say that I cannot wait to see Fabregas score [about a dozen goals?] for the Blues this season. Every time he does so, you can be sure that there will be a Gooner somewhere throwing his or her remote control at the television screen. I hope that JT encourages CF to kiss the badge on his jersey with each goal celebration. Lovely jubbly.
The author can be stalked at http://chelsea.thefootballnetwork.net
You can view all of the Football Network articles for the CSG here
DISCLAIMER: All articles written for the Chelsea Supporters Group 2005 (CSG) are those of the author and do not represent the views of the CSG. The views and opinions expressed are solely that of the author credited in the article. The CSG do not take any responsibility for the content of its contributors.