Supporters Incidents At The Ethiad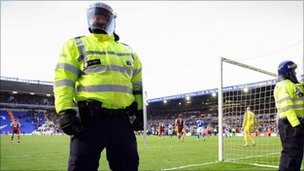 "We have received a number of e-mails from supporters following incidences before & during our cup game up at the Ethiad last Saturday. We are in communication with the club & with Manchester City who are now investigating these issues with assurances that they will come back to us within the next week.
If any supporters have any further experiences they would like to share concerning this game, please do so via comments section below or in confidence by e-mail here
This is an important issue as it could affect our future allocations"
Thank you.