Hernandez Please! [by Gary Watton]
HERNANDEZ PLEASE! [by Gary Watton]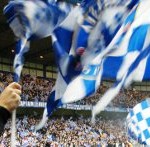 Last Friday, Neil Custis writing in 'The Scum' viewspaper identified nine players who he reckoned were on the way out at Old Trafford this summer. One such individual may be Javier Hernandez. I don't understand why David Moyes overlooks him. I am equally baffled as to why Chelsea don't express an interest in him. Perhaps last summer we were seeking the wrong ManUre player.
A Chelsea supporter wisely suggested on Radio Five Dead a couple of weeks ago that Chelsea's striking woes this year have been due to the fact that last August Mourinho put all his eggs into the one basket as he attempted a futile pursuit of Wayward Looney. Judging by how well Rooney played in the two legs against Bayern Munich, one is left to again wonder whether he even comes close to the hype that is attributed to him. Hernandez, in my opinion, might be a better bet. 'Little Pea' after all has scored quite a few goals already against Chelsea, and God knows that usually impresses Chelsea's chequebook-signers.
He is fairly quick and accurate. He is only 25 and as Custis correctly observed, he should be coming into his peak years now. I would far rather obtain someone who has a 'proven track record' [to quote modern recruitment parlance] in English football than to recruit a fancy dan from a foreign shore who has barely set foot on the playing fields of Blighty. Put another way, Hernandez has already demonstrated that he is comfortable in English soccer. To discard him in favour of an over-priced 'superstar' from the continent is a leap in the dark.
Furthermore, Chelsea missed a trick back in January when we should have insisted upon Hernandez as a part exchange whilst Mata went 'oop north'. Perhaps Moyes in his eagerness to acquire Mata would have offloaded Hernandez, although ManUre do seem terrified to sell any of their 'merchandise' to us. I maintain that Hernandez would be a good foil for Lukaku next season. In all probability, we will employ neither. Instead we will fall into the same old trap and repeat previous mistakes by paying stupid money for someone who excels in a completely different league.
Even worse, our management seem keen to find someone who tracks back and 'works hard' and defends. Well, bully for all that. I just want a centre forward who plays in the centre in a forward position, who lurks around the penalty area and who regularly gets on the end of chances and best of all converts many such opportunities. Hernandez ticks those boxes. Had we got hold of him in January, I am confident that he would have made a greater impact upon our Premiership challenge than some of the chumps who we have entrusted instead, and I'm not mentioning anyone in particular, Fernando Torres.
You've heard it here first, folks. Chelsea should be seriously considering Hernandez instead of paying fifty-million plus on another potential misfit.
[the author can be stalked at http://chelsea.thefootballnetwork.net]
You can view all of the Football Network articles for the CSG here