Champions Elect? [by Gary Watton]
CHAMPIONS ELECT?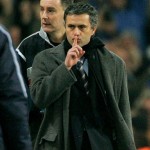 If the post-match celebrations at Shamfield on Sunday were anything to go by, then the rest of us would be forgiven for thinking that Liverpoo have already won the Premiership. Even Steven Gerrard was tearful afterwards. Well, hopefully nothing will galvanise Chelsea and Mr Mourinho in two weeks' time more than the thought that they can spoil Liverfool's expected party.
Mr Gerrard has exclaimed that the next month is the biggest in his life. Cue the hyperbole and giant headlines. Get out the ticker tape and the bus for the victory parade through Liverfool. To think that the Kopites regard us as arrogant! In the name of humanity, I beseech Mourinho and his bunch to be party-poopers. Even ManUre and Manchester Mercenaries will both be united in their desire to see Jose and the team ruin Gerrard's biggest-ever month. Has it not occurred to Stevie G that Chelsea have a rather big month too? Your Shamfield bunch might have four 'cup finals' to contemplate.
Well, Chelsea have the small matter of four domestic 'cup finals' too, plus the tiny matter of two Champions League semi-finals against beatable Atletico Madrid and a possible grand finale against one of the big two. Maybe, just as Liverfool contrived to upstage us back in 2005 when we ended fifty years of hurt by landing England's top prize, only for them Liverfools to fluke their way to Champions League glory, so nine years later we may do likewise. If they do win the Premiership [and let's concede that it is a more than realistic possibility] then the very least that we can do is go and win Europe's top prize and have the season's last laugh.
However, in the first instance, I sincerely hope that Jose and his team are well and truly keen to land England's top prize, because in spite of the misadventures at Villa and Selhurst Park, the English Premiership is still within our grasp. I fully expect a motivated Everton to take at least one point in their home match with Manchester Wannabes in early May, thereby meaning that Chelsea too can and probably will win the league if we can string four more victories together. It simply won't do to put all our eggs in the one basket and expect to flourish on the European stage. The truth is that Chelsea have an equal chance in both leagues. In other words, we are regarded as the outsiders in the Premiership race and the European glory trail, but being the unfancied dark horse just suits Mourinho. After all, he does have previous there. He managed to guide FC Porto and Inter Milan to European success when everyone was looking elsewhere at the would-be winners. Even now in the Premiership, Rodgers must accept tha
t the pressure is on the Shamfield team in two weeks' time.
To suggest otherwise simply won't wash. To expect Chelsea's mean defence to roll over and capitulate as easy as Kompany and company is frankly unrealistic. Besides, Liverfool will be slightly disadvantaged by the enforced absence of both Henderson and Moses, which leaves them with less options and less cover. Furthermore, Sturridge's hamstring appears to be a big concern, at the time of writing. If the referee can withstand Suarez's repeated demands for a penalty and if Chelsea can survive an early Liverpoo onslaught, then maybe Mourinho can avenge the Champions League heartache of 2005 and 2007. Having seen his European hopes cruelly dashed at Shamfield on those two occasions, one can only hope that Jose really has a burning desire to break Liverpoo hearts in two weeks' time.
It is not written in the stars that Liverpoo will win the league. In fact, we can safely say that when Mourinho and Terry were writing Chelsea's chances off, they did so on the basis that they anticipated that Manchester Wannabes would go on and lift the top English prize. It now seems apparent that the biggest threat to our Premiership aspirations is not Manchester Mercenaries, but Liverpoo.
Give credit where credit is due. Liverfools are flying at the moment, playing a brand of soccer that misfiring, goal-shy Chelsea can only dream of. What is probably a real indictment of our mismanaged football club is that if Raheem Sterling was in our ranks, I reckon we would have farmed him out on loan somewhere and invested instead in someone from the continent. It always pays to learn from your rivals and Chelsea need to look at the success of Liverpoo's project this year and use that as a template for ourselves next season. However, this season hasn't closed yet and Chelsea's greatest strength remains a bloody-minded will to win. We are a streetwise bunch who have a knack of fending off free-scoring teams like Liverfools and shutting the door where others like Tottensham just cave in and wave the white flag. Fortunately, with Terry and Cahill and Ivanovic in our ranks, we have determined individuals who will shed blood to further the cause of Chelsea Football Club.
In Chelsea's favour at Shamfield is the fact that Matic and Ivanovic [and Salah] cannot play in the first leg in Madrid on the previous Tuesday, so Jose can reshuffle his pack and not weaken his team for the shoot-out at Anne's field.
Meanwhile back at the ranch, Chelsea can still aim high and win both league prizes. We must go boldly forth with confidence in our own abilities. We do have great players, with great potential. It appears that the greater the challenge, the better the performance. Therefore, it might be Chelsea and not Stevie G's lot who are in line for the biggest month of their lives. I'm sure that Ivanovic and Ramires would actually like to play in the Champions League final, rather than merely gatecrash the celebrations. However, I don't buy into the media nonsense that Chelsea will be so distracted by the Champions League adventure that they won't be sufficiently focused for the Shamfield showdown. There is no reason why we can't progress on two fronts.
To stop Liverpoo would at least be a good end to the season, regardless of what else happens. Personally, I reckon that Chelsea will at least draw at Shamfield while Manchester Mercenaries will do no better than draw at high-flying Everton. To state that it is all to play for is a large understatement!
[the author can be stalked at http://chelsea.thefootballnetwork.net]
You can view all of the Football Network articles for the CSG here