Chelsea Terrace Talk – Irish Examiner Article By Trizia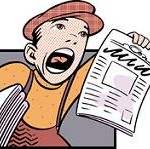 It had been a pretty catastrophic week for me for a number of reasons and had culminated in me losing my passport and having to cancel a much needed holiday, so by the time 2 o'clock on Sunday came around I was depressed, out of sorts and convinced that a loss was just going to top off my hebdomas horribilis.
But Jose had other ideas. I really think that Mourinho enjoys beating Arsenal, specifically Wenger, more than any other club in the league. I also believe that no-one but no-one gets under Wenger's skin as much as Jose. I think the "specialist in failure" stuff is seared into the Frenchman's soul and it itches like hell every time they face us and recent results only make that itch more maddening.
The handbags on the touch line did make me laugh though – Jose looked genuinely surprised when the worm turned. Wenger was probably trying to take the upper-hand physically as he was acutely aware that his team were totally unable to do the same on the pitch. Mourinho stood firm & just contemptuously shrugged him off and told him to get back in his box, and later the Chelsea team metaphorically put him there…..again.
Wenger tried to blame the difference in financial muscle for the defeat (it obviously couldn't be his fault after all) yet he has spent the last decade telling us that the money had always been there had he wanted it and anyway – he has spent pretty big himself in the last couple of years. The real question is can he really be trusted with big money – Ozil has been a very expensive flop – and at £10 million more than Hazard one has to question Wenger's decision making – anyone can look at the market and pick a great player and buy him – but that does not necessarily mean that is the right player for your team and tactics. Wenger also claims that he turned Fabregas down – not the other way round – another decision that may yet bite him on the arse too.
If I had been an Arsenal fan (*shudder*) I would have been watching Fabregas with clenched fists and murderous thoughts – he (along with Hazard) was pulling every string in that midfield and was instrumental in Arsenal resorting to desperate & physical high jinx to try and stop the big blue Chelsea machine. They were very fortunate to remain at full strength to be honest – we too were perhaps a little "robust in the tackle" a couple of times but I think Arsenal would have had to let loose with a sawn off shotgun to even tempt Atkinson into even considering producing a red.
At least their players did fight though – unlike their fans who I though were very very poor. They had years & years of domination – now that their team needs them they have become rather squeamish and as soon Costa's lob hit the back of the net, their end resembled a Serengeti plain when a lion marauds into a herd of bison and they scatter & disappear. They need to remember what they are there for – and it's not simply to stand there and be entertained – they need to put their latte's down and make some noise and their team some support.
But enough about them. Things at our place couldn't be more different – big love-in with the manager and the players, results couldn't realistically be better, games selling out faster than ever in our history, top of the league – and I don't think we've even really got into our stride and Costa isn't fully fit yet!
Costa, Fabregas & Hazard have stolen most of the headlines this term and as such Oscar's performances have flown a little under the radar. When you watch Oscar play this season & see what he has added to his game, you understand why Jose chose him over Mata. Oscar now covers every blade of grass, he tracks back, he defends, he works so hard – his flicks and tricks have very much taken a back seat and instead his contribution has been built on doing the simple things right and being a player worthy of his first team place in every area of the pitch. Not how he played before Jose and certainly not how he plays for Brazil but the way he needs to play to succeed at Chelsea and in the premiership and he has become an integral part of this team.
We may have not reached top gear yet, but the discipline that we expect under Mourinho is evident. As is the team spirit and the sheer determination – just look at that defence – nothing was going to get passed them yesterday – nothing. The manager has once again managed to get a Svengali hold over the team- they trust him, trust his methods and his tactics implicitly – we just need to continue as we are, pray for minimal injuries (thank god we still have Cech) and hope to God that Costa is fully fit some time soon
🙂
Posted by Trizia
(You can see all the Terrace Talk articles here)
DISCLAIMER: All articles written for the Chelsea Supporters Group 2005 (CSG)  are those of the author and do not represent the views of the CSG. The views and opinions expressed are solely that of the author credited in the article. The CSG do not take any responsibility for the content of its contributors.