Chelsea Terrace Talk – Irish Examiner Article By Trizia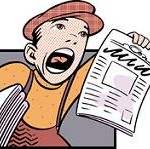 Palace have had a lot of plaudits for their attempt to bring back a bit of atmosphere to a game that is becoming increasingly sterile, and I, like many, applaud that. However, they need to be careful that they do not become a parody of themselves. Palace fans hold themselves up as something apart from the rest of us – they see themselves as "real fans" and the rest of us as Johnny come lately "plastics"; in fact it is a commonly held belief amongst the lower league clubs as well as the less successful Premier league teams that fans of the "big" clubs can't possibly be as loyal as them; Palace specifically target the "rich" clubs – accusing City of having no soul & on Saturday making a jibe at our owner & his "dirty" money. They display an "against modern football" banner at every game but let's look at the reality. They still are an active part in the modern game that they claim to despise and I assume that the Palace owners are not turning down those tens of millions of pounds from Sky and BT. Then there's the money from their sponsors & from the sale of the dozens of repli-kits we saw the majority of their fans wearing. They also charge £40 to watch football effectively through a letterbox.
Even the demographic of their crowd is all about modern football – loads of middle-class families wearing half & half scarves, loads of women, loads of foreign fans – I'm not sitting in judgement by the way – this is a snap-shot of most Premier league grounds these days. What I am saying is that they should not be holding themselves up as some sort of template while at the same time enjoying the same filthy lucre as the rest of us!
And let's face it, if a billionaire rocked up to Norwood Junction tomorrow & started buying them Galacticos you wouldn't hear a peep out of those moralistic self-styled ultras. And just to throw a little irony into the pit for you, if it wasn't for Chelsea & our "plastic" fans Palace could in all probability now be out of business. In the 80's Palace were broke, on the edge of footballing oblivion & owed huge money to the Inland Revenue. Even though Palace nearly doubled their ticket prices for our clash, 15,000 Chelsea fans attended the match there (out-numbering the home support 3 to 1) which gave the Eagles record gate receipts & more importantly allowed them to pay their tax bill & so carry on trading.
But let's move on……
There's no denying that Costa has been phenomenal since he joined us & many are not looking beyond him to explain our early success this season; his goals are hard to argue with but the Palace game demonstrated that success is rarely that simple. Hazard is mesmeric, Matic is a colossus, Oscar is demonstrating new elements to his high end game every week – I could go on but Fabregas is the man that deserves a special mention.
When he was at Arsenal it was evident to anyone that watches football regularly, that he was a good player – but it's only when you watch him game in game out that you really understand everything he brings to the team. His vision is priceless & key to the games played so far and Mourinho has ensured that there are players around him who can make the most of this vision. Fabregas demonstrated on Saturday that even without Costa he can pull the necessary strings to guide us to victory. The score-line was hugely flattering to Palace but if I had one criticism it's that we didn't get the third goal before going into warm-down mode. I understand that we have a number of games coming up and conserving energy is important. But a two goal lead is not sufficient to ensure a calm and certain passage to all three points – one goal and its panic stations – especially as we have seemed more prone to concede the odd goal this season. Jose obviously thinks the team has the balls to do it – he's just got to ensure we fans hold our nerve now. Although it has to be said that even when Palace got that goal back, those around me didn't seem unduly worried.
And so from one of our latest acquisitions to our old war horse – John Terry. Terry captained Chelsea for the 500th time against Palace and he did so with his usual commitment, strength & pride. He may have made mistakes during his long & illustrious career but you name me a player who hasn't – the difference is that for some reason others have been let of lighter than the Chelsea captain. Terry has been at the very core of the most successful period in our history & was as intrinsic to this success as Mourinho, Drogba, Abramovich, Lampard or anyone else you'd care to mention. When he pulls on the shirt & the captain's armband he is focused on the game & nothing else – his passion, leadership & sheer determination is worth at least 10 points a season. You literally have to knock him unconscious to stop him playing – pain is merely an inconvenience. He takes his club responsibilities very seriously, dedicating as much time to the youngsters as to the first team stars. Ryan Bertrand yesterday revealed how he is always there for the Chelsea youth players – with advice & help – even going as far as paying for driving lessons for a great many of them. He will often be seen in the crowd when the younger lads are playing, and has always been patient and generous with his time with fans and with charities. When new players join Chelsea, Terry ensures that they are welcomed & bought into the group immediately – all who have played with him having nothing but the highest regard for his professionalism, competitive mentality, camaraderie and support I for one am proud and thankful that he is our Captain, Leader, Legend – and will hopefully be involved with the club in one way or another for years to come
Posted by Trizia
(You can see all the Terrace Talk articles here)
DISCLAIMER: All articles written for the Chelsea Supporters Group 2005 (CSG)  are those of the author and do not represent the views of the CSG. The views and opinions expressed are solely that of the author credited in the article. The CSG do not take any responsibility for the content of its contributors.