Torres Makes Milan Move Permanent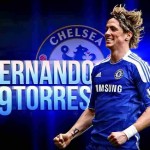 From the official CFC website:
"The striker moved to the San Siro on a two-year loan deal in August and on January 5 he will complete a permanent transfer to the Serie A side.
Torres, 30, spent three-and-a-half years at Stamford Bridge, in which time he helped Chelsea lift the Champions League, the Europa League and the FA Cup.
A World Cup-winner, Torres joined Chelsea from Liverpool in January 2011. Memorable highlights include his Champions League semi-final breakaway against Barcelona at the Nou Camp and the goal that helped beat Benfica to lift the Europa League trophy a year later.
Torres continued to share in Spain's international success while at Chelsea. He helped his country to a second successive European Championship in 2012, securing the Golden Boot in the process.
In the busy 2012/13 season his 22 goals were spread over seven competitions, a club record.
Chelsea Football Club thanks Fernando for his service during the past four seasons and wishes him the very best for the future"
…………. "Can you hear The Shed Fernando"
Best of luck Torres, to say you split opinions would be an understatement.
That goal in Barcelona and assist for the corner in Munich will keep you in my top ex Chelsea players list for always.
– Ed