Blues Make More Progress (by Gary Watton)
BLUES MAKE MORE PROGRESS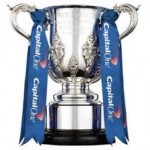 The Premiership leaders may have looked distinctly less invincible on their trips to the north east in recent weeks, but the Blues made light work of their visit to the east Midlands to overcome a Derby team that applied pressure but all to no avail. Petr Cech was rarely tested, and although Derby deservedly found the back of the net with twenty minutes remaining, they were unable to threaten an equaliser when Buxton was sent off shortly afterwards.
Enjoying a one-man advantage for the second match in succession enabled Chelsea to exploit this rare luxury by scoring a goal which allowed for a comfortable two-goal cushion. It was particularly pleasing to see the improving Filipe Luis score an eye-catching free kick. His first goal for his new club should do wonders for his confidence. I reckon the Brazilian maestro has now become the sixteenth different Chelsea player to score a goal already this season. That is nothing short of phenomenal. We are only waiting for his fellow full back 'Dave' to do likewise.
Meanwhile, Andre Schurrle scored for the second consecutive midweek. Having already scored on a Monday against Burnley and on a Wednesday against Sporting Lisbon and on a Sunday against Manchester City, Schurrle now has the peculiar distinction of having scored a goal on each day of the week from Sunday through to Wednesday. However, we still await one on a Saturday, although that should come eventually. I'd love to see the German World Cup winner score on Friday the 26th against the Hammers.
Of course, we should not forget the injuries to Drogba and especially young Zouma. However, it appears that Didier's injury is not serious while even Kurt's injury looked a lot worse than it first seemed. Certainly the Chelsea players were unamused by the lethargic attempts of the stretcher-bearers to get to the injured player. Mind you, the way Chelsea have been ambling their merry way through recent outings in a very laid back way suggests that their attitude is even rubbing off on stretcher-bearers! Either that or Chelsea players are such hate figures that medical assistance is reluctant at being prompt. Surely not?
Now west London's finest are through to the last four. They are joined already by Sheffield United. Aside from looking [on paper] like the weakest team left in the semi finals, the Blades would be ideal opponents because both clubs would have the marvellous opportunity to re-enact the Khaki cup final of 1915 exactly one hundred years after that ill-fated FA Cup spectacle at Old Trafford. How weird would it be if both protagonists were locked together in cup combat again exactly a century later?! Personally I dearly hope that the Magpies overcome hot and cold Tottensham, as Chelsea really need to get back to Tyneside in the semi finals and exorcise their St James's Park demons. Or could it be that Chelsea will be engaged in more cup drama with our beloved friends of norf London or Liverpoo? Whatever the draw has in store for the league leaders, Chelsea really should go on to win the competition. Nothing less will be tolerated. Thankfully, Mourinho's selections reveal someone who is keen to grab the Capital One Cup silverware. Bring it on.
The author can be stalked at http://chelsea.thefootballnetwork.net
You can view all of the Football Network articles for the CSG here
DISCLAIMER: All articles written for the Chelsea Supporters Group 2005 (CSG) are those of the author and do not represent the views of the CSG. The views and opinions expressed are solely that of the author credited in the article. The CSG do not take any responsibility for the content of its contributors.