Chelsea v Arsenal – Match Summary
Saturday 19 September 2015 – Chelsea 2 Arsenal 0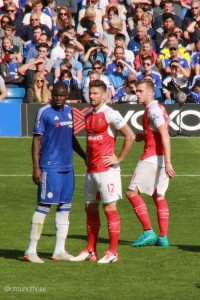 Always a top fixture to look forward to, always full of incident and never one for the faint hearted. And this one didn't disappoint.
In team news JT was on the bench, Ivanovic returning with the captain's armband at right back, Azpi reverting to the left. Zouma and Cahill once again with centre back duties. Regular suspects Matic, Fabregas and Hazard playing alongside Pedro and Oscar, with Costa up front. Other substitutes included Blackman, Ramires, RLC, Mikel, Remy and Falcao.
A beautifully sunny day and good to see that due respect was given to Petr Cech on his first return to The Bridge, our applause acknowledged by the big man. But he's a Gooner now so let's move swiftly on…
As ever, an up tempo start to the fixture, the visitors being allowed to play their pretty boy stuff while we bullied them on the ball with our telling interceptions and tackles. But for all their fancy footwork there was no end product as they looked pretty lightweight. In the meantime, we were passing the ball around with a bit of our own style and purpose, and certainly looked a lot more energised, building up the pressure as the half wore on. But our shots on goal were invariably straight at Cech and easy enough for him to collect.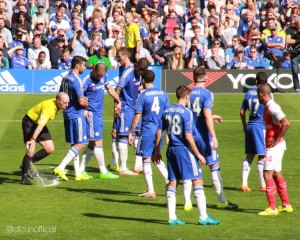 With just over half hour played a foraging run on goal by Hazard was met by Gabriel who, unable to cope with Eden's pace, just shoved him into the hoardings in front of the Matthew Harding. Nothing given by referee Mike Dean – I think the sun must have got to his balding head!
But just as we thought we were seeing a quiet first half out, another promising attack found Costa and Koscielny at handbags in front of goal and the Arsenal captain no doubt getting the shock of his life when our man jumped back up, inadvertently flooring the defender in the process. And while Koscielny seemed the least bit bothered, all part and parcel of life dealing with Diego Costa, his less than enamoured team mate Gabriel took exception and gave our man a sly slap. Yellow cards for both, but no doubt the authorities will already be rubbing their hands at another retrospective red to dish out to one of ours.
But it didn't stop there, the naive Gabriel didn't know when to call a halt, and in his playground petulance kicked back into Costa earning himself a sending off. And once he eventually accepted his fate and was escorted to the touch line, we saw the half out. HT 0-0.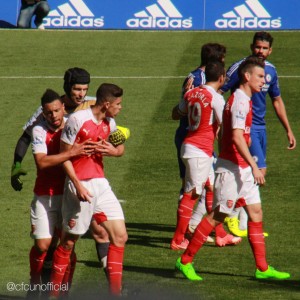 No doubt the deflated Wenger and his band of not so merry men were seething at the injustice of it all. Again. The half time team talk must have been a belter. And why did Arsenal's Hector Bellerin hand what looked like a shirt to someone in the Matthew Harding Lower as they came back out after the break? Very mysterious!
Second half, and buoyed by the psychological advantage, and the constant boos aimed at Costa the anti-Christ, we looked to get that all important opening goal. And with the home crowd willing them on it wasn't long before a perfectly weighted and floated free kick from Fabregas found the head of the leaping Kurt Zouma who simply nodded the ball down past Cech. Deadlock broken and we were really fired up.
Content with pushing the ball around, we controlled the midfield and were able to choose our moments to take shots on goal. With just over 20 minutes left to play Ramires was brought on to replace Oscar, to a well deserved round of applause. Ten minutes later a mistimed tackle on Fabregas by his compatriot Cazorla led to a second yellow card, and the diminutive Gooner was shown red. Down to 9 men, Arsenal's day was going from bad to worse, and ours was getting very much better.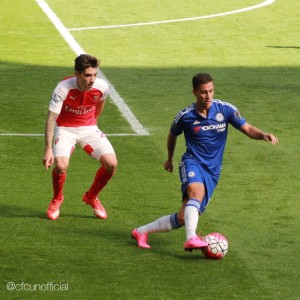 With ten minutes left to play Loic Remy was brought on to replace the increasingly agitated Costa, probably just in time to prevent his own sending off. And while we continued to roll the ball around to the ironic sounds of Boring Boring Chelsea, we were happy to wind the clock down until the 90 minutes were up, when a strike on goal from Eden Hazard deflected off the unfortunate Chambers and in for a well earned goal. With Fabregas making way for Mikel we once again bossed the park for the remainder of the game.
A sweet victory in many ways, always good to get one over our deluded London rivals, who were pretty ineffectual even before the sendings off. And great to see our boys back to something like their League winning form, playing as a highly motivated unit. A delight to watch.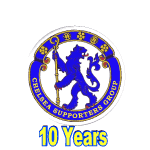 Posted by Chelsea Debs
Debs can be found on Twitter as @cfcunofficial and at cfcunofficial.com
You can read all Chelsea Debs 'Match Reports' here
DISCLAIMER: All articles written for the Chelsea Supporters Group 2005 (CSG)  are those of the author and do not represent the views of the CSG. The views and opinions expressed are solely that of the author credited in the article. The CSG do not take any responsibility for the content of its contributors.