Chelsea v Bournemouth – Match Summary
Saturday 5 December 2015 – Chelsea 0 Bournemouth 1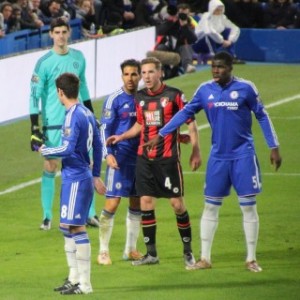 After a mini run of 3 games undefeated and with clean sheets, today was the day we were expected to turn the corner, the oil tanker that is the Mighty Blues, making an about turn and finally sailing in the right direction. Our visitors, newly promoted Bournemouth, surely there for the taking. What could possibly go wrong?
We saw the return of Thibaut Courtois in goal, finally recovered from his knee injury, with a back four of Ivanovic, captain in place of the recovering JT, Zouma, Cahill and Baba Rahman. With them the same lineup that started against Spurs – Fabregas and masked man Matic, Oscar, Willian, Pedro and Hazard in the fabled false 9 position. Amongst the substitutes Begovic, Azpilicueta, Traore, Loftus-Cheek, Mikel, Remy and Costa.
A really positive start from our boys, our 'front four' in particular, some probing crosses getting through in front of the Bournemouth goal, all for the want of that final shot into the back of the net. But the Cherries soon settled into the match themselves and the game developed into a lively end to end contest. But as Bournemouth settled in they also grew in confidence, successive shots on goal having to be stopped by our big Belgian between the sticks.
The first half continued to be a right old tussle, and while Bournemouth had their chances, we moved the ball around swiftly as we pushed up the park, with Willian and Hazard producing our best chances to break the deadlock. It was a pretty even first half, neither team really grabbing the game by the scruff of the neck and both guilty of giving the ball away at times, so at half time the score remained 0-0.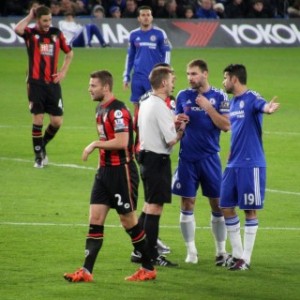 Second half and the appearance of Diego Costa, at the expense of Oscar. We certainly came out of the blocks with some purpose, taking every opportunity to push forward, still searching for that opening. The period of positive pressing got the home fans going too, for a short period at least managing to drown out the typical small-team chants emanating from the away end.
A golden chance came 10 minutes into the half when a decent cross from Willian found the forehead of Matic, only for the ball to fly over the crossbar, taking a massive deflection off his face mask. And a couple of minutes later a corner from Willian was dangerously flicked on by Costa, and almost nodded in by Ivanovic standing in front of the goal. Much better from Chelsea, Hazard being allowed to weave his way through their defence rather than shouldering the expectation of a number 9.
But just after the hour we had what I believe to be a decent penalty shout, Costa's cross into the box prevented by the outstretched arm of the defender from finding Pedro in front of goal, who was there waiting to receive the golden chance to score. And to compound Costa's increasing frustration, he was soon booked for hauling their player to the floor in a scrap over the ball, the second time in a just a few minutes that the ref had to have words with the fiery one, captain Ivanovic advised to keep him in check.
With 15 minutes left to play we were still looking for that opening goal, but it just wouldn't come. Ivanovic making some inroads but where his first effort resembled a failed crossbar challenge, his second across the face of the goal was unlucky not to be turned in by either Pedro or Costa.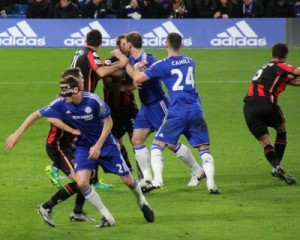 As time wore on the Bournemouth players were forcing themselves some breathing space with their constant stoppages and blatant time wasting for alleged cramp treatment. Really? But for all the pressure we put on their goal and not taking the chances created, we were always vulnerable to a breakaway chance from our visitors, and I couldn't help but feel that Sod and his law might come into play.
And that's exactly what happened; with 10 minutes left they had taken the lead with a goal by the newly introduced Murray. A corner ball had Courtois flapping in no man's land, leaving Murray free, and as later replays would show, marginally offside. Hmmmm!
Cue our final two substitutions, Remy and Traore on for Baba Rahman and Fabregas. But it was too little too late, and we were left to ponder why and how we allowed this happen, as the game ended in yet another disappointing defeat.
Did Bournemouth deserve their win? Of course they did, they did a job on us, and worked their socks off. But I really do resent gifting yet another cup final victory to a small team, as disingenuous as that sounds. Let's face it, they are in the Premier League because they earned the right to be there through promotion, why is it such a big deal given our current position in the league? In saying that we should have cruised it, instead I left the ground feeling confused, upset, angry, numb; all manner of conflicting emotions.
At the end of the day it's all down to expectations. If we, as we do, expect Chelsea to be all over and beating a team like Bournemouth, then we're bound to feel disappointed. Conversely, if you're Bournemouth with one of the worst defensive records in the Premier League, then you'd be delighted at a victory at the home of the champions. So while I didn't think we played especially badly, I did expect us to play a lot more decisively, to at least demonstrate that we had turned that corner. Surely we can't keep churning out fairly decent performances without coming away with something to show for it?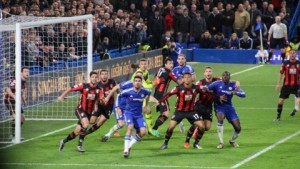 For all the talk of why our season is going so disastrously wrong, with many causes offered, I can't help feeling that one of the major factors is the link up and communication between Fabregas and Costa. Last season they were practically telepathic, Fabregas providing assist after assist for his compatriot. This season that has all but gone, Fabregas seems to have lost his touch and Costa's mind and his legs are often on a wander.
But hey, I'll still be there next time. Like an old married couple, for better or for worse!
KTBFFH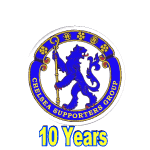 Posted by Chelsea Debs
Debs can be found on Twitter as @cfcunofficial and at cfcunofficial.com
You can read all Chelsea Debs 'Match Reports' here
DISCLAIMER: All articles written for the Chelsea Supporters Group 2005 (CSG) are those of the author and do not represent the views of the CSG. The views and opinions expressed are solely that of the author credited in the article. The CSG do not take any responsibility for the content of its contributors.