Fans Forum Ticketing Feedback
SEASON TICKETS IN CORPORATE/ MULTIPLE NAMES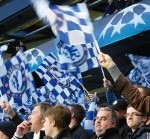 From the official Chelsea FC Fans Forum Meeting Minutes:
"The Club commented that this topic arose at the last European away ticketing review. At present an individual can buy more than one ticket or a ticket for an individual who hasn't been to previous away matches in Europe. The Club proposes that for general admission STs only and not hospitality STs, a ticket held in a corporate name will not entitle the purchase of an away European ticket. An individual who has more than one non-hospitality ST in their name could only purchase one ticket for a European away match.
A name change for a seat can be purchased requested end of the season when renewing the season ticket free of charge. The above proposal would be implemented next season so fans have a chance to alter the names on their ST in anticipation of this should they wish. The new name on the ST would not accrue loyalty points from this season so couldn't apply for big games early in next season but would otherwise be unaffected.
Some representatives concurred with this. The Chairman welcomed further feedback if supporters' groups want to request further feedback from their members.
It was also stated by the Club that all season tickets not in individual names will be required to be in the names of companies registered at Companies House"
The club are asking for supporters feedback with the above Fans Forum discussion.
Please let us know by sending you comments by WEDNESDAY 16th DECEMBER latest by e-mailing us here or, simply reply as a comment to this post. We will take all views to the next meeting
Thank you