Tottenham v Chelsea – Match Summary
Sunday 29 November 2015 – Spurs 0 Chelsea 0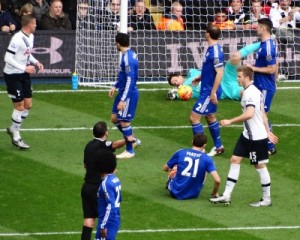 Always one of the biggest fixtures of the season, but with TV getting their grubby hands on it we were required to get out of bed early on a Sunday morning for the trek north of the river and the midday kick off. What a liberty!
And with the perennial under achievers still dining out on the freak (and ultimately meaningless) result from the corresponding fixture last season, conveniently forgetting our more recent victory in the League Cup final, I confess to approaching the game with some trepidation, foolishly believing Spurs might be a better team this season.
In surprise team news Diego Costa was dropped to the bench and with Remy on paternity leave and Falcao still injured, there were no strikers in the squad. So, in goal Begovic, with Zouma and Cahill our centre backs, JT injured during our game in Tel Aviv. Azpilicueta and Ivanovic were on full back duties, Branna taking the captain's armband. Defensive midfield of Fabregas and Matic, with Willian Oscar and Pedro ahead, Eden Hazard our striker for the day. Is that a false 9, or a false 10 perhaps? On the bench with Costa were Amelia, Baba Rahman, Papy Djilobodji (remember him?), Kenedy, Loftus-Cheek and Mikel.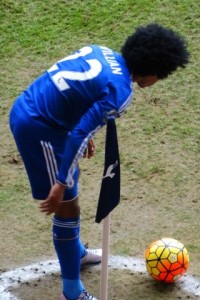 As ever against our arch rivals, it was a feisty start to the game, and Begovic found himself in the wars early on when the boy Kane kneed him in the face as him and Cahill came together on the goal line. Thankfully no permanent damage done and he was good to continue.
If Spurs seemed to have more of the possession in the early stages of the game, we were a match for them, our defence working hard to prevent a breach of our back line. It was a bit scrappy in midfield though, where most of the play was, but as we approached 20 minutes we started to settle down, with some neat passing between our front four. Our first real chance came when a super cross from Oscar found the leaping head of Eden Hazard, only for the ball to sail narrowly over the crossbar. A couple of minutes later Hazard set up Pedro for a shot, only to miss the crossbar by a similar small distance.
Much better from us now, really working hard for each other, continually pressing for the ball. But Spurs had their moments as well, testing Begovic well, but our keeper was more than up for the challenge.
As we approached half time some great work from our boys to retain the ball, with Fabregas sending a beautiful lofted ball over the head of Oscar, and once retrieved and moving goalward, he sweetly nutmegged Mason before firing into the side netting. HT 0-0.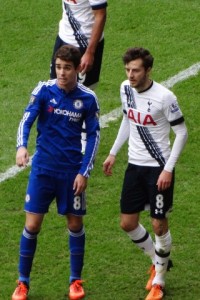 No changes at half time and we started as we ended the first half, working hard and pressing for possession, and after 5 minutes a foul on Oscar led to a promising Willian free kick which, when floated in, bounced dangerously between the fast approaching Zouma and Lloris, but quickly collected by the Spurs keeper.
As the half wore on Spurs were getting more of the ball but didn't really pose a massive threat, Kane well looked after by our defence and rendering him pretty ineffectual. But we continued to work hard as a team, hassling and terrier like, good to see. Particularly impressed by Pedro and Hazard, the Belgian especially looking back to his former self, evidenced by the number of times he was hacked down. And he came so close to scoring too, when a long ball from Ivanovic found him on the edge of the 6 yard box ready to launch a powerful volley at goal, and if it wasn't for a low stop by Lloris we could have been celebrating.
As the game wore on it was clear that both teams were holding out for the point, but I guess that Spurs would be the more disappointed given how good they think they are! And I bet they thought that golden boy had pulled it off when in the dying minutes he failed to connect with a high ball for an overhead kick, instead landing unceremoniously on his arse.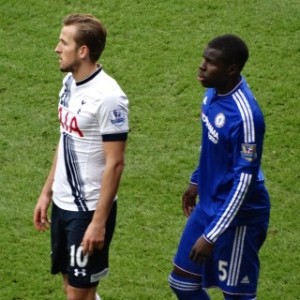 A minute to play and our first substitution, Willian (he hates Tottenham) replaced by Kenedy, and not by Diego Costa as many might have expected, apparently, as it would later transpire, too busy throwing his pink bib at the boss, the media as usual making a meal of it as only they can.
Into stoppage time and the impressive Pedro was replaced by Ruben Loftus-Cheek to see out the close of the game, which ended goalless.
In the end a point well earned, but we had good chances to pinch a winner, our front four working incredibly hard to create an opening. In fact, a good all round team effort, our defence holding firm to keep the boy wonder at bay, special mention to Cahill and Zouma for a job well done.
And the fans were certainly in good voice too, battling through storm Clodagh to get there and supporting our team throughout. A good away day all round.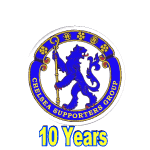 Posted by Chelsea Debs
Debs can be found on Twitter as @cfcunofficial and at cfcunofficial.com
You can read all Chelsea Debs 'Match Reports' here
DISCLAIMER: All articles written for the Chelsea Supporters Group 2005 (CSG) are those of the author and do not represent the views of the CSG. The views and opinions expressed are solely that of the author credited in the article. The CSG do not take any responsibility for the content of its contributors.