CSG Fundraising Success On The Pitch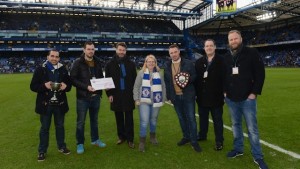 From the official Chelsea FC website:
"The Chelsea Foundation and the charity Regenerate UK both received cheques for £500 from the Chelsea Supporters Group prior to our game with Everton on Saturday.
The Chelsea Supporters Group raised the funds in July at the annual 11-a-side supporters' tournament at our Cobham training ground.
They opted to split the money between the Foundation and Regenerate, which works with young people and families in Roehampton and estates across London, helping to transform lives and communities from the inside out.
Cliff Auger of the Chelsea Supporters Group, said: 'Every year the competition is getting bigger and better with new teams involved and it is an honour for members of the winning team and our supporters group to come here and present the cheques.
'We were pleased to raise more money than in previous years and all being well we plan to be back later this year to do it all over again. It is fantastic the club let us stage the event at Cobham as it means a great deal to the fans involved.
'We are proud to support Regenerate and the Chelsea Foundation as both organisations do so much good work both in the local community and abroad.'
For the tournament in July teams were split into two groups and played four matches at the group stage with former Chelsea players Clive Walker, David Lee, Gary Chivers and Steve Finnieston assisting with refereeing duties.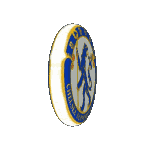 Frank Sinclair's Y-fronts and the Jam Tree Blues progressed as group winners to face one another for the Kyle Broadbent Memorial Cup, named after Chelsea fan Kyle, who passed away in 2012.
The final of the seventh Chelsea supporters' tournament proved a tight affair but Frank Sinclair's Y-fronts were crowned champions with Nikos Yerolemou from the team among those at Stamford Bridge to present the cheques"
Pictures from the Cobham event can be downloaded from Dropbox here
Anyone wishing to help us with this year's tournament please contact the CSG here