Chelsea v Everton – Match Summary
Saturday 16 January 2016 – Chelsea 3 Everton 3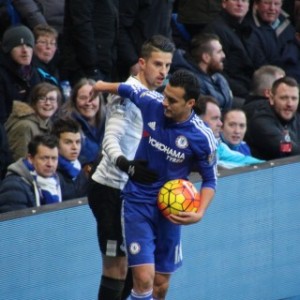 In the second of our two 'must win' home league games and having disappointingly dropped 2 points in the last one against West Brom, it was on to the visit from the Toffees of Everton, always expected to be a lively affair.
Starting in goal Courtois, with a supporting cast of Ivanovic, Zouma, Terry and Azpilicueta across the back. With Matic and Mikel pairing up in front of the back four, Fabregas just ahead with Willian and Pedro either side. Costa taking up his position as lone striker. On the bench were Begovic, Cahill, Rahman, Kenedy, Loftus-Cheek, Oscar and Remy.
Actually, I'd rather skip over the first half as nothing much happened, ball given away far too often by both sides, cancelling each other out, and although the pace did pick up as time went on, it was pretty scrappy mostly. And with Everton wearing PJs it was no wonder! But the humourous away fans did delight us all with their rendition of that Beatles classic telling us that John Stones isn't for sale, and on the day's performance they can keep him!
But in a classic game of two halves, the second period was a different story altogether, our boys starting off much the brighter. But just 5 minutes in we were one down, an own goal by JT in front of goal, attempting to clear a probing cross from Baines with Lukaku breathing down his neck. And that goal certainly buoyed the visitors, making the most of our inability to grasp control of the game, and it was Matic who was sacrificed to try and change the dynamics of our play, him and Mikel starting together clearly not having the desired effect, whatever that was supposed to be!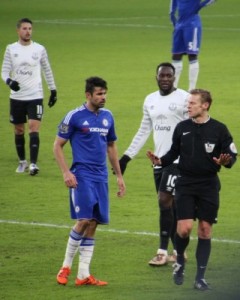 And the substitution worked well didn't it? Within a minute Everton had doubled their lead, we allowed Mirallas to collect a Baines cross in the box, turn and shoot on goal with space to do so, firing into the bottom corner of the goal where Courtois had no chance. It wasn't looking good, and while the scally away fans were exuberant, we were stunned. In fact, I was feeling pretty angry. Angry that our boys who were supposed to be fighting for points in what many regard as a relegation scrap, just seemed to be looking on helpless as spectators. I also pondered on the passing thought that our interim manager might be a candidate for the chop at this rate!
Undeterred, our boys did manage to keep their cool (as much as Costa can anyway), and once we had settled our game down and retained some meaningful possession, we started to look more like a team who wanted to play. And we were starting to knock on the door when Fabregas attempted a cheeky flick from Azpilicueta's cross, only for Howard to get fingertips behind the ball to prevent the goal. Finally, something to get excited about, and after a succession of corners and positive play we eventually got our reward.
A sublime long ball from Fabregas had Costa on his way toward goal accompanied by Jagielka, and with Howard fast approaching the edge of the box there was only going to be one victor out of the three, and as he swept the chewed up toffees aside, our man walked the ball into the goal. Game on!
Finally, a team fired up, the fans fired up too, urging our boys on to an equaliser. Everton were clearly rocked, unable to cope with our newly found heroics. And you know we mean business when JT steams forward!
And that big equaliser came from Fabregas, picking up the return ball from Costa just inside the box, his shot on goal taking a deflection that rolled past the keeper, while poor John Stones had been flattened. What a goal, and it's fair to say that Fabregas enjoyed his moment as much as the fans did, tearing down the pitch in front of the East stand, really pumped up. Meanwhile, Pedro was replaced by Kenedy as we entered the final 20 minutes of the game.
After a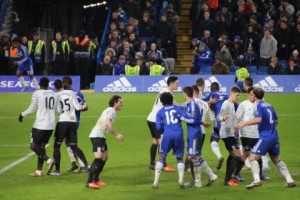 ll that excitement we only managed to catch our breath when Oviedo received treatment on the pitch and was eventually stretchered off, and it certainly took the sting out of the game. But we were still piling on the pressure, retaining possession and creating wave upon wave of forward moves, Costa coming close with a scuffed shot in front of goal. But Everton weren't without their chances, Mirallas having a shot well stopped by Courtois.
And for a while we were down to 10 men while Costa received treatment to his calf after he comically rolled back on to the pitch, but he was clearly in difficulty and wasn't able to take any further part in the game, limping off the pitch and replaced by Remy with 10 minutes left in the clock.
All Chelsea now, Everton hardly getting a look in, fantastic to see us going for it, and always great to see a long range shot from Mikel heeding the call to shooooooottt, unsurprisingly missing the target – but not by much!
As we approached the 90 minutes Everton were starting to create some openings of their own and as we tipped into time added on a ball crossed in following a rebounded corner dropped in front of goal where our defence seemed content to simply watch on as Lukaku challenged Courtois with Funes Mori beating him to the ball and into the goal. And off he ran, launching himself into the away fans, and they clearly didn't want to give him back…..
With a minimum of 7 minutes of stoppage time to play there was still time to come back again, but while the Everton fans were celebrating the win, we were still making a nuisance of ourselves and continued to push forward, Willian's shot coming within a whisker of the post.
But just as we could have been forgiven for thinking the game was over, and loads of our fans who had already left must have felt that, up popped, who else, captain, leader and legend JT, with his Zola-esque back flick into the back of the net. Clearly offside, the header from Ivanovic finding Oscar before reaching JT. What a laugh!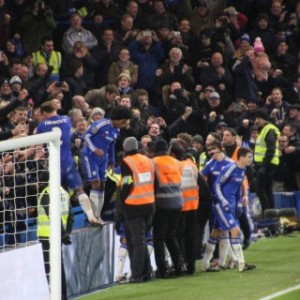 But the goal stood, to delirious scenes in the Matthew Harding as JT, accompanied by Ivanovic and Willian, launched himself into the fans in a memorable Stamford Bridge moment, and in a sneering backwards gesture to the Everton boys, their own premature goal celebrations clearly contributing to the advantageous time added on, just before the whistle was finally blown by the referee.
A point salvaged, and what an end to a game – what a fight back! And poor old Martinez, no doubt still whinging and crying. He must really hate us by now!
But honestly, how did we get to the point where we have to go 2 down before we even start to play, especially in a must win game from our lowly position in the league. If we'd shown half the fight at an earlier stage of the game we could and should have been celebrating a job well done with all 3 much needed points secured.
Still unbeaten though, but too many draws. Fabregas looked good again linking up with Costa, but the fiery one could be a doubt for our next game at Arsenal, although Eden Hazard may be back.
Oh to be a Chelsea fan right now!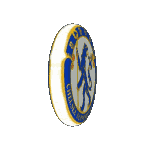 Posted by Chelsea Debs
Debs can be found on Twitter as @cfcunofficial and at cfcunofficial.com
You can read all Chelsea Debs 'Match Reports' here
DISCLAIMER: All articles written for the Chelsea Supporters Group 2005 (CSG) are those of the author and do not represent the views of the CSG. The views and opinions expressed are solely that of the author credited in the article. The CSG do not take any responsibility for the content of its contributors.