Chelsea v Stoke – Match Summary
Saturday 5 March 2016 – Chelsea 1 Stoke 1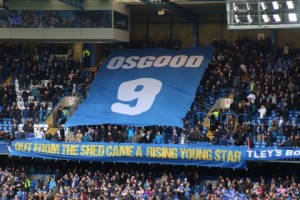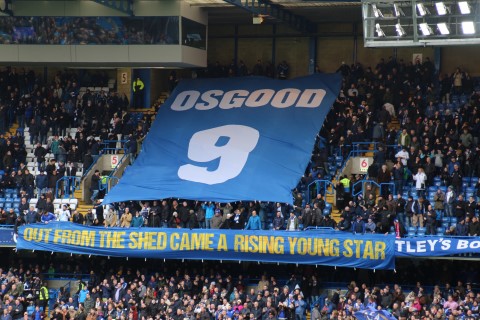 A big week for the Blues and a home win against Stoke would see us make some real progress, our visitors no longer a Sunday pub team looking to hack you down for a bet on a pint of Guinness.
In the starting lineup were Courtois in goal, with Azpilicueta, Cahill, captain Ivanovic and Baba Rahman across the back. With a defensive midfield partnership of Mikel and Matic, were our attacking options of Willian, Oscar and Hazard. Bertrand Traore up front in place of the rested Costa. On the bench Begovic, Miazga, Loftus-Cheek, Fabregas, Remy, Pato and a welcome inclusion from our successful youth setup, defender Jake Clarke-Salter.
As the teams came out onto the pitch they were greeted by a fantastic banner display in honour of the King of Stamford Bridge, Peter Osgood, organised by Richard and the guys in The Shed.
A lively start to the game, our visitors probably feeling they had the better of the early play, the majority of which was in our half. But as the game settled down we saw more of the ball, taking advantage of counter attacking opportunities while allowing our opposition some benign possession, trying to make the most of their wayward passing.
As the half wore on though, Stoke seemed to be carving out the more likely chances, their breakaway moves stretching our back four, Diouf in particular had a great effort after 20 minutes. But with the lack of real excitement on the pitch, it was pretty quiet off it, the increased volume of the crowd muttering mixed in with the occasional chants from the Matthew Harding and precious little noise from the away fans.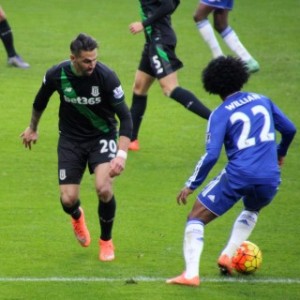 But finally something to make a noise about, when Azpilicueta robbed the ball from the guy with the poor excuse for a man bun Arnautovic, passed it to Willian who saw his long range shot on goal fly into the Shed End. Worth a try! Just past the half hour and we had a succession of shots blocked by the Stoke defence, but we were building up the pressure nicely, some teasing play in and around their box.
The breakthrough finally came as we approached 40 minutes, our boys retaining some good possession keeping the Stoke defence on their toes, and when Matic found Traore on the edge of the box he spun round with the ball on his left foot and fired an unstoppable shot into the far corner of the goal in an exquisite strike. What a superb goal, and what a time to score it. HT 1-0.
Second half no changes to report. Positive start to the half where we managed to create a couple of good opportunities down the left side with Baba Rahman and Eden Hazard putting decent balls in across the 6 yard box only for them to sail out the other side, Traore not in the best positions to capitalise. It was good to see the chances being created though, because we certainly needed a second goal to consolidate our narrow lead.
But, like the first half, the home crowd seemed restless, much muttering and less singing and in fairness there still wasn't a great deal on the pitch to get excited about, the majority of the play taking place between the boxes, both teams managing to break up most play around the 18 yard lines.
As we approached the hour Courtois was required to pull out a decent save from that tricky little munchkin Shaqiri, and thankfully his corner came to nothing except a lovely counter attack by us, Traore pinching the ball and streaking up the park to find Willian whose shot just inside the box was saved by Butland for a corner of our own. Not a fan of short corners, which came to nothing, and neither did a succession of corners awarded. But we kept up the positive momentum, Cahill getting in a decent position but denied by Butland.
We saw our first change when Ruben Loftus-Cheek came on for Eden Hazard, presumably being saved for our next game.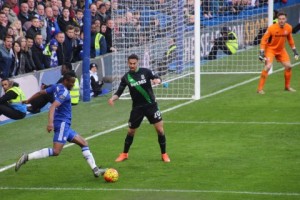 We continued to push on, Willian weaving his way goalwards before being hacked down in an advantageous area of the pitch for our player of the season elect to float in a free kick, which did nothing much but get knocked about the penalty box in a display of keepy uppies.
A few moments later our second change as Loic Remy was brought on to replace Bertrand Traore, to a standing ovation for our goal scorer with his name being sung from the stands.
I felt a second goal was coming and with Willian on the pitch we could always expect things to happen, and when Oscar's long ball to Remy left our newly introduced striker stranded out on the left, the ball eventually ended up with our hirsute Brazilian, for him to push a ball across the face of goal, but sadly Remy not close enough to convert.
But we should have been awarded a penalty when Oscar was pushed over by Muniesa on the edge of the box but the incident was totally ignored by referee Clattenburg. We continued to look for that much needed second goal and our efforts were soon rewarded by a free kick in Willian territory, but which ended up going wide.
While we were yet to find that elusive second goal our defence were holding firm against any threat on goal Stoke posed, Gary Cahill in particular responsible for putting in some important blocks.
Time seemed to slow down as we approached the final 10 minutes of the game, and while we didn't manage many actual shots on goal we did find ourselves in advanced positions, usually due to Willian, but we were unable to find that telling final pass that would lead to that unmissable shot on goal.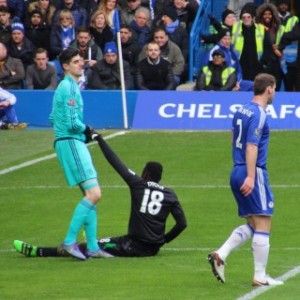 Our final substitution saw Cesc Fabregas come on for Nemanja Matic. But as we started to hope the one goal was going to be enough for the victory Stoke had equalised with 5 minutes to go. Willian surrounded with nowhere to go was dispossessed and their eventual cross into the box was pushed away by Courtois straight at Diouf who calmly nodded the ball into the back of the net, nothing the defenders could do, all but Azpilicueta were still running back. Very disappointing, and needless to say time began to speed up as the Stoke fans suddenly burst into life with that dreadful Delilah song.
We didn't give up though, Baba having a long range shot on target turned behind by the keeper. It was worth a try, because our forwards were having trouble getting on the end of the ball with a fair amount of crosses being pushed into the box.
The game ended 1-1 but I left the ground feeling disappointed that we let the game slip, when we could have so easily finished with all 3 points. It seemed as if Hiddink wasn't prepared to risk his domestic unbeaten run. I don't understand why we replaced Traore, a young man finding some great form and really benefitting from his chances to play, especially as Costa was being protected for our next game against PSG. And replaced by Remy, who on the day's performance wouldn't have seen the goal if it was covered in flashing lights and painted fluorescent pink. And you know your forwards aren't doing a job when Mikel is your best chance of scoring, as witnessed by the number of times "shooooot" could be heard from the stands.
The game appeared to slowly slip away as the substitutions came into play and, to my mind, a wasted opportunity to make inroads into the top half of the table. Sigh! But what's done is done and cannot be undone. Onwards to the Champions League.
KTBFFH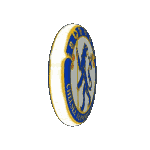 Posted by Chelsea Debs
Debs can be found on Twitter as @cfcunofficial and at cfcunofficial.com
You can read all Chelsea Debs 'Match Reports' here
DISCLAIMER: All articles written for the Chelsea Supporters Group 2005 (CSG) are those of the author and do not represent the views of the CSG. The views and opinions expressed are solely that of the author credited in the article. The CSG do not take any responsibility for the content of its contributors.
Related Images: