Chelsea v Man City – Match Summary
Saturday 16 April 2016 – Chelsea 0 Manchester City 3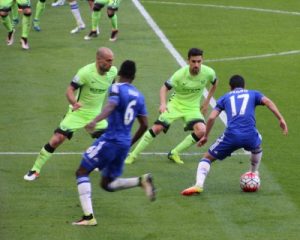 What would normally be a tense and exciting business end of the campaign for us, this season we have nothing left to play for, not even our pride if last week's effort at Swansea is anything to go by. So, without the excuse of a makeshift team, we should at least put in a decent performance, right? Wrong!
In goal Courtois, with Azpilicueta, Cahill, captain Ivanovic and Baba Rahman across the back. With Fabregas and Mikel in their familiar midfield pairing, Willian, Loftus-Cheek and Pedro were our attacking options, with Costa the lone striker. On the bench Begovic, Miazga, Matic, Kenedy, Traore, Falcao and Pato. Our boys were wearing black armbands as a mark of respect to our former player Ian Britton was sadly passed away after a long fight against cancer.
A bright enough start for both teams, our visitors a bit too bright in their dazzling and frankly unflattering lemon and lime sherbet away kit, Nasri in particular looking as if he'd had a few too many pies. On 5 minutes we had a chance saved off the line when a familiar Fabregas long ball found Costa chasing goalwards, and with Hart committed to closing down the expected strike, Pedro picked up the laid off ball only for his shot to be booted off the line by Otamendi. But Costa did find the back of the net before 10 minutes, having collected Baba Rahman's well fought for ball from an offside position.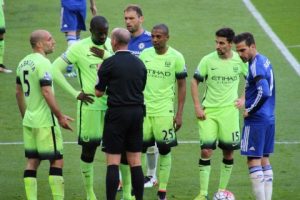 End to end stuff, and it could have been anybody's game; Loftus-Cheek had a glorious chance at goal on 20 minutes, only Hart's fingertips preventing us taking the lead. Inexplicably deemed a goal kick though! We were knocking on the door, but a succession of corners a couple of minutes later didn't bear results. Ominously though, a quick counter attack from the luminous ones saw Chelsea reject De Bruyne have a decent shot on goal stopped by compatriot and former good friend Courtois.
The big Belgian was called into action a few times and we were still working the ball towards an opening goal, but it was City's killer counter that finally undone us just after the half hour, a corner cleared and they were on their way, our defence helplessly chasing back and who, in truth, were spectators to watch De Bruyne square the ball to Aguero who simply fired past Courtois into the bottom corner of the goal, although it did get a favourable deflection off Cahill. It was clinical, it was quick, and we were punished for not being alert to the danger.
That goal certainly gave City confidence, knew they were on top and that gave them the initiative to play like a team who also knew they were better and wanted it more. Conversely, we were scrappy; short wayward passing, little vision, and last ditch efforts to prevent further embarrassment. But at just one goal down, you never know what might happen, and a Willian free kick in stoppage time at the end of the half was our best chance to equalise. Sadly, rather than finding the back of the net, that one flew into the back of the Shed. HT 0-1.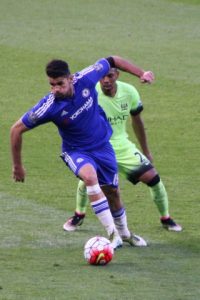 Second half and no changes, and for a few minutes we looked to get back on level terms, Pedro and Loftus-Cheek looking the most likely. But despite our early pressure, it was City who once again picked up the loose ball on the counter attack, swiftly moving the ball up the park to Aguero who gratefully accepted an easy second goal.
On the pitch we looked lost, unable to string a few decent passes together. Thankfully off it, the home fans were still in good voice, trying to raise our team to get back into the game. But sadly it was all to no avail, our boys content to just fart about, their heads and hearts clearly elsewhere. On 70 minutes a double substitution, Kenedy on for Pedro and Traore on for Willian, but neither made much impact on the way we were playing.
But just to add to our pathetic woes, Courtois was sent off with a straight red card as he upended Fernandinho in the box as he looked to prevent an almost certain third goal. Mikel was sacrificed to make way for replacement keeper Begovic, while Ageuro waited to score his hat trick, sending Begovic the wrong way. If the game wasn't already over, it certainly was now!
Cue a mass exodus from many of the home fans, they had seen enough, although there remained a resounding defiant chorus of We Love You Chelsea, not for the first time this season, from the resilient faithful who stuck it out to the end.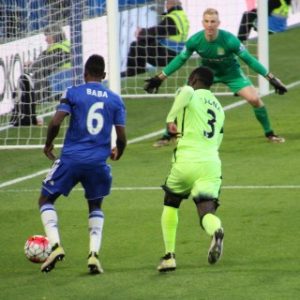 I wanted the game to end; there was no fight in our team to suggest they were capable of even scoring a solitary consolation goal. Thankfully the final whistle soon blew, but there were no boos, just silent bewilderment and sad resignation that we just don't expect anything more from our team right now. But let's not take it all away from City, they played us off the park and we just let them do it.
Our team clearly looked like they didn't want to be there, they've run out of ideas and appear to be biding their time until the Euros and other summer international tournaments. It bothers me that our team can't even play for themselves let alone our club and, most importantly, us loyal supporters. We keep seeing quotes saying how much they appreciate the fans, yet they let us down week after week. They also claim to be professionals, but don't seem able to put a professional performance together. No wonder so many of us are confused, what they say off the pitch and what they do on the pitch seem a total contradiction.
I just hope they turn up on May 2nd against Spurs; if we are capable of putting in any sort of performance before the end of the season, let this be the one. They owe us fans big time, and we deserve a little something back.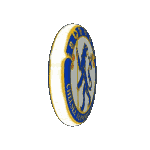 Posted by Chelsea Debs
Debs can be found on Twitter as @cfcunofficial and at cfcunofficial.com
You can read all Chelsea Debs 'Match Reports' here
DISCLAIMER: All articles written for the Chelsea Supporters Group 2005 (CSG) are those of the author and do not represent the views of the CSG. The views and opinions expressed are solely that of the author credited in the article. The CSG do not take any responsibility for the content of its contributors.