Chelsea v Burnley – Match Summary
Saturday 27 August 2016 – Chelsea 3 Burnley 0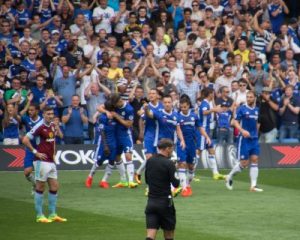 No time for pre or post match revelries, having been rudely reminded that, actually, I do have a life outside of Chelsea!
With a chance to extend our unbeaten run, Conte had chosen to go with what appears to be his favoured starting lineup. Courtois was in goal with Ivanovic, Cahill, JT and Azpilicueta across the back. Kante holding the defensive midfield supported by Matic and Oscar, while Willian and Hazard covered the wings, Costa took his place up top. On the bench were Begovic, Aina, Loftus-Cheek, Fabregas, Pedro, Moses and Batshuayi.
With a big boo for the change of ends we kicked off, on another warm sunny summer day in SW6. A slow, scrappy start, the home crowd in loud mutter mode, waiting for something to happen on the pitch to set the game, and the fans, alight.
And that something came in the shape of Eden Hazard. Collecting the ball from the half way line, he streaked towards their goal, his customary twisting and turning twinkle toes as he came in and fired an early low shot from the edge of the box that went straight into the far corner of the goal. The shot initially looked like it was going wide from my side-on perspective, but the subtle curl on the ball meant it was delivered perfectly just inside the post. What a strike, and one up with less than 10 minutes played.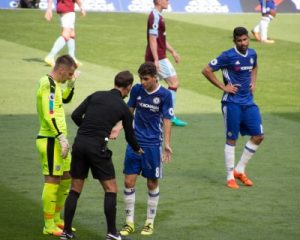 That certainly sparked the team into life; Hazard was on fire, taking on their defenders for a giggle. Our corners seem to have been dragged into the realms of a decent threat as well, Willian often seeking out Hazard lurking on the edge of the box unmarked, waiting to receive the short ball for a quick attempt on goal. Love that we are mixing those up and more often than not clearing the first defender. We were hammering their goal, the Burnley defenders having to throw themselves in front of everything we were launching at them.
A joy to watch, we were running the opposition ragged, switching the ball from side to side, they really didn't know what was hitting them and where the next strike might be coming from. It would be easy to pick out Eden Hazard as the star man, but everyone was doing their bit, everyone was alert, and many having a shot on goal. We were a team again.
While the Chelsea fans were in dreamland, the Burnley fans could only derive some pleasure from keeping themselves entertained with a sing song. They'd come all that way from t'up north so they might as well enjoy the trip in some way!
Time was moving on but for all our hard work we weren't able to capitalise and extend our score. That is until 5 minutes before the break when yet another attacking wave found Costa with the ball and who passed to Willian at the edge of the box looking for a little one-two. Instead, our coiffed Brazilian went it alone and tucked the ball into the far corner, defender and keeper helpless. I thought it was a cross, but no! No more than we deserved, as our man turned and dropped to his knees in front the Chelsea faithful by the corner flag. HT 2-0 and we were totally dominant.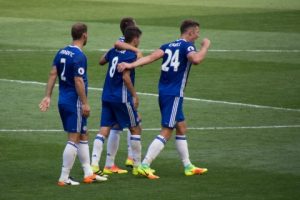 No changes at the start of the second half and it wasn't long before we took charge once again, knocking the ball around with assured positivity, as you'd expect from a rejuvenated team brimming with confidence. And when we did momentarily lose possession, I liked the way we fought to regain the ball, picking up on any little mistake from the opposition. It was beautiful to watch.
Ten minutes into the half we nearly found our third goal when another variation on a corner saw Willian launch the ball towards Hazard waiting on the edge of the D, only for his superb volley to be stopped by Heaton in goal. It has to be said though, that while we were magnificent, Burnley were poor, they just didn't know how to handle us playing in such an open and positive way. We hadn't played that way consistently for such a long time last season, I was finding it hard to comprehend myself.
Eden Hazard was unstoppable, and he could have scored a hatful of goals had it not been for some last ditch desperado defending from Burnley. Conversely, Burnley didn't look like they would have scored in a month of Sundays, even when they did manage to string a few passes together. N'Golo Kante took care of that, our midfield troubleshooter there to seek and destroy any hint of opposition incursion.
We were toying with Burnley, switching the ball this way and that way, keeping them guessing as to where the next shot on goal was coming from. Sorry Burnley, it was just too easy. Even a succession of Burnley corners didn't look as if they would come to anything, not even a worthy shot on target.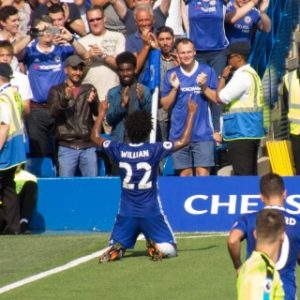 With 15 minutes left to play came our first change, Willian replaced by Victor Moses and 5 minutes later Michy Batshuayi came on for Diego Costa and Pedro on for Eden Hazard. Refreshed up front, we had 10 minutes left to play.
With renewed energy we strolled into the last minutes, the crowd having exhausted their voices and the ground seemed to fall silent as many began to leave. But those who left before the end of the match missed a peach of a goal; our three pairs of fresh legs combining to score our third. Batshuayi spotted crazy legs Pedro on a run towards goal and with Moses streaking in parallel on the other side of the goal, he collected the pass and blasted it past the keeper and into the back of the net. But fair play to bronzed referee Clattenburg (does he really have trophies tattooed about his person?) who played a well spotted advantage following a foul on Oscar, which led to the goal.
Into stoppage time and we nearly found a fourth goal, Heaton saving a shot from Azpilicueta following yet another break towards goal. They all wanted a go! The game ended 3-0 but it could have been so many more. But another 3 points in the league and this time also a clean sheet. We currently lie 2nd in the Premier League, the meat and relish between a Manchester sandwich, all on 9 points out of 9.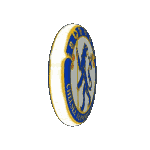 Posted by Chelsea Debs
Debs can be found on Twitter as @cfcunofficial and at cfcunofficial.com
You can read all Chelsea Debs 'Match Reports' here
DISCLAIMER: All articles written for the Chelsea Supporters Group 2005 (CSG) are those of the author and do not represent the views of the CSG. The views and opinions expressed are solely that of the author credited in the article. The CSG do not take any responsibility for the content of its contributors.