Chelsea v Brentford – Match Summary
Chelsea 4 Brentford 0 – FA Cup 4th round – Saturday 28 January 2017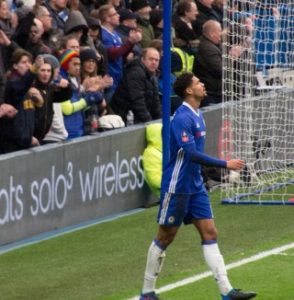 A much changed team for the occasion, but nowhere near what you might call a second string. In goal was Begovic, subject to much transfer talk, with Azpilicueta, Captain, Leader, Legend JT and Zouma as our back three plus a welcome start for Ake taking up the left wing back position, with Pedro covering the right. With a strong midfield pairing of Chalobah and Fabregas, Loftus-Cheek, Willian and Batshuayi up top as our front three. On the bench were Eduardo, Ivanovic, Matic, Moses, Kenedy, Hazard and Costa – that's what I call strength in depth. Also good to see the return of former fan favourite Josh McEachran, now in the Brentford lineup.
Kick off, and it didn't take long before a few minutes of warm up play up and down the pitch eventually led to some intense pressure on the Brentford goal, culminating in a free kick on the edge of the box after Pedro's passage into the box was blocked. We'd seen some good link up between Pedro, Willian and Fabregas up to that point and it was our hirsute Brazilian who rediscovered his sublime free kick mojo as he calmly lofted the ball into the top corner of the net.
That was less than 15 minutes in, and just 5 minutes later we had doubled our lead when the ball was threaded forward by Willian, Batshuayi and Loftus-Cheek before finding our fleet footed Pedro on the edge of the 6 yard box readied like a coiled spring to fire the ball through their keeper and into the back of the net. I wouldn't say that Brentford were particularly sloppy, but if they thought we were going to make allowances for them they were truly mistaken. I love our ruthless Blues!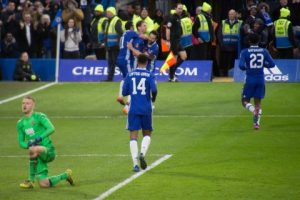 I'm afraid that Brentford really didn't look like scoring; they lacked the intensity and the desire to have a go, and two goals down after 20 minutes wasn't helping with their confidence either. Conversely, not only were we on top in both score and play, we clearly wanted more, especially those players who had been given an opportunity to prove themselves to our manager, Loftus-Cheek and Batshuayi in particular. We nearly scored a third a few minutes later when Batshuayi's shot on goal from a corner was just short of crossing the line, goal line technology the arbiter for that one.
It was looking ominous for our visitors – if we came close with a short range shot, Ruben's long range shot had to be tipped over the crossbar by Bentley – they didn't know where we were going to strike from next. Even the resulting corner wasn't too far away when Ake nearly turned in Fabregas's low corner kick. And with Batshuayi's 'goal' ruled offside, this game could have been completely out of sight by now.
But with every game the opposition will always get their moment, and as we approached half time Brentford were getting more of the ball but, unfortunately for them, without finding a way through our strong defence. HT 2-0.
Unsurprisingly, there were no changes at half time from us, but the Brentford boys looked as if they had found a stash of our sponsor's energy drink as they came out for the second half looking a bit more purposeful. They had nothing to lose as they upped their game and their work rate and for some while they took the game to us – the next goal, either way, would be vital. Their fans woke up too, finally with something to sing about.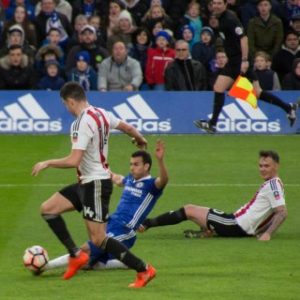 The game was starting to shape up into a bit of a contest at last, but as far as decent chances were concerned we were still looking the more likely, Batshuayi giving it a go whenever he could and Ruben had a gilt edged chance when Willian fed him a perfect through ball on goal only for his chip over the approaching keeper to skip over the crossbar. So close again for the lad.
Just on the hour, and just after Brentford had their best chance of the game, Conte made our first change, Willian replaced by Ivanovic, another one of our old guard subject to much speculation about his future in this transfer window. Could this be his swan song for us?
Time was ticking by and eventually the natural order of things was restored as we began to reinstate our dominance and picked up the pace at the same time. Surely it was just a matter of when and not if we would score a third goal.
And with a move that started with Ivanovic deep in their half and with a quick pass to Pedro, they both raced up the pitch before Ivanovic took the return ball just in front of goal and powered his shot past the keeper. I'm sure I wasn't the only Chelsea supporter in the ground who welled up with thoughts of Branna's past glories and how that goal might be the way it ends for him at the Bridge. (Wiping my eyes as I type, reminding myself why I bought a Chelsea Pitch Owners share with his signature on it.)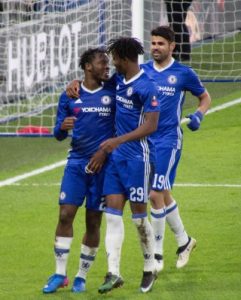 Three nil up with just over 20 minutes to play and our second change beckoned, Azpilicueta replaced by another of our talented young players, Kenedy. And shortly after that our final change saw Costa come on for the ever industrious Pedro, to an emphatic round of applause for both players.
With the game effectively over, we were using the time left to just pass the ball around with confidence safe in the knowledge that the game was under our total control. As we went into the last 10 minutes Ivanovic was fouled just inside the box and referee Michael Oliver (one of the better ones in my opinion) had no hesitation in awarding a penalty. A chance for Batshuayi to finally get on the score sheet, the chance he took with ease. Cue the team celebrations in front of us in the West Stand, including a bit of a dance off with Kurt Zouma.
With the blowing of the final whistle we could reflect that Brentford weren't really able to offer much by way of a contest, despite their hint of a comeback in the second half, our relative positions in the league clear to see. A good win for us, and with more of our fringe players getting game time under their belts, our squad is shaping up into an outfit with increasing quality in its depth, all looking good as we march on into the 5th round of the FA Cup and into the rest of the season.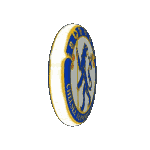 Posted by Chelsea Debs
Debs can be found on Twitter as @cfcunofficial and at cfcunofficial.com
You can read all Chelsea Debs 'Match Reports' here
DISCLAIMER: All articles written for the Chelsea Supporters Group 2005 (CSG) are those of the author and do not represent the views of the CSG. The views and opinions expressed are solely that of the author credited in the article. The CSG do not take any responsibility for the content of its contributors.
'Chelsea Supporters Group' can be found on Twitter and Facebook