Chelsea v Hull City – Match Summary
Chelsea 2 Hull 0 – Sunday 22 January 2017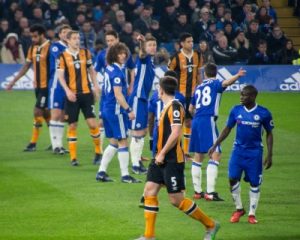 The last of three games squeezed in to the Sunday TV schedule, and hoping the Sunday train schedules were kind to our visitors returning north after the game. With all the recent talk of China in this divisive transfer window (isn't there a case for making it for loans only?) we were back to the important stuff of the game on the pitch. Already with a healthy cushion at the top of the table, with teams around us dropping points over the weekend, this game would be a great opportunity to take advantage and extend that lead.
With Diego Costa returning to the starting lineup, it was a familiar look to the team; Courtois in goal with the Azpilicueta, Luiz and Captain Cahill back three, flanked by Moses and Alonso. With the midfield maestros of Kante and Matic were Pedro and Hazard supporting Costa up front, recovered from the back injury and, hopefully, all the press attention. On the bench were Begovic, Zouma, Fabregas, Chalobah, Willian, Batshuayi, and a welcome return to Nathan Ake from his loan travels.
Kick off, and it was nearly a dream start when David Luiz launched a long ball towards goal, and if Costa's strike had gone in, the Bridge would have erupted. As it turned out, the game was a very quiet one, the expectation following that blistering opening minute didn't quite materialise into the hopeful goal fest against a team struggling near the foot of the table.
We were playing some decent stuff, passing the ball around swiftly and confidently, but those pesky northerners were managing to frustrate our efforts with the numbers they were putting behind the ball. For all the possession we had in the final third, we just weren't able to convert it to chances on goal.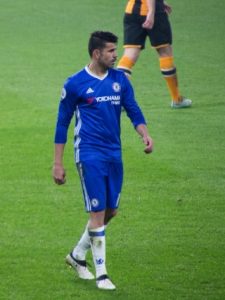 But with just over 10 minutes played a ball crossed in by Pedro had both Cahill and Mason jumping and challenging for the ball and both falling flat out following a horrendous clash of heads. Mason clearly came off the worse and the medics were taking no chances and took their time to ensure he was able to be moved off the pitch safely. A round of applause for medics and player alike, as Mason was stretchered away down the tunnel. I wish him well for a full and speedy recovery.
Back to the game and back to plenty of ball passing but still lacking those clear cut chances. Hull did a decent job of preventing our counter attack too, leaving numbers back when they had corner chances of their own, and grappling with us to hold up the play to get their reinforcements back. But fair play to our visitors for doing that, even if it did mean a hard watch for us.
The home fans were restless, lots of muttering and little by way of encouraging singing. But we looked pretty comfortable with it, just lacking the penetration. We were going to have to crank up our creativity if we were to get through this lot, even some twinkle toes pressure from Hazard and a penalty shout from Pedro on the half hour didn't reap the deserved rewards.
We weren't able to get the luck, and when we did finally slip through Hull's defensive line, Costa was judged to be offside by the official who may have confused him with Pedro who had already made his run. Easy mistake to make!
Frustrating so far, and as we went in to 9 minutes of time added on we continued to pile on the pressure. An ankle crunching foul on Pedro by Curtis Davies on the edge of the box could have seen the defender given his marching orders having already been shown yellow earlier in the game. But the referee Neil Swarbrick bottled it and awarded the free kick with nothing more than a telling off for Davies.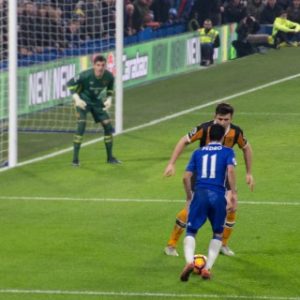 But we didn't give up, we were getting closer, first a probing Alonso cross that Kante only just failed to get on the end of – if only the little fella had longer legs as he slid in! Hull just couldn't shift the ball out of their half as we continued to sweep down one wing, and then the other, stretching their back line and trying to exploit the gaps. In the end they couldn't hold out. A cross pitch ball from Alonso to Moses, fed square into the box for Costa to rifle past the keeper, left a sea of gold and black laying flat on the pitch in exasperation. It was coming and it was inevitably Diego Costa, who took his teammates to the corner to celebrate with the Shed faithful as he also took the relieved applause from the home fans. Diego….Diego…. well and truly letting his football do the talking! HT 1-0.
Second half with no changes at the oh so quiet Bridge. But just a few minutes in Hull were looking for a penalty after a challenge by Alonso on Hernandez, but the ref said no again – adhering to the unwritten rule of balancing out a wrong decision with a second one!
We were still playing decent free flowing football, just a shame that our movement more often than not ended in a wayward ball or hit the gold and black wall long before getting a shot on goal. We had to be on our guard though, Hull weren't out of it, and one lapse of concentration could have been a disaster.
On 55 minutes we had the planned applause and Shed end banner for Carl O'Brien, who had recently passed away in tragic circumstances aged just 55, a moving tribute to a much loved supporter. RIP Wurzel.
As the half wore on our visitors seemed to gain confidence in our continued lack of penetration, and were creating chances of their own. It seemed like we were in the frustrating position of hanging on to a 1-0 lead against Hull, of all teams! That might sound disrespectful, but we really should have been all over them, languishing near the foot of the league and with us playing at home too. Come on Chelsea…..
But as Conte has instilled many things into our team, one of them is not to give up and our boys continued to push for that game killing second goal and not go all Jose and park the bus. The next goal could have come from anywhere and Hull were giving it a good go themselves.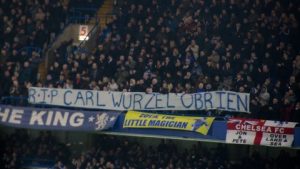 With 20 minutes left to play we made a double substitution, Fabregas on for Hazard, who hasn't looked at his scintillating best for a couple of games now. Willian also came on, for Pedro who wasn't able to utilise his lightning legs as much as he would have liked. It took a while for our changes to bed in, but when Willian was fouled in front of us in the West stand, it was Fabregas's superb free kick that looked to be heading for the far corner of the goal before Cahill leaped up to nod the ball in and make sure.
We could all relax now; our boys looked a lot more assured safe in the knowledge that with 10 minutes to go the game was effectively over, Fabregas in particular with his special gift of the vision to pick out, usually, Costa on a goalwards run. And with our renewed confidence we could have scored a third – Hull looked deflated.
Our final change saw Batshuayi come on to replace man of the moment Costa, to the expected standing ovation and a rousing Diego…Diego as we saw the game out to the final whistle.
Not the exciting performance we were expecting or hoping for but a win nonetheless, we can't go all guns blazing every week. But it's those sorts of games you have to win to be Champions. It gives us an eight point lead at the top of the league, a cushion we may well need with our next two league games against Liverpool away and Arsenal at home. It could be a defining stage of our season coming up – bring it on!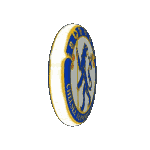 Posted by Chelsea Debs
Debs can be found on Twitter as @cfcunofficial and at cfcunofficial.com
You can read all Chelsea Debs 'Match Reports' here
DISCLAIMER: All articles written for the Chelsea Supporters Group 2005 (CSG) are those of the author and do not represent the views of the CSG. The views and opinions expressed are solely that of the author credited in the article. The CSG do not take any responsibility for the content of its contributors.
'Chelsea Supporters Group' can be found on Twitter and Facebook
Related Images: