Chelsea v Arsenal – Match Summary
Chelsea 3 Arsenal 1 – Saturday 4 February 2017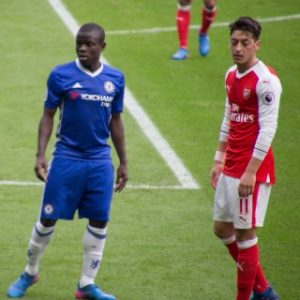 The second of our potential season defining fixtures saw the visit to the Bridge of our north London rivals with the reverse fixture result still fresh in everyone's mind, for negative and positive reasons. But most importantly it was the catalyst for our resurgence as a team under the guidance of Antonio Conte. Another breakfast kick off to satisfy the TV appetite, at least our visitors didn't have too far to travel.
But for the odd tweak, the team is picking itself right now; Courtois in goal with Azpilicueta, Luiz and captain Cahill in that familiar back three, flanked by Moses and Alonso. With our little and large midfield duo of Kante and Matic were Pedro and Hazard aided and abetted by the big guy up front, Diego Costa. On the bench were Begovic, Zouma, JT, Fabregas, Chalobah, Willian and Batshuayi.
As the teams emerged onto the pitch a banner in tribute to Frank Lampard was displayed from the Matthew Harding end, to mark the occasion of him hanging up his boots after an illustrious playing career. A true Chelsea and football legend – Super Frank!
Kick off and as lively a start as you might expect, from players and supporters alike, and Arsenal must have thought they were in for a good afternoon if the early minutes were anything to go by. But that delusion was short lived because we had taken the lead by 12 minutes.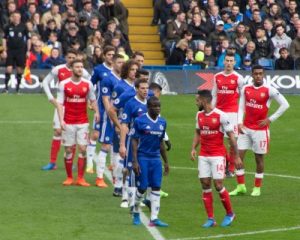 A ball played down the right was crossed into the box by Pedro, which found Costa lurking just outside the 6 yard box. But no challenge from Bellerin could stop Costa's strong header on goal even if it did take an athletic leap from Cech and the crossbar to deny him. But the rebounded ball was nodded into the back of the net by fast approaching Alonso as both he and the pesky Bellerin both challenged for the ball, the little guy in red not up to our man's physicality in the air. Bellerin was flattened and, looking a bit groggy, was replaced as a precaution – no one tries it on with both Costa and Alonso and gets away with it!
The play continued openly enough, but for all Arsenal's possession they were going nowhere with it, we seemed to have them covered in every area of the pitch. I loved the way our midfield guys have the ability to surround and dispossess one of their guys, and quickly re-assume positions as we retake control – it's a sight to behold. And control the game we did, relentless pressure on their goal, Arsenal didn't know from which direction the next threat was coming from as we switched the ball from side to side and with probing crosses into the box.
But if there was one issue of criticism, pointed out by my other half, it was how we seemed to leave a man, often Coquelin, free on the edge of the box unmarked, and if they had anything about them they could have taken advantage as they almost did with a late chance from Gabriel, expertly palmed away by Courtois. But we were merely lulling them into a false sense of security, ready to pounce with the swift counter attack. HT 1-0.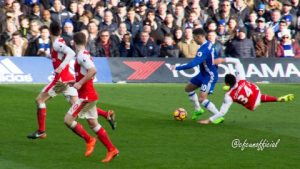 Second half and there were no changes, quick out of the blocks we were too. And it was a break up of their play (again) just inside their half that led to one of the greatest individual goals you are ever likely to see at the Bridge. Or anywhere. With a nod down from Costa, Eden Hazard picked up the ball and embarked on the most epic dribble, first past Koscielny, brushing off Coquelin as if he were a minor irritation and sending him hurtling through the air, past Koscielny again, Monreal, Mustafi and Cech – all discarded in his wake. It was a thing of beauty, and left the home fans delirious in our celebrations and disbelief at what we had just witnessed. It also sent Antonio Conte into one of his self propelled celebratory launches into the family section of the crowd, so brilliant to see.
As we all started to get our breath back we could return to matters on the pitch, rumblings around the ground continued to sound for some time as we still couldn't quite believe what we had seen. But see it we did and it will live long in the memory.
Two up and we were still looking for more, that's the mindset of our team under Conte. The home crowd serenaded Arsene Wenger by wanting him to stay, and he would have heard it loud and clear from his naughty step amongst the Chelsea fans in the middle of the East stand.
Arsenal were desperate. They started to play with urgency, as well they might, but there was no substance to their game plan. We were taking the pi……toying with them, and it was a delight to watch. But in the back of my mind I was still wary that if they manage did sneak a jammy goal back, we would have to be on our guard for the rest of the game, so when Courtois reached down to stop an almost certain goal off the head off Welbeck and Mustafi headed just wide, we all breathed a sigh of relief.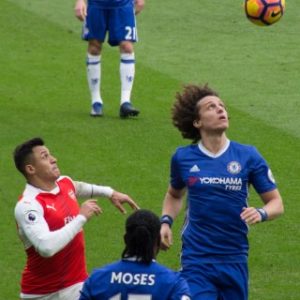 As we entered the final 10 minutes of the game we made a double substitution, Willian on for Pedro and Fabregas on for Hazard, who left the pitch to a well deserved and rapturous standing ovation. Perhaps with Fabregas now involved, it would give Costa more options for a chance to score – he looked a tad frustrated that things didn't quite fall right for the perfectionist in him. But with the clock ticking by I could begin to relax safe in the knowledge that there was less and less time for Arsenal to mount an unlikely comeback.
But with 5 minutes left came the most humiliating salt in the wound moment of the game when an Arsenal throw in back to Cech was miss-kicked by him, under pressure from Costa, straight to the lurking Fabregas (who else) and who nonchalantly chipped the ball into the back of the open goal. It was a perfectly weighted ball, at first I thought it was going into the Matthew Harding crowd, but it gently dropped out of the air and into poor Petr's nightmare. Poor Petr? Who am I kidding! It was hilarious, although Fabregas thought better than to rub the salt even harder by choosing not to celebrate. He did eventually smile though! Ohhhh, Fabregas is magic…..
Our final change saw Moses replaced by big Kurt Zouma as we continued to dominate, looking for a possible fourth goal, Zouma himself looking to get in on the act with a showboating stepover and a run towards goal. Oh, and Giroud got one back in stoppage time, although few barely noticed especially the Arsenal contingent, most of who had already left the ground in despair.
So, humiliation complete, Arsenal and their odd bunch of fans left wondering why their season is going down the toilet the same as it does every year. But, more importantly, we move 12 points clear of them in the league and still 9 points clear of second place Spurs. Do we yet dare to believe it's our year?
Posted by Chelsea Debs
Debs can be found on Twitter as @cfcunofficial and at cfcunofficial.com
You can read all Chelsea Debs 'Match Reports' here
DISCLAIMER: All articles written for the Chelsea Supporters Group 2005 (CSG) are those of the author and do not represent the views of the CSG. The views and opinions expressed are solely that of the author credited in the article. The CSG do not take any responsibility for the content of its contributors.
'Chelsea Supporters Group' can be found on Twitter and Facebook